3D Universe | Website Updates and New Features
June 08, 2023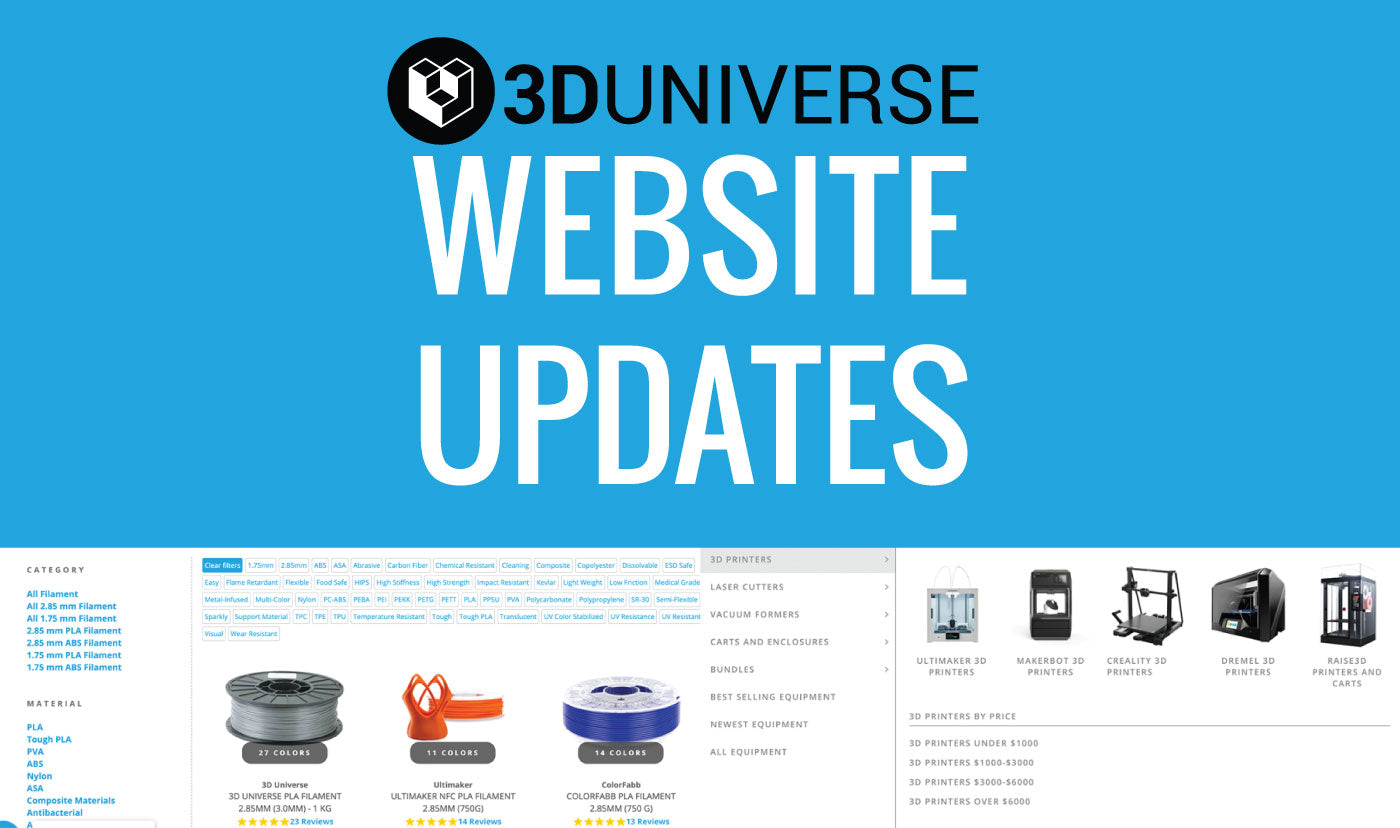 We've had a lot of nice compliments from our customers about our website updates lately, which we greatly appreciate, but we're constantly working to make it better! Recently, we've made a couple of changes that we hope will make it easier to find what you're looking for amongst our ever-growing selection of 3D printers, laser cutters, materials, accessories and other great products.

In the video below, 3D Universe founder, Jeremy Simon, will give you a demo of these new website updates and features so you can take full advantage of them. After seeing the video, be sure to check out https://shop3duniverse.com​ to try out the new features for yourself!
3D Universe Website Updates | Video
Menu Changes at shop3duniverse.com
New dropdowns on our menu allow you to browse our products by category, price point, best selling, newest and more. You can now also search by industries like education, manufacturing, architectural, medical/dental, engineering and jewelry which provide great resources for you.
Sales Section
This new page will always highlight our latest and most current sales and promotions so check back here often! We have special promos, discounts on materials and products, special bundle deals, and much more so don't forget to visit our sales page and stock up or test out a new product!
The "More" Menu
The "More" menu links to our "About Page", Blog and our new 3D Universe Untethered page where you can watch and listen to all of the previous episodes of our bi-weekly Facebook Live stream video/podcast series and see which episodes are coming up next!

There is also an option to check the status of your order.
Filament Finder Feature
We are constantly expanding our collection of materials that we offer and as we do, it can become difficult to find what you are looking for amongst so many options. In our newest website updates we have added filter buttons up at the top of the filament pages so that you can filter the selection on any page by specific properties you are looking for.

You can search for properties such as size, strength, temperature resistance, impact resistance, metal infused, UV and wear resistance, food-safe, flexible, flame retardant, and many more. It will start to narrow down the results for you depending on the filters you choose.
There is also now an option to check out the best-selling filaments so you can browse through the most popular in our shop and also narrow it down further to search for specific properties.
Hopefully, these new additions to our website will help you search for items more easily!
Share Your Feedback With Us!
Feedback is always welcome! Please feel free to email us at info@3duniverse.org or give us a call anytime at 1.800.689.4344!

Is there something you would like to see added to our website?
Are there things you think we could still improve? If so, what changes can we make to best serve you?
Do you have some kudos to help us know we are going in the right direction?

We look forward to hearing from you!

Thank you for your continued support!