3D Universe YouTube Channel Resources
June 08, 2023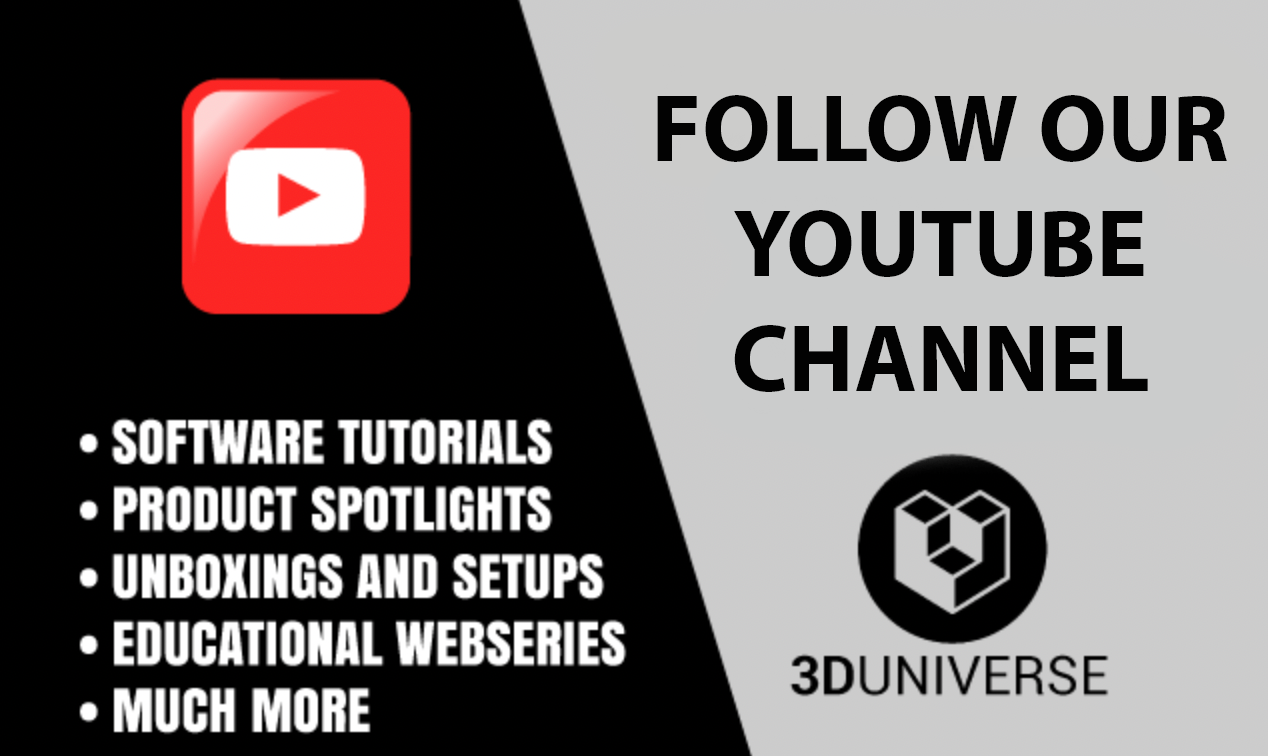 Did you know that 3D Universe has a YouTube channel full of tutorials, materials, product overviews, educational resources, webinars and podcasts, unboxings, updates on the e-NABLE Community 3D printed prosthetics projects, troubleshooting, crafty goodness, and much more?

Now you do!

Check out some of our most viewed video playlists below and make sure to subscribe for our upcoming releases!
---
Software, 3D Printing, and "How To" Tutorials
If you are looking for tutorials for using slicing or 3D designing software, customizing print settings or supports, how to assemble an e-NABLE 3D printed hand, or how to troubleshoot various problems with 3D printers or laser cutters, then you have come to the right place!
Check out our playlist above to get you started and stay tuned for new releases coming soon to our YouTube channel!
---
Product Introductions and Overviews on YouTube
This playlist is full of product overviews and introductions, unboxings, and honest feedback from us here at 3D Universe as we share about new products or compare them to others.
Check out our playlist above to learn more about laser cutters, 3D printers, and 3D forming machines as well as materials and software.
---
3D Printed Hands and Arms with the e-NABLE Community
A project that is very near and dear to our hearts here at 3D Universe, is the e-NABLE Project created by the global e-NABLE Open Source Volunteer community.

For nearly 10 years, volunteers all over the world have been creating and designing free 3D printed hands and arms for those in need with chapters of volunteers in over 100 countries.

Thousands of schools around the globe have participated in this project, giving their students an example of how 3D printing can be used to solve real-world problems and make a difference.

Check out our playlist below to hear from 3D printed hand recipients, parents of children who are using the devices, teachers, and students that have participated, designers, and e-NABLE founders in some of our videos as well as watch tutorial videos on how to assemble these devices.
The e-NABLE project is one of the most impactful 3D printing projects out there and we hope that you not only enjoy learning about this project but sign up to volunteer! You can learn more about volunteering, getting the files to make a device, or requesting a volunteer-made device at enablingthefuture.org.

You can also purchase a hand assembly kit from our shop.
---
Educational and Craft Ideas for the Classroom on YouTube
We have some really great educational resources on our YouTube Channel for those of you who are looking for inspiration for your classroom. Whether you are searching for ideas for 3D printing, laser cutting or vacuum forming in the classroom or you enjoy watching or listening to round table discussions from educators who are using digital fabrication in their curriculums, we have a variety of resources for you!
Check out the playlist above to learn more and see how other educators are using this technology in their classrooms to inspire the next generation of change-makers, artists, engineers, and designers!
---
3D Universe Untethered Podcast and Video Series
We chatted with some really amazing people in the past 2 years on our 3D Universe Untethered Podcast and Video series and you can see all of those episodes on our playlist below.
From special effects artists, laser-cut designers, and interesting artists using digital fabrication technology to using tech in the classroom, product deep dives, making 3D printed fabrics, volunteers using 3D printing to create PPE and free 3D printed hands and arms and so much more – we have a wide variety of episodes to watch or listen to and learn from!

If you would like to be a guest on our show, please reach out to us at info@shop3duniverse.org to share about your project or what you are making and we will chat with you about being a potential guest for upcoming episodes!

We have a whole lot more videos in the works, so please make sure to subscribe and follow along!
---
Follow us on Facebook, Instagram, Twitter, and LinkedIn Too!
Make sure to follow us on our social channels as well and if you have made something with a machine or materials you have purchased through us, please tag us so we can leave you comments!

You can find us on Facebook, Instagram, Twitter, and LinkedIn!

Have questions? Feel free to schedule a FREE consultation with us to help you decide which tools would be the best fit for your space or email us at info@3duniverse.org.