The Ultimate FlashForge Creator & Creator X Guide
June 08, 2023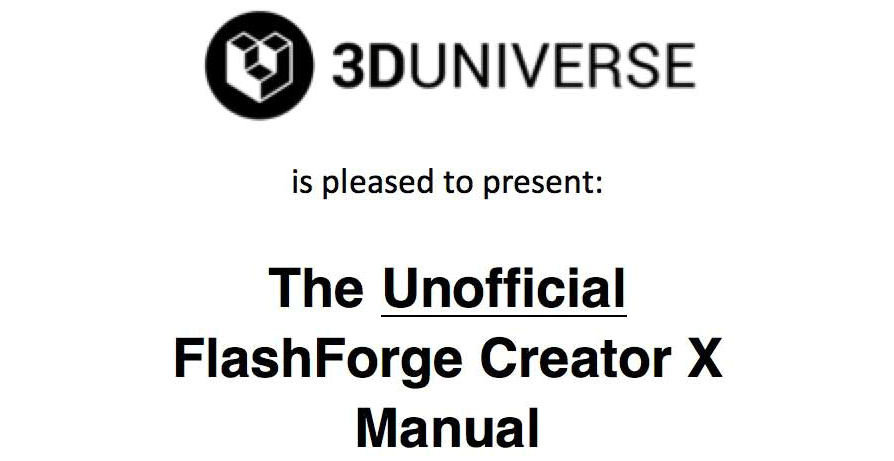 At 3D Universe, we've been using the FlashForge Creator and Creator X almost around the clock for months on end. We have been very impressed with what this printer can do, given the very reasonable price.
However, in getting started, we found the need to reference a variety of different information sources on the Internet and had to go through a good deal of trial and error to get everything working the way we wanted.
After months of using the FlashForge Creator and Creator X, we wanted to give something back to the 3D printing community, so we have prepared a new guide containing all of the information you'll need to get started.
This is our gift to you – free of charge. No need to fill out any forms or give us your email address.
The official FlashForge Creator and Creator X manuals aren't bad, but they only cover the initial hardware setup and Replicator G software. Many users prefer to use other software options, of which there are many available.
Our unofficial guide covers some of these other options, as well as the process for upgrading to the popular Sailfish firmware. We also show how to install and use a glass build plate and explain why you may (or may not) want to consider doing so.
In addition to the PDF version of the guide, we are also releasing a series of video tutorials that correspond to the topics in the PDF.
Been thinking about getting a 3D printer, but feeling hesitant because you're not sure exactly what you're getting into? Watch these videos, and you'll know exactly what to expect!
For the entire playlist of videos, click here.
Part 1: Unboxing and Initial Hardware Setup
Part 2: Overview of Software Options
Part 3: Installing and Configuring Replicator G
Part 4: Installing and Configuring Slic3r
Part 5: Installing and Configuring MakerWare (coming soon!)
Part 6: Installing and Configuring Simplify3D™ (coming soon!)
Part 7: Upgrading to Sailfish Firmware
Part 8: Installing a Glass Build Plate (coming soon!)
A note about FlashForge support:
Please refer to the official FlashForge manual included with your Creator X (on the SD card) before contacting FlashForge support. The FlashForge support team will not provide support for anything not covered in their official manual. FlashForge only provides support for their hardware and the Replicator G software.
For any questions related to other topics covered in this unofficial manual, 3D Universe customers are welcome to contact us at support@3duniverse.org or 800-689-4344.
More 3D Universe blog posts:
Check out our review of Simplify3D HERE…
Read our review of the FlashForge Creator x HERE…