Seton Hall Prep Students Make 3D Printed Ocean Drifter to Monitor Currents with NOAA
August 17, 2023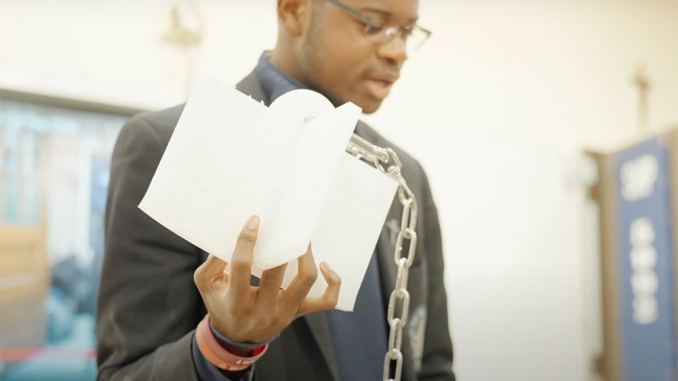 David Snyder is a teacher at Seton Hall Prep, an all-boys school located in New Jersey. He has been teaching various science-based classes for over 28 years. In 2016, he decided he wanted to start teaching a STEM class at his school with a focus on project-based learning. The STEM class takes place before school even begins in the morning but it does count as a full class and is not considered a club so students get credit for participation and this group decided to 3D print an ocean drifter to track ocean currents!
He shares, "The students come to me for possible projects and I have to vet whether or not they can get those projects done and decide realistically if they are too easy or too difficult."

They always prioritize two things when deciding on a project to create. First, is the project going to help someone authentically, and second, is it going to help the school?

"Sometimes we do a project that doesn't necessarily help someone specifically or our school but they are so sensational that they DO help our school (with news coverage)," David explains.

For example, David's students worked on a project to create a Pico balloon, which is an ultra-lightweight plastic balloon that suspends a small, lightweight amateur radio transmitter. The envelope is filled with a bit of hydrogen instead of helium because hydrogen leaks less. Their goal was to break the previous world record of 6 times circumnavigating the globe. David's students broke the record easily with 14 trips around the planet.

As for 3D Printing, if his students have a project that includes 3D printing as part of the bigger picture, he is always open to seeing what they come up with. 

One of those "bigger picture" projects, was to work with the US Coast Guard and NOAA to create an ocean drifter device that would track ocean currents and collect data.
Check out the video and story below to learn how they accomplished this and what they learned along the way, as well as how their device is helping scientists track currents!
---
STEM Students Making a Difference with 3D Printing
In early 2022, the Seton Hall Prep STEM class partnered with the National Oceanic and Atmospheric Administration (NOAA) to create, deploy and track a couple of solar-powered ocean drifters in both the Atlantic and Pacific Oceans. The goal of this project was to help provide ocean current data to NOAA, but also, to help their fellow students in the Environmental Science and Marine Science classes gain valuable information for their studies. With the tracking system that the STEM students created, any other schools or individuals who were interested in this kind of data are able to see the information as well.
The first experiment resulted in the students deploying a battery-powered GPS drifter, (about the size of a cellphone), but after about a month or two, the drifter went past Newfoundland, Canada, and died and they never saw it again.
David's students then decided to try using solar power to create their next ocean drifter design. In the spring of 2022, the class purchased solar-powered GPS devices, but they wanted to design their own drifters.
This time, his students formed a business model with a Project Manager, a logistics coordinator, a marketing manager, as well as tech and design teams and had to learn to cooperate with each other on this project. They then worked with NOAA directly to get their design placed into the ocean where NOAA could track the data, as well as the students at Seton Hall Prep. This also opened up the opportunity to allow other schools that may want to use the data for their environmental science classes to have access to the information that is collected.
"One of the really cool things is that NOAA mentioned that one of their own ocean drifters really hadn't been working well for about a week and they used our Seton Hall Prep data to create their models that they were creating of the Gulf Stream," shares David.
---
Re-designing and 3D Printing the Ocean Drifter
The portion of the ocean drifter device that is 3D printed is underwater at the bottom of the waterproof box that holds the solar-powered GPS. Their objective is to measure ocean currents and not wind currents so they did not want to create something that would be influenced by wind. In order to do that, they designed a 3D printed plus sign shape or X that was suspended from a stainless steel chain connected to the bottom of the drifter box. This is called a drogue.
What this is designed to do is keep the drifter upright by pulling on the bottom with the chain in order to pull it right side up again if it were to flip over and allow the solar GPS to continue to work.
David's students have 3 drifters in the Atlantic Ocean but had not tried placing one in the Pacific Ocean yet, so they decided to design one and enlisted the help of the US Coast Guard to deploy it.
For the Pacific Ocean drifter, the students followed the design of the previous drifters but had an opportunity to redesign it and make it stronger and improve the design. During the design process, the students also worked directly with the Coast Guard through official Zoom calls to learn more about what their parameters and requirements are for deploying their drifter into the Pacific Ocean.
The Atlantic drifter boxes were created with PLA materials and at least one of them had broken on its adventures in the seas so they decided to use Polycarbonate for the Pacific Ocean drifter. This material is meant for tough environments and has high heat deflection as well as phenomenal impact resistance.

For the new design, the students also reworked the hook section that connected to the chain so that it was thicker and stronger.
One of the things they really needed on the drifter was a nameplate to put on the inside. The students were creative and came up with a 2 colored design where they used their dual printing option on the Ultimaker S5 to produce a white plate with raised black lettering for David's email address. They wanted to make sure that it could be read easily even if the sun bleached the colored lettering.  

This way, if the ocean drifter is lost at sea or beached and recovered, people can contact them to let them know where it landed. Which is exactly what happened!
One of their drifters was beached and found by a good samaritan who contacted David via email, sent him a photo of them holding it, and asked "What do I do with this thing?!" They let him know where it was located and David reached out to NOAA who went and picked it up from their home and redeployed it for the students after they 3D printed a new drogue and sent it to them to replace the lost one.
Currently, all 4 of their ocean drifters (3 in the Atlantic and 1 in the Pacific) are all still going strong and you can check out their data here!
---
3D Printing in the Classroom – What is Next?
David plans to have a 3D printing club at the school next year and shares "We just bought an UltiMaker S7 from 3D Universe, which will go in my classroom. The S5 that is currently in my classroom, which is going to go in the hallway for any student in the school to use."

"The objective of our 3D printing club is to make videos that get students familiar with 3D printing, design software, and get introduced to our UltiMaker so they are proficient in changing filament and things like that to get their projects up and running," he explains.

David wants more students to feel empowered. If they have an idea for something, they can learn how to make it happen.

What he doesn't want, is for students to take advantage of access to the 3D printer to make trinkets and things of that nature. He wants to see them using the technology for good, to help someone, themselves, or the school. 

We think this is such a fantastic way to use 3D printing in education and love hearing stories about how teachers are using this technology for STEM learning!
If you are an educator that is using 3D printing in your classrooms and would like to share your stories with us, please email us at info@3duniverse.org! We would love to hear from you!