Customer Spotlight | 3D Printing Artist Jesse Mesa Toves
June 08, 2023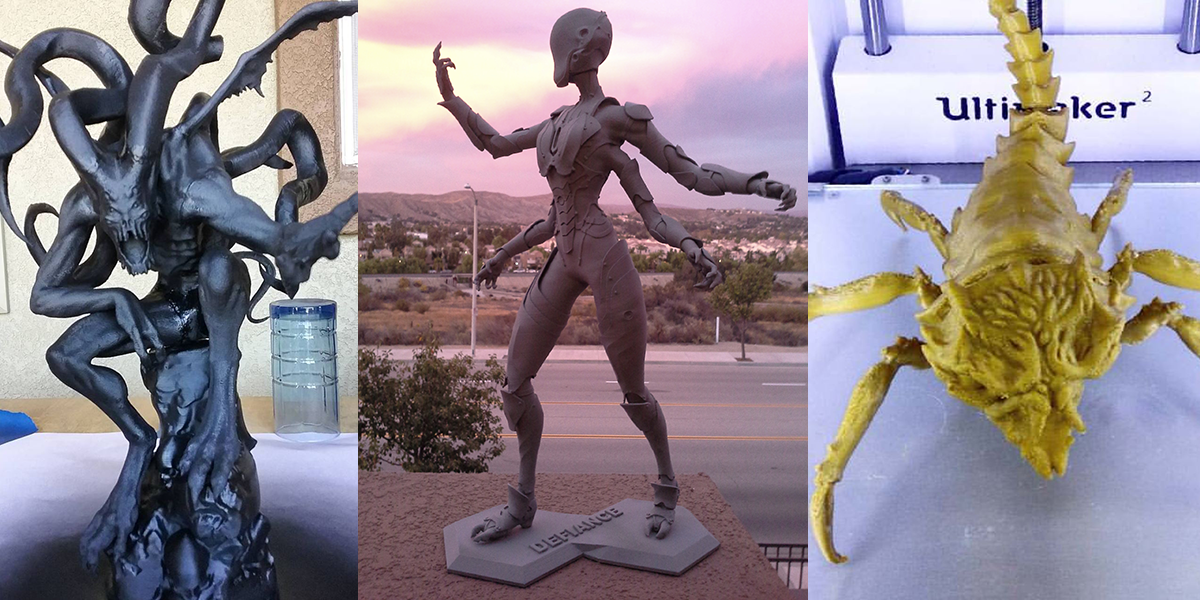 Over the holidays, we threw out a challenge for you to share your favorite Star Wars themed 3D prints and enter to win a $50 3D Universe gift card. While there were some "out of this world" entries, we couldn't resist the Baby Yoda tree topper design from customer and 3D printing artist, Jesse Mesa Toves and crowned him our winner!
We asked Jesse how the idea for the Baby Yoda tree topper came about and he shared, "I was just practicing in Zbrush 2020 – they've added some features which I was testing and it was really just a Sunday morning sketch of Baby Yoda's head. It was the Sunday after The Mandalorian debuted and it was in the air so to speak. A few weeks later, it was time to break out the tree and decorate a bit, the rest is history as they say."
Jesse works in visual effects as a CG generalist, so everything he created for this design was built from reference images online. He has shared it on CG Trader for free for those of you who would like to make your own!
"I used 2.85 mm Silver PLA, which I bought from 3D Universe. It's been kind of my all-purpose PLA as it prints cleanly, holds good detail and is affordable," explained Jesse.
Bringing Original Characters to Life with 3D Printing
When Jesse isn't winning Star Wars themed 3D printing artist contests with his adorable Baby Yoda designs, he is creating new worlds through comics and illustrations.
"I was born and raised on Guam – an American possession – and moved to California in the late 90s. After seeing Toy Story, Jurassic Park and playing the growing crop of video games, I had to try and get into the creation of these interesting digital fields."

Jesse Mesa Toves
Jesse started working in advertising and computer graphics in San Diego and eventually moved to Los Angeles. He has earned two Emmy nominations and two Visual Effects Society awards for work on television shows like Battlestar Galactica and Caprica. You can find his Comixology page here!
For his next 3D printing adventures, Jesse is working on creating fully posable figures of some of his original comic book characters.
"I use an Ultimaker 2 3D printer and use it mostly for creature figures and some industrial design projects." Jesse goes on to add, "It was actually given to me by Ultimaker just before their US distribution push. That's kind of along story. Short version: I had a Makerbot which was letting me down, I shared my complaints on Twitter with a tag to Ultimaker and to help me out, they sent me a U2."
Jesse has been a 3D Universe customer for the past 2 years and we are just now really learning more about him and his art thanks to this contest!

You can find his website at www.jesse-toves.com as well as follow him on Instagram and Twitter!
Get Your Project Featured on 3D Universe!
We love seeing what our customers are doing with their machines and our products and would like to continue featuring customer spotlights on our blog! There are thousands of incredible 3D printing artists in the world and we want to see what you are creating!

If you are working on a project or would like to share your story or if you would like to nominate someone to be interviewed for our blog, please email jen@3duniverse.org to be considered for a feature in our Customer Spotlights!

Follow us to see more upcoming contests and giveaways in 2020!

Instagram: @shop3duniverse
Twitter: @3dprintingisfun
Facebook: @3duniverse.org
LinkedIn: @3duniverse
Feel free to tag us in your photos on social media so we can find your creations! We look forward to sharing your stories, builds and adventures with our followers!