We Built a Pair of Ultimaker 2 3D Printers
June 08, 2023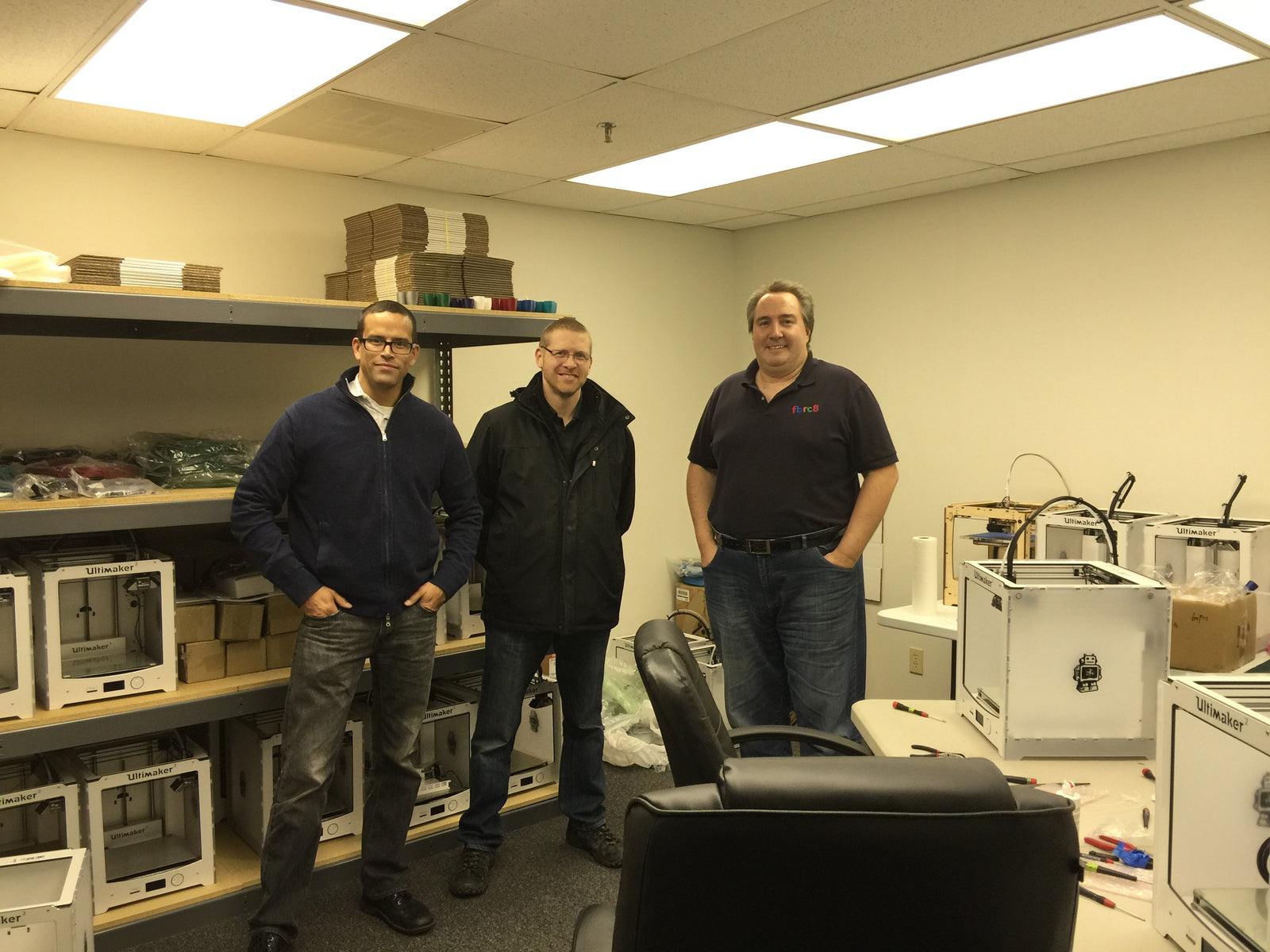 NOTE: this post was written by Aleks Jones, co-founder of 3D Universe. Until now, he's been working behind-the-scenes doing all the programming and design work for the online store.
Last week, we went on a 3D Universe field trip, this time to Memphis, Tennessee. Jeremy and I took a 550-mile journey to visit Ultimaker's United States-based partner, Fbrc8. They are the folks responsible for the assembly and distribution of Ultimaker 2's in the United States.
At 3D Universe, our whole philosophy is that we use the actual products we sell. It's an easy value proposition to own up to: we get to tinker and play with 3D printing technology for a living. What's not to like about that?
One of our favorite 3D printers to play with is the Ultimaker 2. It's an easy product to like. We knew that if we were going to sell them, we wanted to be able to provide the best support possible. With Ultimaker committed to growing into the United States market, we needed to go no further than Memphis, Tennessee to get the training needed.
We were excited about getting to spend an entire day with Simon Oliver, owner of Fbrc8. What we didn't know is that we were each going to get to build a brand new Ultimaker 2 from the ground up. Talk about getting some serious hands-on training!
Simon is a highly respected moderator known as "Illuminarti" on the Ultimaker forums. There are few people who have spent more time than Simon working with Ultimaker 3D printers. We couldn't have asked for a better instructor!
We spent the morning going through some basic support issues and getting oriented. After lunch, we plunged head-first into building our two Ultimaker 2 3D printers.
We started with two empty Ultimaker 2 cases and by the end of the day, we had two fully functional printers built. This was a pretty surreal experience!
We started here.

Simon Oliver, our instructor.

I'm assembling a hot end.

The fully assembled hot ends, prior to installation

Jeremy is connecting the Bowden tube.

My test print.
The master and his newly initiated apprentices near the end of the day. In the right side of the photo, you can see our two completely assembled Ultimaker 2's sitting on the table.
We started with two empty cases, installed all the major and minor components, including the main circuit board, the hot end assembly and the backbone wiring. The result was two fully assembled Ultimaker 2's. And a pretty proud pair of tech geeks!
After lubricating the appropriate moving parts, we ran our first test prints. I watched as the nozzle emitted the first layer of plain-white PLA, then the next, and so on… until the entire 1 mm-tall test square was completed.
Eventually, I was holding the 3D print from a machine which I had built with my own hands, in no small way with the benefit of Simon's expert instruction! In the long course of my career, this stands as one of those subtly defining moments that I'm sure I'll fondly remember, decades from now.
Interested in the Ultimaker line of 3D printers? Check out our selection HERE.
Learn how to upgrade your Ultimaker 2 to and Ultimaker 2+ HERE.
More 3D Universe blog posts:
Check out our review of Simplify3D HERE…
Check out my post titled "Man Compares His $50 3D Printed Hand to His $42K Prosthesis" HERE…