3D Printing for Emergency and Police Vehicles | Customer Spotlight
June 08, 2023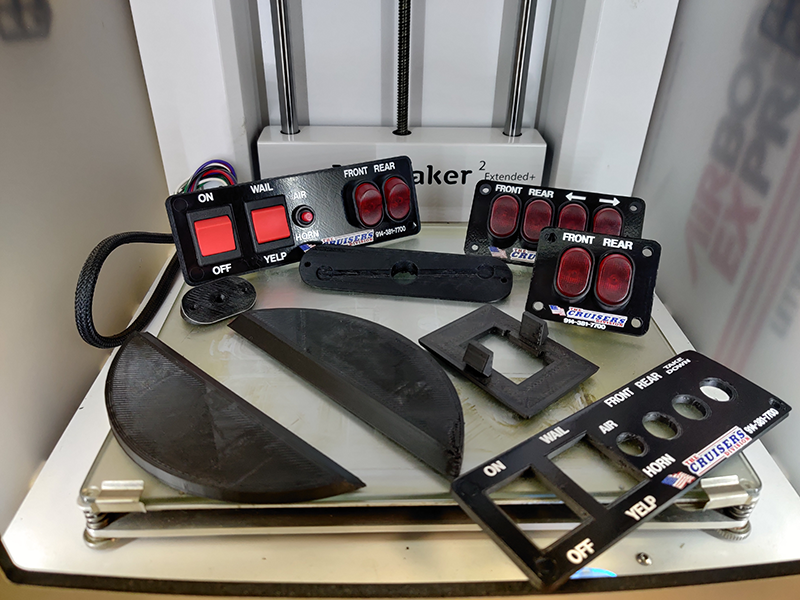 In this week's Customer Spotlight, we hear from emergency and police vehicles upfitter, R&D engineer, and 3D Universe customer Ian Gerstein. He uses an Ultimaker 2 Extended+ to make 3d printed mounts for lightheads as well as custom control panel configurations for controlling lights and sirens.

Ian shares, "As vehicle manufacturers and product manufacturers constantly evolve their products, our 3D printer has proven itself useful in keeping our company current and competitive."
The majority of the 3D printed parts Ian is creating are used to mount or adapt something to where a manufacturer did not initially intend. Additionally, the spotlight caps and switchplates are for unmarked vehicles where discretion, both inside and outside the vehicle are required.
"Before we invested in a 3D printer, we found that we were spending significant amounts of time to create simple products, such as switchplates."

The original process was to take a sheet of ABS plastic, Dremel it into the dimensions required, cut out the switch holes, check, refit, check, refit, and after all was said and done you'd end up with a crude part you called "custom."

Since that time, we've been able to design a product once, press print, and walk away; the result is a professional-looking product with repeatable results and significant labor savings."

– Ian Gerstein
Custom 3D Printed Parts Ready to Mount Directly Off of the Print Bed
Their 3D printed parts are used directly off the print bed. Some products will have a decorative vinyl layer added for labeling or appearance purposes, but for these applications, the mechanical properties of the printing materials are appropriate for end-usage.
Ian uses ABS filament exclusively as he has to ensure the material will remain below its glass transition temperature while both inside the emergency or police vehicles and on its surface. He explains, "As an added benefit, ABS is very cost-efficient and does not put any excessive wear on our printer."
In a World of Ever Evolving Designs – 3D Printing is Key
"With vehicle manufacturers and equipment manufacturers constantly redesigning their products to make improvements and maintain a competitive edge, we must remain right there with them, not as competition, but as partners."

With every new product and redesign comes the added complexity of designing to meet both past expectations and those of the future. By utilizing 3D printing, Ian's team is able to quickly design products that bridge any gap of compatibility between the emergency and police vehicles and components with which they install. This grants them the ability to help their customers bring their concepts to life without being restricted by the components provided.
"Being able to create our own products in as little as a few hours, we're able to add value to our vehicle builds and customer relationships instead of having to make exceptions or excuses."
Ian adds, "As our industry continues to advance, grow, and become populated with new competitors, it's hard to imagine remaining competitive without tools such as our 3D printer."
We Want to Share Your Stories!
Are you using your Ultimaker 3D printers for an interesting personal project, to develop new designs for products or for educational endeavors?

Do you have a fun art project you are working on or are you spending your free time creating ways to make the world a better place with your 3D printer?

We want to hear from you!

Please submit your stories to us at jen@3duniverse.org and if we share your story and project on our blog, we will send you *4 rolls of free Ultimaker filament as a thank you!

*This offer is only available to those in the USA and does not include the 750g PVA spools.