Star Wars 3D Print Contest, Enter You Must!
June 08, 2023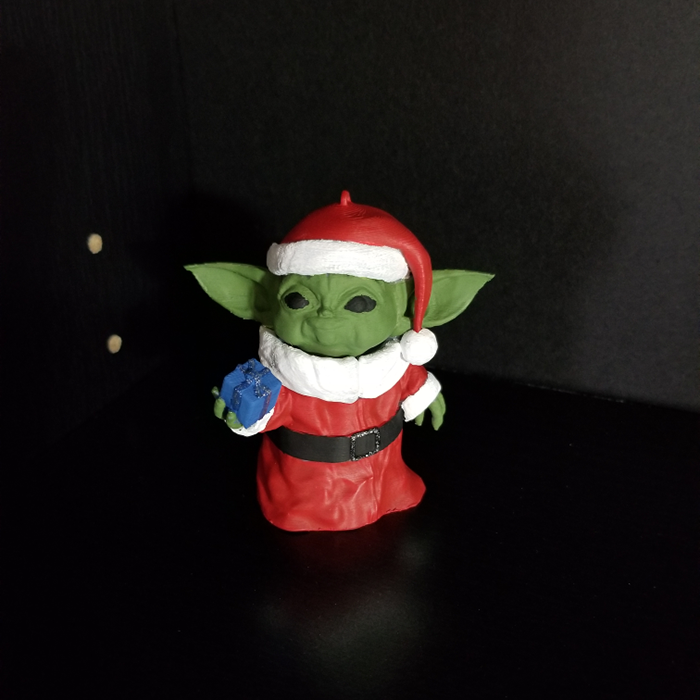 It's that time of year again! The season of traveling for miles to gather together to spend the day with family and friends, sharing favorite memories with one another, filling our bellies full of yummy sugary treats and trying to avoid being the one who has to sit next to Aunt Karen who never stops talking…

That's right! It's Star Wars Movie season! (Oh yeah, and Kwanza, Hanukkah, and Christmas too!) Who is heading to see Star Wars: The Rise of Skywalker? *Raises hand*

We decided that it would be fun to see what you are all making with your 3D printers to celebrate this glorious event! Whether that is a Storm Trooper cosplay helmet or K-2SO costume hands, a TIE Fighter mobile for the baby's room, a Jabba the Hut pencil holder or a Chewbacca lint roller…we want to add your designs to our list of "Star Wars Things We Want to 3D Print!"

You are invited to enter to win a *$50 gift card to 3D Universe by sharing your favorite Star Wars themed 3D prints with us!

Read below how to enter and may the Force be with you!
Enter to Win a $50 Gift Card!
We want to see your traditional designs as well as your creative and quirky takes on everything Star Wars related!

To Enter:

Step 1: Design or download something Star Wars themed that can be 3D printed
Step 2: Print your design
Step 3: Take a photo of your finished print
Step 4: Upload your photo to Instagram, Twitter or Facebook and tag 3D Universe in your post so we can see your design!
• Twitter @3dprintingisfun
• Instagram @shop3duniverse
• Facebook @3duniverse.org

Winners of the contest will be chosen by 3D Universe and announced January 1st, 2020 to give you time to design and/or print and upload them to share with us!

*$50 gift cards can be used for anything in the 3D Universe shop including filaments, 3D printers, laser cutters, Mayku Formbox, Mosaic Palette, and much more!
Need Some Inspiration, You Do!
Unless you have been frozen in carbonite for the past few months, too busy trying to escape from a trash compactor, realized you just kissed your sister/brother and are now searching for therapists that are covered under your insurance or stuck inside of the 3D printed Storm Trooper helmet that you miscalculated measurements for…you have no doubt found yourself staring at the most adorable green creature to ever toddle through the galaxy!

Baby Yoda is here and people all over the world are scrambling to get themselves the newest treasures and gear in time to transform their favorite Star Wars fan, into happiest person in the universe this holiday season.
If the Force has not been on your side and you can't seem to locate what you are searching for or you have an urge to make something yourself, head over to Thingiverse and check out this Baby Yoda holiday ornament!

Designer Dave Magginnis, aka DMag24 shared this 3D printed Baby Yoda like character with this fancy little Christmas outfit on Thingiverse. He shares that it took him about 20+ hours to design the Baby Yoda and approximately a little over 5 hours to design the Christmas outfit for the little guy.
Dave added a ring to the top of the head for those that might want to turn theirs into tree ornaments for many more years of full-body sighs when you open the box of Christmas decorations to start decorating the tree every year and see him smiling back up at you. He suggests a minimum printing size of 200% for this 3D print.
How about you get started making an entire Baby Yoda army with interchangeable outfits for every season? Because who *doesn't want to have a Baby Yoda dressed up like the Easter Bunny to put in the kid's baskets this year? (*If you say "Not me" – don't be surprised to feel like someone is choking you…)
Storm Trooper Cell Phone Stands
Last time I checked, Storm Troopers didn't have cell phones, but I have to laugh at the idea of what dating apps would be like for those party animals if they had access to them…

Since Storm Troopers don't have cell phones of their own, how about you let them hold yours up for you so you can use both pointer fingers while swiping left and right and practice your "Beat Saber" slicing skills and hopefully get yourselves a date to go see "Star Wars: The Rise of Skywalker!"

This cool design was created by ray4510 who made this Star Wars fan art because "I just can't have enough Stormtrooper stuff!"

How about you guys get on that bandwagon and start designing so many 3D printable Storm Trooper things that ray4510 will never be able to print them all?
Now it is Your Turn to Make a Star Wars 3D Print!
We realize it is the holiday season along with Star Wars Movie Season.
You may be preoccupied with eating large meals, shopping for ugly sweaters and practicing your "thankful for this ridiculously useless thing you just got me as a gift and didn't put any thought into" smile in front of the mirror… but we also know many of you are looking for activities to do to help you escape from your family or children…or maybe find activities to do WITH them… and this is a great excuse for either!
Join us…you will?