Leveraging 3D Printing in the Motorsports Industry | 3D Universe Untethered Episode 16
June 08, 2023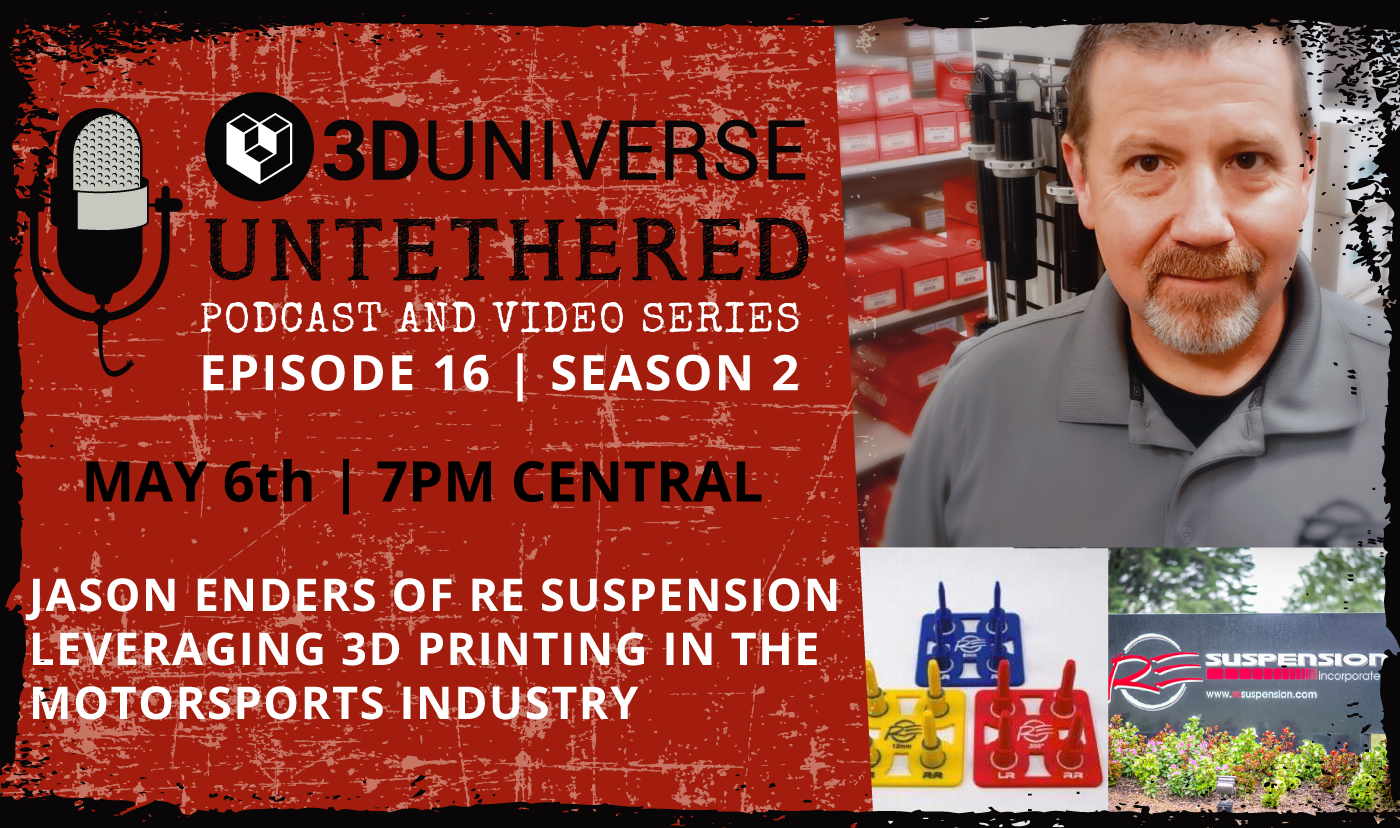 Join Jeremy Simon of 3D Universe as he talks with Jason Enders of RE Suspension, a leading company in the motorsports industry. Learn how this very successful organization is leveraging 3D printing to increase its competitive advantage in an industry where part quality and reliability are immensely important.
In 2002, Jason Enders was working as a full-time mechanic for a NASCAR Cup team, when he began noticing a true need for a company that could offer advanced suspension technology to racers across the country, regardless of the series of competition.
Since its launch, RE Suspension has become an industry leader. Headquartered in a 10,000 square foot building located in the heart of motorsports country, Mooresville, NC, RE Suspension sets the standard with their advanced testing equipment – including 2 EMA dynos, an advanced spring rater, a 10 HP dyno, and a 5 HP dyno. RE Suspension has innovative products, full inventory from top vendors and knowledgeable, talented technicians.
As RE Suspension continues to grow, they look to the future of motorsports as their in-house engineering department uses the latest in 3D printing and sophisticated 3D modeling software to design and create their own line of suspension parts and tools.
Leveraging 3D Printing in the Motorsports Industry | Video
The video for Episode 16 of 3D Universe Untethered is live on YouTube for those that prefer to watch and learn about the 3D printing materials available. You can find the link to the video here.
Subscribe to our channel to get the next episodes delivered right to your inbox!
Podcast Link | Episode 16
For those of you who prefer to sit back and listen while you navigate your life, you can check out the 3D Universe Untethered podcast of this episode here or using the player below.
3D Universe Untethered
You can find the full descriptions and registration links to join us live for upcoming video-recorded sessions and get access to the links to jump into the Q&A with our guests while we chat. You can also find links to all of our past episodes on our 3D Universe Untethered page!
If you are interested in being a guest on 3D Universe Untethered, please email us at info@3duniverse.org!