3D Printed Ceramics in Art and Education | 3D Universe Untethered Episode 23
June 08, 2023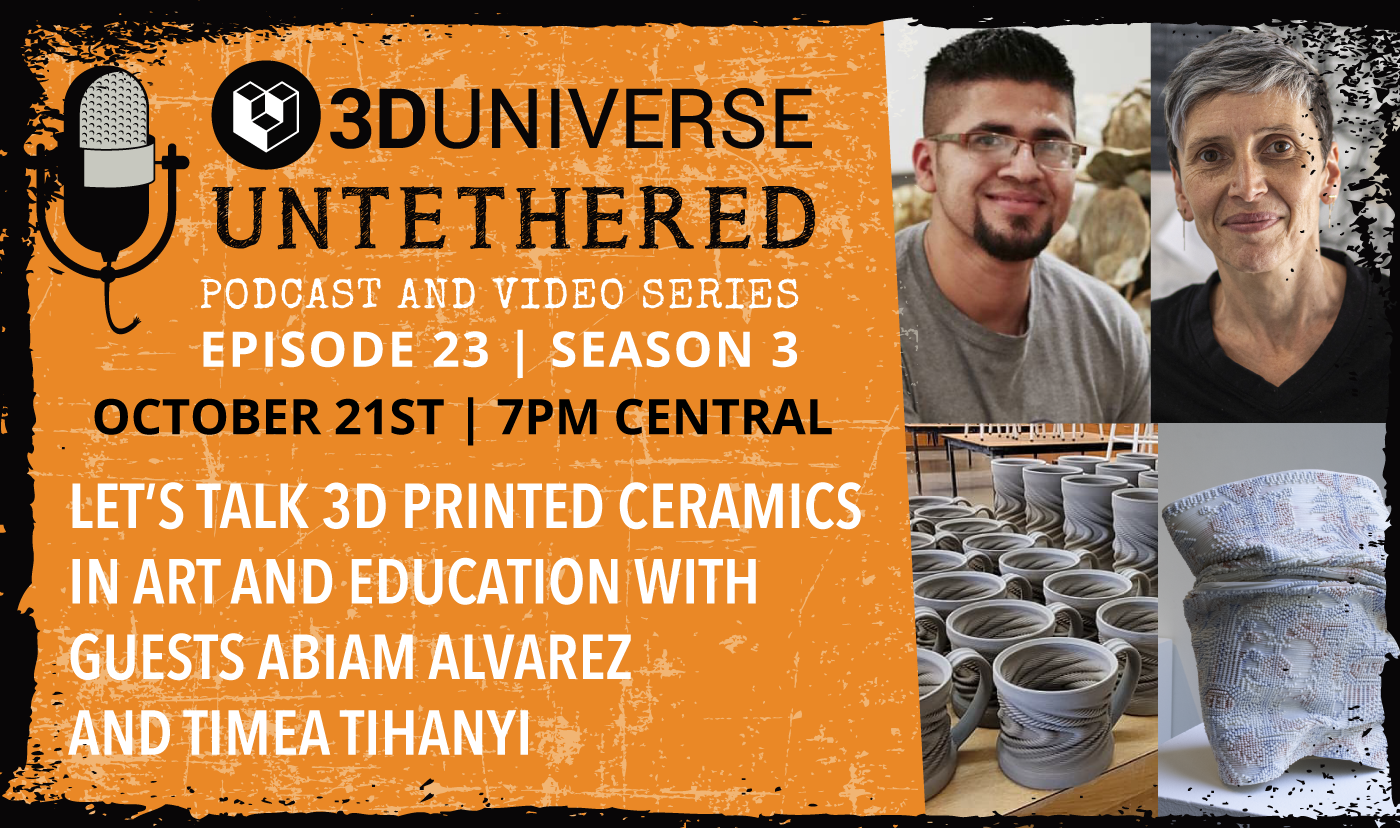 3D printed ceramics open entirely new possibilities for ceramic art and education, and in this episode, we speak with two pioneers in this area to learn more about what can be done. Join us as we sit down with Abiam Alvarez, Ceramics and Studio Arts Teacher at Ann Sobrato High School, and Timea Tihanyi, founder and director of Slip Rabbit Studio, a technoceramics studio in the Pacific Northwest, and a teaching professor in the Interdisciplinary Visual Arts program at the University of Washington. Both have done amazing work with 3D-printed ceramics and will share their experiences with us in this episode.

If you are unfamiliar with 3D printed ceramics, it may be helpful to understand a little about how it works. Instead of using plastic and other filament materials extruded through a nozzle to create an object, the ceramic 3D printer uses clay that is extruded through a large syringe that is equipped with a plunger to push the material out through the end in layers that build the final product.

Many of the desktop ceramic 3D printers like the 3D Potter – use the cardinal axis system rather than the delta printer configuration, which means the bed platform that the clay object is being created on is moving while the syringe stays stationary. In the video below, you can see how many of the desktop ceramic 3D printers work.
There are also larger industrial-sized ceramic 3D printers that allow you to make multiple large objects non-stop if combined with a continuous flow hopper, such as structures and walls, but in this episode of 3D Universe Untethered, we will be focusing on desktop ceramic 3D printing with a focus on how they are being used in educational settings.

Abiam and Timea share a lot of beautiful images of their 3D printed ceramic art pieces in this episode and we highly encourage you to watch when you have time, so that you don't miss out on their unique pieces they have made!

Below, you will find the video as well as the podcast links and bios for each of them!
3D Printed Ceramics in Art and Education | Video
The video for Episode 23 of 3D Universe Untethered is live on YouTube for those that prefer to watch and learn about the 3D printing materials available. You can find the link to the video here.
Subscribe to our channel to get the next episodes delivered right to your inbox!
Podcast Link | Episode 23
For those of you who prefer to sit back and listen while you navigate your life, you can check out the 3D Universe Untethered podcast of this episode here or using the player below.
---
Abiam Alvarez | Ceramics and Studio Arts Teacher at Ann Sobrato High School
Abiam Alvarez grew up in Leon Guanajuato, Mexico for nine years before migrating to the United States in 1999 and settling in the small California town named Firebaugh, which is a farming community town surrounded by many fields of crop. Abiam experienced some of the labors through the agriculturally related jobs available in the summers as he grew up and attended school.

After graduating high school, Abiam attended California State University, Fresno from 2005 till 2011, where he earned his bachelor's degree in art and design with an emphasis in ceramics and sculpture. He later went back to college to earn his single subject teaching credential in the art to be able to teach high school art. His summers were still spent working laborious occupations in the central valley as he attended college.
Abiam is a first-generation college student in his family. He currently resides in the bay area as a ceramics and art high school teacher at Sobrato High School in Morgan Hill. His roots are closely tied to the central valley, where he grew up and makes work that speaks of the labors and political issues surrounding agriculture, consumerism, and immigrant workers while working on his MFA degree at San Jose State University.

Check out this episode of 3D Universe Untethered and learn how he is using 3D printed ceramics with his students, how he taught himself how to use this technology and see some of his beautiful work!
To see Abiam Alvarez's work, please visit:
https://www.instagram.com/abiam.alvarez/
---
Timea Tihanyi is a Hungarian-born interdisciplinary visual artist and ceramist living and working in Seattle, Washington. Tihanyi holds a Doctor of Medicine degree from Semmelweis University, Budapest, Hungary; a BFA in Ceramics from the Massachusetts College of Art in Boston; and an MFA in ceramics from the University of Washington.

Tihanyi's work has been exhibited in the United States, Brazil, Australia, Denmark, Spain and the Netherlands, including Shepparton Art Museum, Henry Art Gallery, Bellevue Art Museum, Mint Museum of Art and Design, Society for Contemporary Craft in Pittsburg, Clay Center for the Arts and Sciences, Foundry Art Center, International Museum of Surgical Science, SculptureSpace NYC and the Museum of Glass, Tacoma.
She has received many recognitions, including the 2018 Neddy Award in Open Media, a 2018-19 Bergstrom Award, a New Foundation travel grant, 2020 McMillen Fellowship and 2021 CityArtist award. In Seattle, her work has been part of numerous solo and group exhibitions at Gallery 4Culture, CoCA, Consolidated works, Seattle Art Museum (SAM) Gallery, Davidson Contemporary, and SOIL Gallery. Her work is represented by the Linda Hodges Gallery, Seattle. Her exhibition "Object Permanence", a collaboration with artist Sywia Tur, will open in January 2022 in the Bellevue Arts Museum.

Tihanyi is a Teaching Professor in the Interdisciplinary Visual Arts program at the University of Washington. She is also the founder and director of Slip Rabbit, the first technoceramics studio in the Pacific Northwest. This unique mentoring space, which uses ceramic 3D printing for experimentation and learning is a research hub at the intersections of art, design, architecture, science, and engineering.

Make sure to watch the video of this episode to see some of the beautiful 3D printed ceramics pieces that Timea has been creating!
To see Timea Tihanyi's work, please visit:
https://www.sliprabbit.org/projects
https://www.timeatihanyi.com/
To download a free copy of Timea Tihanyi's book, "Making and Breaking Rules", please visit:
https://www.sliprabbit.org/book
---
3D Universe Untethered
You can find the full descriptions and registration links to join us live for upcoming video-recorded sessions and get access to the links to jump into the Q&A with our guests while we chat. You can also find links to all of our past episodes on our 3D Universe Untethered page!
If you are interested in being a guest on 3D Universe Untethered, please email us at info@3duniverse.org!