Desktop Vacuum Forming with the Mayku FormBox | 3D Universe Untethered Episode 21
June 08, 2023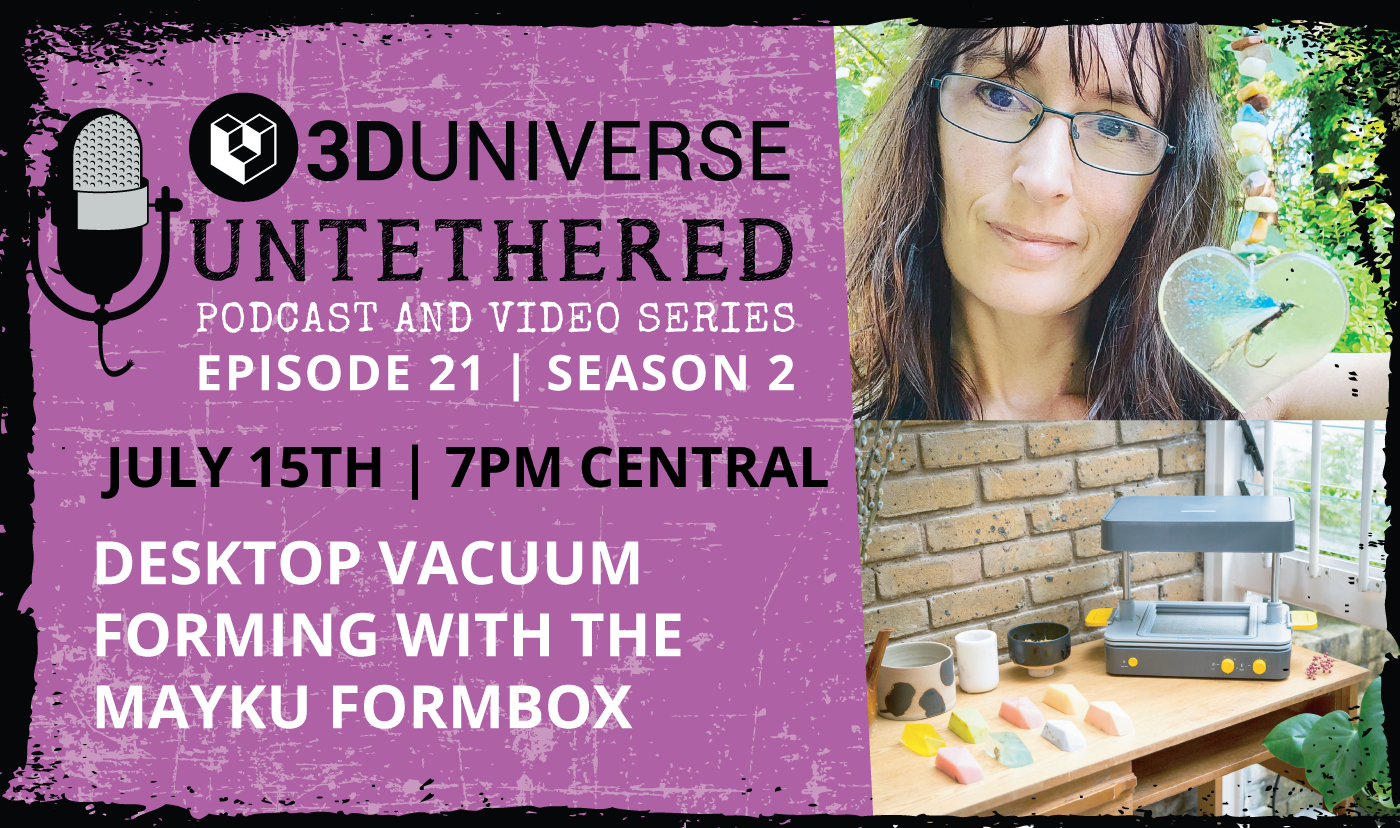 Join us as we take a close look at the Mayku FormBox Vacuum Former and some of the wonderful projects it makes possible. Jen Owen, Creative Director at 3D Universe, shares with us some of the projects she's done so far, as well as many others she has planned.

From personalized soaps and a nice little plaster planter to put in her camper van on her road trips, to a very personal art piece that she created to memorialize her late grandfather, Jen will share a bit about each project she has already completed and her plans for future experiments with the Mayku!

Don't miss this opportunity to learn about this exciting and affordable addition to your workshop, classroom or makerspace! You can find the video and podcast links below!
Desktop Vacuum Forming with the Mayku FormBox | Video
The video for Episode 21 of 3D Universe Untethered is live on YouTube for those that prefer to watch and learn about the 3D printing materials available. You can find the link to the video here.
Subscribe to our channel to get the next episodes delivered right to your inbox!
Podcast Link | Episode 21
For those of you who prefer to sit back and listen while you navigate your life, you can check out the 3D Universe Untethered podcast of this episode here or using the player below.
---
3D Universe Untethered
You can find the full descriptions and registration links to join us live for upcoming video-recorded sessions and get access to the links to jump into the Q&A with our guests while we chat. You can also find links to all of our past episodes on our 3D Universe Untethered page!
We are taking a little break for the summer, but please make sure to stay tuned for Season 3 kicking off in September with some wonderful guests, demos, product reviews and much more!
If you are interested in being a guest on 3D Universe Untethered, please email us at info@3duniverse.org!