Leveraging MIDI to Enable Amputees to Play Music with Rick Williams | 3D Universe Untethered Episode 29
June 08, 2023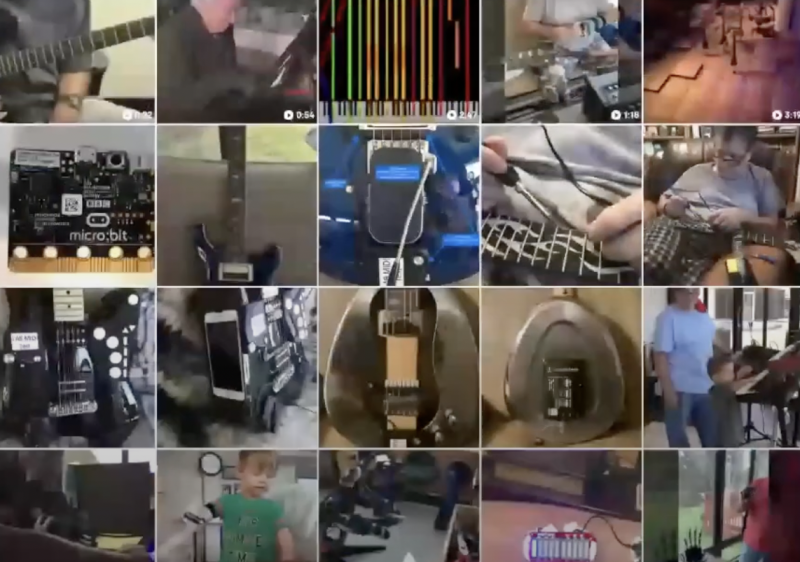 In this episode of 3D Universe Untethered, we sit down with Rick Williams, a long-time e-NABLE Volunteer and a professional musician who has been helping amputees and those with congenital limb differences to be able to experience the joy of playing music by using a combination of customized instruments, custom-made prosthetic devices, and the MIDI protocol.

Rick developed these techniques for himself after he suffered a horrific accident that severed his hand (which was thankfully able to be re-attached).

Rick shares how he is incorporating MIDI into 3D-printed assistive devices as well as some other personal projects he has been working on.
---
Rick's Accident
Rick shares about the accident that severed his hand.

"It was an absolute freak accident. There was a hard drive that was stuck in one of the old (computer) gigantic metal cases. It was rusted in or something and just wouldn't come out. So I am pulling on it and pulling on it, and it wouldn't let go. Finally, the drive let go, and they don't roll the edges of the metal case anymore; in the old days, they rolled them. Well, it severed my hand, tendons, arteries, everything. They said I only had 5 more minutes to live because I was bleeding out."

He goes on to explain, "Interestingly enough, I asked Amazon Alexa to call my wife because I was just going to tell her goodbye because I knew I was slipping. She got on the phone, and it was crazy she even had her phone because normally at work she isn't allowed to have it. She called the neighbor and told them to get in the house no matter what. They came in and found me and took me to the hospital, and they reattached my hand. The reattachment, I can't complain; it's better than nothing. As a musician, that is a big thing to lose."

Rick plays 12 instruments and working on learning a thirteenth, so music has been a huge part of his life. It helped him pay his way through college; he's been in numerous bands and has done studio work as well.

Thanks to his wife, who refused to let the surgeons amputate his hand that day, he was somehow able to finally get some feeling back and start experimenting with other ways to make music happen, not just for himself, but for amputees who believed there was no way they would be able to play music again.

He shares, "I wasn't ready to quit."
---
Instruments For the Amputee Community Using MIDI to Play Music
After refusing to give up hope and getting some feeling back into his own hand, Rick is now working with the amputee community to help create musical instruments that use the MIDI (Musical Instrument Digital Interface) protocol and allows them to discover and rediscover talents they thought were not possible due to a limb difference.
"Let's face it, MIDI has been the holy grail since the 80s," explains Rick.

For those that are not familiar, MIDI is a protocol that has mostly been used for music. It allows electronic instruments and various other digital musical tools to communicate with each other. MIDI on its own does not make any sound. It just generates a series of messages like "continuous controller," "note on," "note off," "patch change," "pitch bend," and more. The messages are then interpreted by a MIDI instrument to produce the desired sound. A MIDI instrument can be a piece of hardware like an electronic guitar, keyboard, or synthesizer or part of a software environment like Garageband, Digital Performer, or Logic Pro, for example.
From creating the aptly named "sh*t-tar" from a bedpan, a guitar made from a shovel, and much more, to helping a young musician play drums and other instruments by using MIDI, Rick has become a godsend to those who have limb differences and want to play music.

Rick doesn't just stop at helping with musical instruments, however. He also helps to design new 3D printed prosthetics for the e-NABLE community and continues giving his time to make a difference.

Please take the time to watch the video below to see some of the incredible and unique work Rick has been doing for the past 5 years, or listen to his story on our podcast.
---
Rick Williams – Leveraging MIDI to Enable Amputees to Play Music | Video
The video for Episode 29 of 3D Universe Untethered is live on YouTube for those that prefer to watch and learn about Rick's work. You can find the link to the video here.
Subscribe to our channel to get the next episodes delivered right to your inbox!
Podcast Link | Episode 29
For those of you who prefer to sit back and listen while you navigate your life, you can check out the 3D Universe Untethered podcast of this episode here or using the player below.
---
More Information about e-NABLE
To learn more about the e-NABLE volunteer community, where volunteers around the world are helping to provide assistive devices (often 3D printed) to people in underserved communities, visit: http://enablingthefuture.org/
To join the discussion or get involved, check out the e-NABLE Hub at https://hub.e-nable.org/
To get in touch with Rick about his work, you can send him a private message on the e-NABLE Hub, or you can email the e-NABLE help desk at support@e-nable.org.
For more 3D Universe Untethered episodes, visit https://3duniverseuntethered.com/ and for episodes dedicated to new 3D printed e-NABLE devices, please check out episode 6 with Mat Bowtell and episode 15 with Mike Larson!