Designing the Next e-NABLE 3D Printed Hand | 3D Universe Untethered Episode 15
June 08, 2023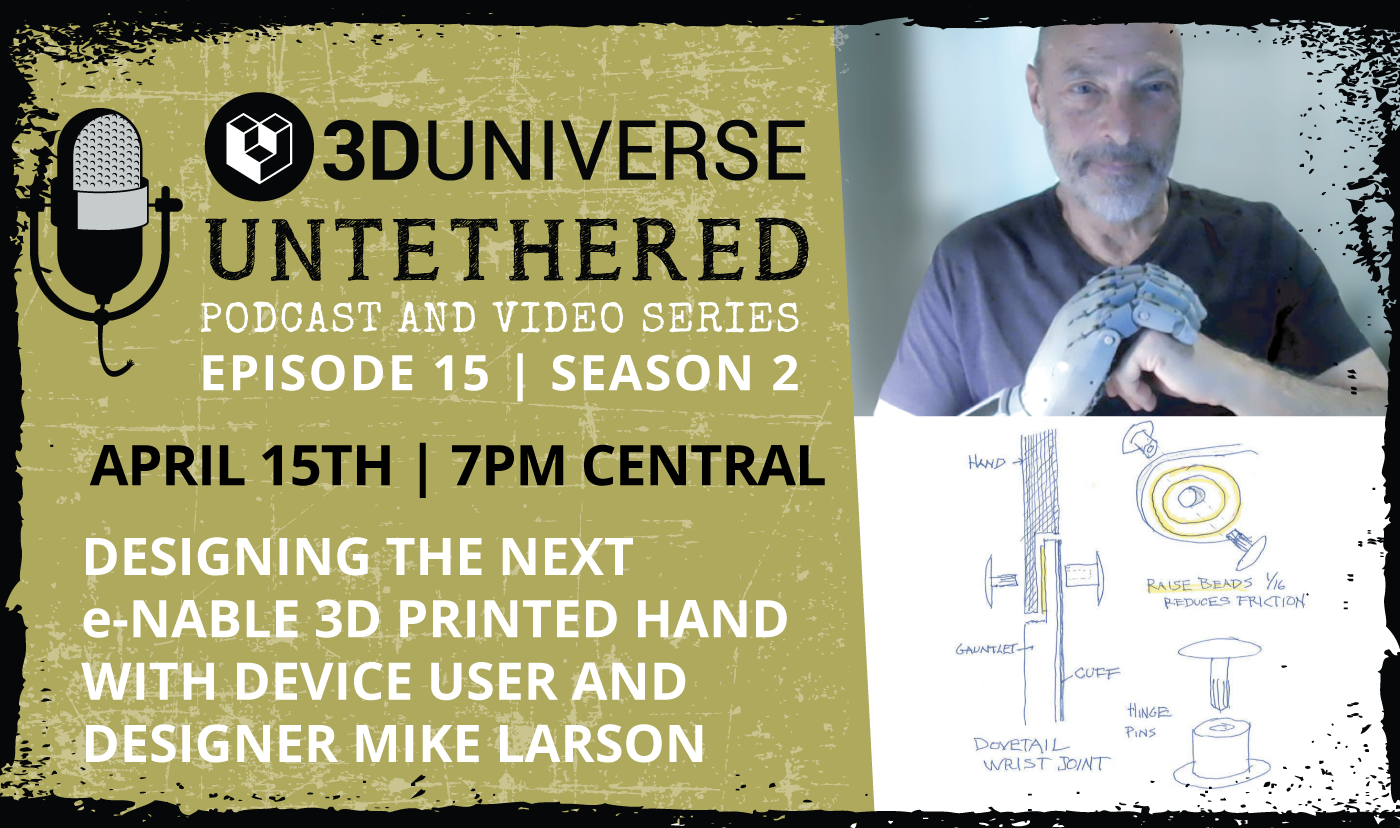 In this episode of 3D Universe Untethered, join e-NABLE co-founder Jeremy Simon and e-NABLE volunteer Bryce Palichuk as they speak with Mike Larson, another e-NABLE volunteer who has a limb difference himself and is helping to design a new and improved 3D printable prosthetic hand.

Learn about the process of testing existing designs, identifying improvements to be made, and working collaboratively with an 11 person team to create the next open-source 3D printed hand and arm design for the e-NABLE community.
"This community (e-NABLE) has been doing mostly hand type devices for these past 8-9 years but has since moved into arms, with devices for people who have a functional elbow who can use the elbow to activate a device. Now we even have devices for above-elbow amputees that are shoulder operated with a harness. There are all kinds of new designs evolving."

Jeremy Simon – e-NABLE Co-Founder
The team is made up of some of the e-NABLE volunteers who have been around since the very beginning and have extensive knowledge of the work that has already been done as well as new members, actual device users, students and those with CAD experience and a variety of other skills. Getting feedback from device users like Mike during the design and prototyping stage for the new 3D printed hand is essential to making sure the design is functional and works well before it is released to the community.
Watch the video below or listen to the podcast to learn more about past e-NABLE designs and the new improvements the team is making for this new generation of e-NABLE devices!
Designing the Next e-NABLE 3D Printed Hand with Mike Larson | Video
The video for Episode 15 of 3D Universe Untethered is live on YouTube for those that prefer to watch and learn about the 3D printing materials available. You can find the link to the video here.
Subscribe to our channel to get the next episodes delivered right to your inbox!
Podcast Link | Episode 15
For those of you who prefer to sit back and listen while you navigate your life, you can check out the 3D Universe Untethered podcast of this episode here or using the player.
3D Universe Untethered
You can find the full descriptions and registration links to join us live for upcoming video-recorded sessions and get access to the links to jump into the Q&A with our guests while we chat. You can also find links to all of our past episodes on our 3D Universe Untethered page!
If you are interested in being a guest on 3D Universe Untethered, please email us at info@3duniverse.org!