Choosing the Right 3D Printing Materials | 3D Universe Untethered Episode 13
June 08, 2023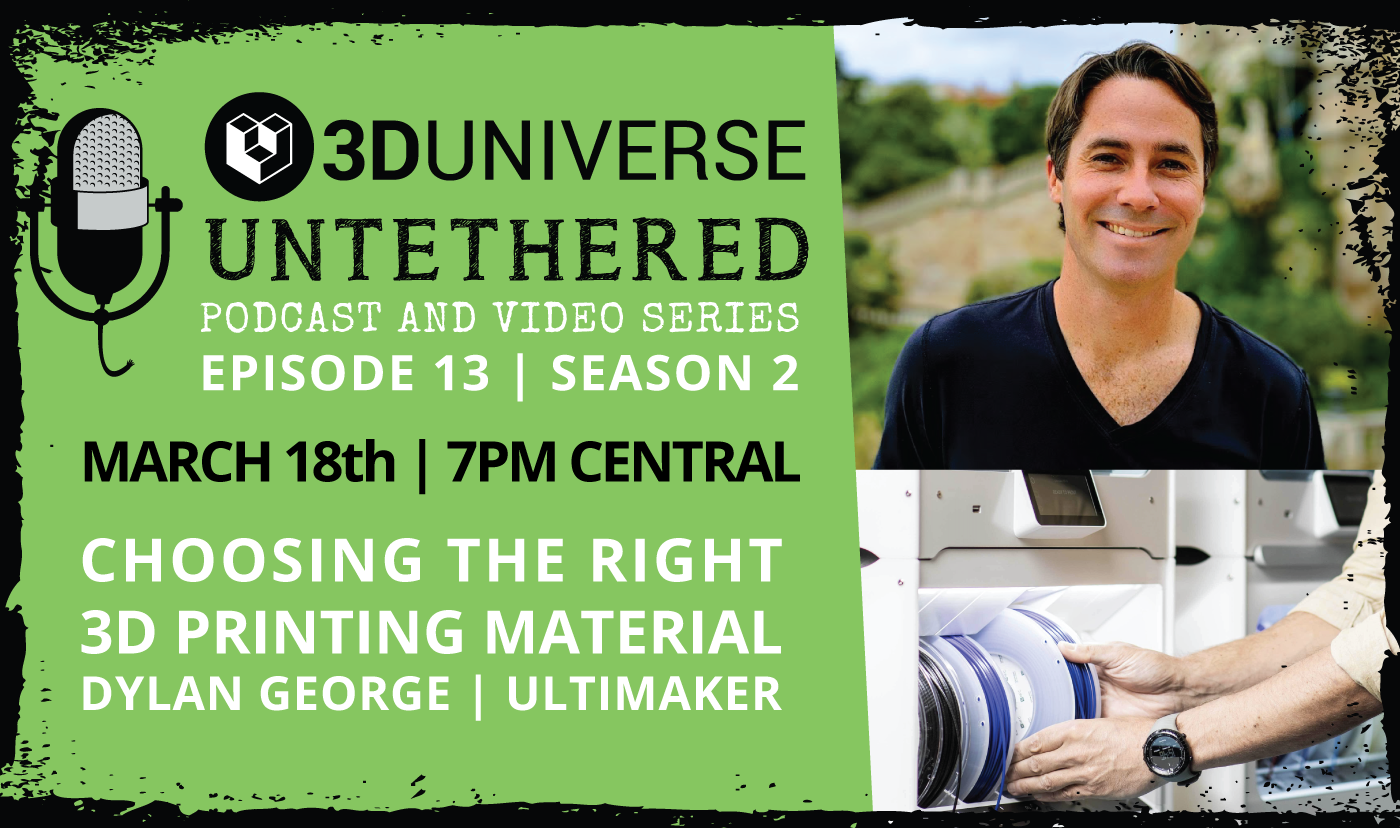 PLA is great for some things, but there are so many other wonderful options available for 3D printing materials! From Nylon, active foaming filaments, carbon fiber and metal infused to antibacterial, eco-friendly and flexible 3D printing materials and more, there is a world of incredible opportunities for you available to explore with 3D printing.

Are you getting the most out of your 3D printer? Join 3D Universe founder & CEO, Jeremy Simon, as he sits down with Dylan George, Application Engineering Manager for Ultimaker in the USA, to talk about some of the many 3D printing materials and options available.

Jeremy and Dylan also go over 3D printer hardware considerations, such as heated beds, enclosed build areas, air filtration, and print bed adhesives that will allow you to try a variety of other materials. Make sure you check out our updated website features that help you locate the right materials for your 3D printing jobs too!

For each material, we talk about suggested use cases, pros and cons, tips and tricks for printing, and more. This is an information-packed episode that you do not want to miss so make sure you check out the podcast and video links below!
3D Printing Materials | Video
The video for Episode 13 of 3D Universe Untethered is live on YouTube for those that prefer to watch and learn about the 3D printing materials available. You can find the link to the video here.
Subscribe to our channel to get the next episodes delivered right to your inbox!
Podcast Link | Episode 13
For those of you who prefer to sit back and listen while you navigate your life, you can check out the 3D Universe Untethered podcast of this episode here or using the player below!
---
3D Universe Untethered
You can find the full descriptions and registration links to join us live for upcoming video-recorded sessions and get access to the links to jump into the Q&A with our guests while we chat. You can also find links to all of our past episodes on our 3D Universe Untethered page!
If you are interested in being a guest on 3D Universe Untethered, please email us at info@3duniverse.org!