A Traditional Artist and Craftsman Learns About Digital Fabrication | 3D Universe Untethered Episode 19
June 08, 2023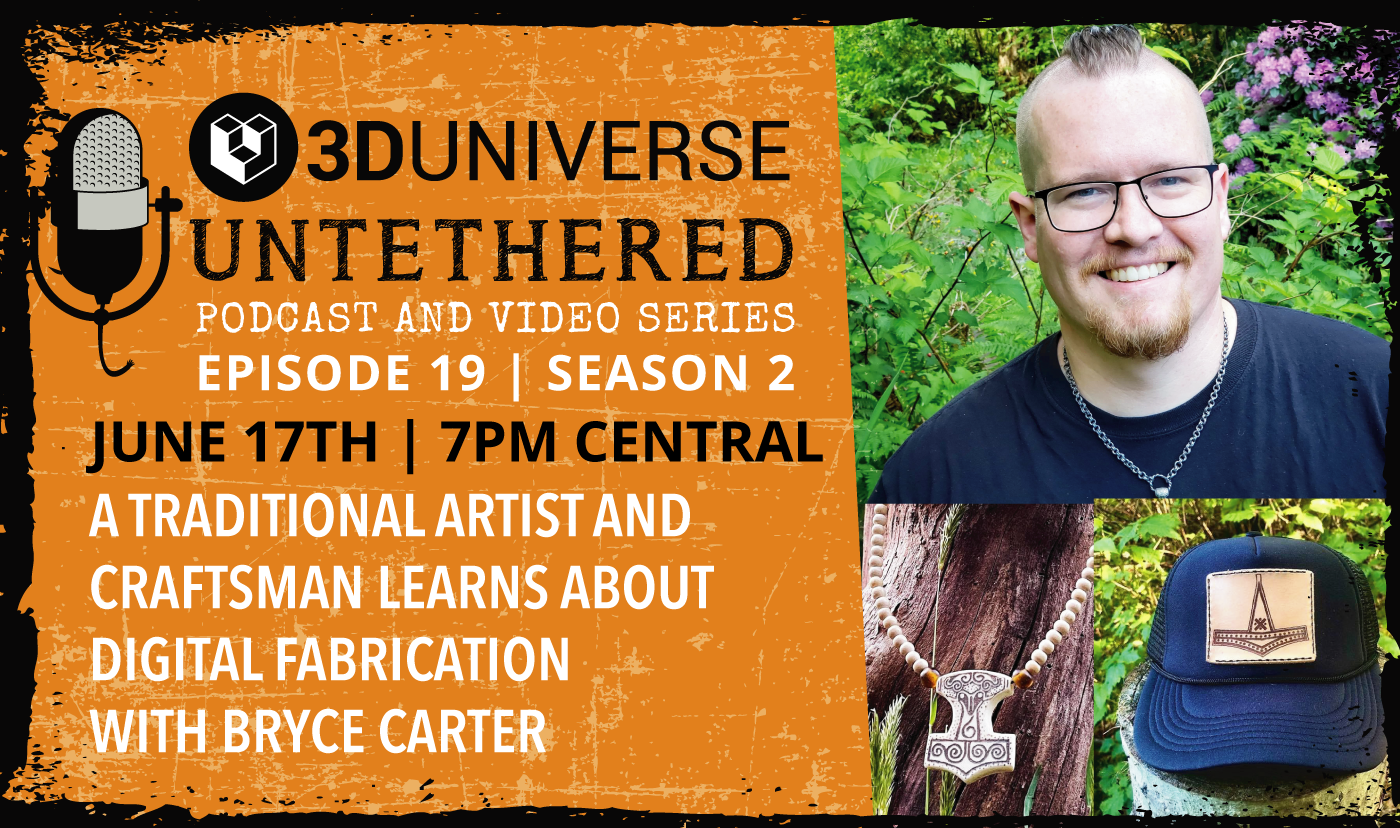 What happens when a traditional craftsman is given some of the latest digital fabrication tools? Join us as we sit down with Bryce Carter, old school "Punk Heathen" jeweler, leatherworker, woodworker, and "guy who still makes patches for his jean jacket with an Exacto knife, card stock and a can of spray paint" of Carter Craftwork and our Creative Director Jen Owen who has been teaching him as she is learning herself!
Hear Bryce share about how he has been using laser cutting, 3D printing, and vacuum forming to produce his original designs more efficiently and improve the profitability of his own start-up small business after learning the company he is currently working for is shutting down due to COVID.
Before having access to a laser cutter, Bryce was hand etching his designs with a handheld Dremel bit and sometimes even a nail! He carves his Carter Craftwork designs into bone, leather, buffalo teeth, antler and wood which used to take hours and he wasn't able to get the clean and precise lines he had hoped for by hand etching. Now, thanks to his laser cutter, he is able to not only create his designs faster and in a matter of minutes versus hours, but he can duplicate his designs over and over again and have high-quality line work for his products.
"For the majority of the jewelry I make, it's a lot of bone and antler pendants so I use various grinders and I have a Dremel tool, a belt grinder, and the wheel style grinder too. Most of the time before I got access to these tools (the laser cutter), it's been all manual. I would draw on the bones with a pencil and try and keep the lines straight with the Dremel bit. I was trying to etch something in there and hoped it came out well!"

I've always been fascinated with skeletons and bones and I was thinking "Why am I not carving these?" because I find them in places and I have access to them. I like the fact that I am making things that I care about so it is not like a lot of factory-produced items where people are just in there to get paid and they don't care and they just throw it together. For me, every piece is something I am interested in. I drew it. I designed it. I took time so I want to make them all as high quality as possible."

– Bryce Carter – Carter Craftwork
Having the laser cutter has also opened doors for Bryce he hadn't thought of before. Now he is able to take his drawings and turn them into leather patches for hats, bags, and other items to sell in his Carter Craftwork Etsy shop. What would have taken him hours to create one of, he can now produce multiple in the same amount of time.
Check out our video and podcast below to hear more about Bryce's story, how Jen has been helping him learn to use these machines and his plans for future projects as he works to build his own small business now that his current job is ending due COVID. Perhaps this is a blessing in disguise!

Follow Bryce's journey and see his works on his Etsy page, Instagram and on Facebook!
A Traditional Artist and Craftsman Learns About Digital Fabrication – Carter Craftwork | Video
The video for Episode 19 of 3D Universe Untethered is live on YouTube for those that prefer to watch and learn about the 3D printing materials available. You can find the link to the video here.
Subscribe to our channel to get the next episodes delivered right to your inbox!
Podcast Link | Episode 19
For those of you who prefer to sit back and listen while you navigate your life, you can check out the 3D Universe Untethered podcast of this episode here or using the player below.
3D Universe Untethered
You can find the full descriptions and registration links to join us live for upcoming video-recorded sessions and get access to the links to jump into the Q&A with our guests while we chat. You can also find links to all of our past episodes on our 3D Universe Untethered page!
If you are interested in being a guest on 3D Universe Untethered, please email us at info@3duniverse.org!