3D Printed Architecture - Safe, Affordable and Eco-Friendly
October 18, 2023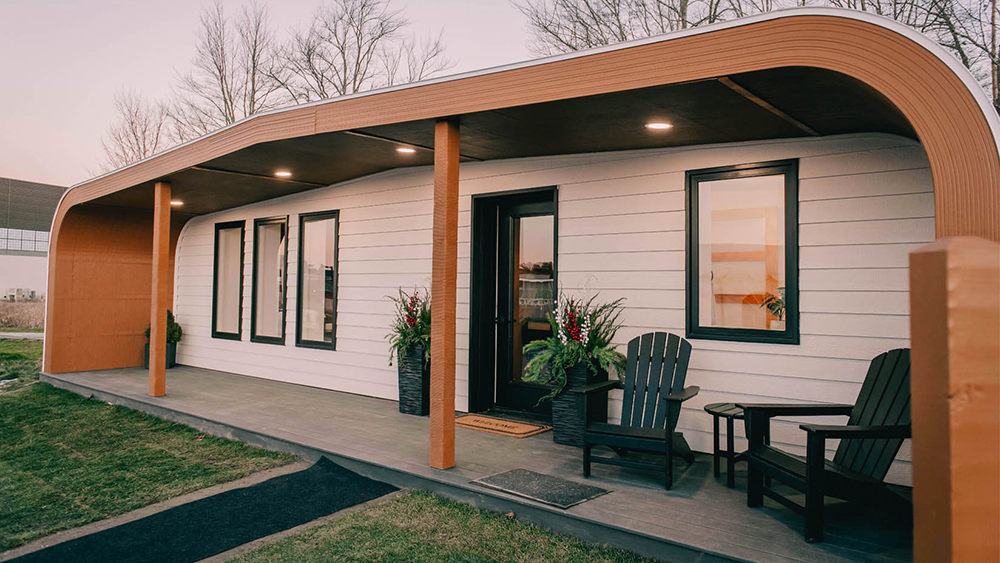 For the past few years, we have seen a boom in 3D printed architecture sprouting up around the world, layer by layer. 
3D printed homes and offices are being created from concrete and clay, recyclable materials, wood shavings, sand, corn and other natural materials. This is lowering the cost of housing around the world, giving families affordable options for home ownership and addressing the labor shortages of skilled tradesworkers.

Large industrial-sized 3D printers use additive manufacturing and digital blueprints that require minimal human interaction and use robotic arms that follow pre-programmed instructions. Homes can often be built in a matter of a day or two and can even sometimes use materials sourced from the owner's own property.
The costs for these 3D printed homes varies widely, from an estimated $4000 USD to over a million, depending on the complexity of the design and the materials used. 
Below, we have compiled a list of some of the most intriguing 3D printed house projects that are currently being created in various countries across the globe.
BioHome3D 
BioHome3D is the first 3D-printed house in the world made entirely with bio-based, recyclable materials. This project was designed and manufactured as a part of the Hub & Spoke Program between the University of Maine and Oak Ridge National Laboratory. 
To create this 600 square foot 1 bedroom home, they used a combination of wood fibers and bio-resins made from corn as well as cellulose nanofiber insulation. All of the materials used are 100% recyclable. 

The floor, walls and roof are all 3D printed, which sets this home apart from other commercially made 3D printed homes that often have to use traditional means and materials to create the roof or floor of their homes.
The BioHome3D is created off site and as separate modules for easy transport and assembly. 
This project was created to address the labor shortage issues and the ever-rising cost of affordable housing. 
For more information, please visit their website.
---
 TECLA Domes 
Italy's WASP (World's Advanced Saving Project) partnered with TECLA (which takes its name from Technology and Clay) and Mario Cucinella Architects to create a low-carbon, bioclimatic double dome structure to help fight the housing crisis. 

The Tecla domes are created using locally sourced clay and are made up of 350 layers, leaving room for skylights in these 15 foot tall structures. 

It takes approximately 200 hours to create one of these with 72 of those hours being printing time.
"From the shapeless earth to the earth as house shaped. Today we have the knowledge to build with no impact in a simple click," says Massimo Moretti, WASP Founder. "Technology is now at the human service and the home as a birthright is real."

Learn more about this project on their website.
---
Project Milestone
Project Milestone is a 3D printed home project based out of Eindhoven, the Netherlands. The single story structure has 2 bedrooms and was created to resemble a large rock formation to fit well into the natural surroundings of the area.
This home consists of 24 separate 3D printed concrete parts that are created in a factory and then shipped to the site, placed on a foundation and then windows, doors and roofing are added after the 3D printed portions are fully assembled.
In traditional homes built with concrete, wooden or metal frames are needed to pour the walls which leads to more concrete being used than needed and leads to higher CO2 emissions, where as with 3D printed concrete structures, it is possible to use much less material and only place the concrete where it is absolutely needed.

To learn more about this project, please visit their website
---
ICON
The ICON team partnered with the award-winning Texas firm, Lake|Flato Architects, to create what they are calling "House Zero."
"House Zero is ground zero for the emergence of entirely new design languages and architectural vernaculars that will use robotic construction to deliver the things we need most from our housing: comfort, beauty, dignity, sustainability, attainability, and hope," said Jason Ballard, co-founder and CEO of ICON. "Houses like this are only possible with 3D printing, and this is the new standard of what 3D printing can mean for the world. My hope is that this home will provoke architects, developers, builders, and homeowners to dream alongside ICON about the exciting and hopeful future that robotic construction, and specifically 3D printing, makes possible. The housing of our future must be different from the housing we have known."
Learn more about ICON and their projects on their website.
---
Kamp C 
Kamp C, a company based out of Belgium, created the first 3D printed home in Europe and the first 2 story 3D printed demo home in the world. 

This 3D printed house is 27 feet tall and includes a low-energy floor and ceiling heated by solar panels and a heat pump.
Learn more about this project on their website.
---
3D Potter Ceramic and Concrete 3D Printers
If your school would like to introduce students to the exciting world of 3D printed architecture as many schools have already done, take a look at our line of 3D Potter Ceramic and Concrete 3D printers! These printers are available in a range of different sizes and capabilities. The larger Scara models, when paired with a continuous flow pump and cement mixer, can be used to explore the exciting possibilities of architectural fabrication. And the smaller models can be used with clay to prototype the same architectural structures on a smaller scale.
Contact us if you'd like more information!