3D Printed Bernie | Road Trip Adventures with Jen
June 08, 2023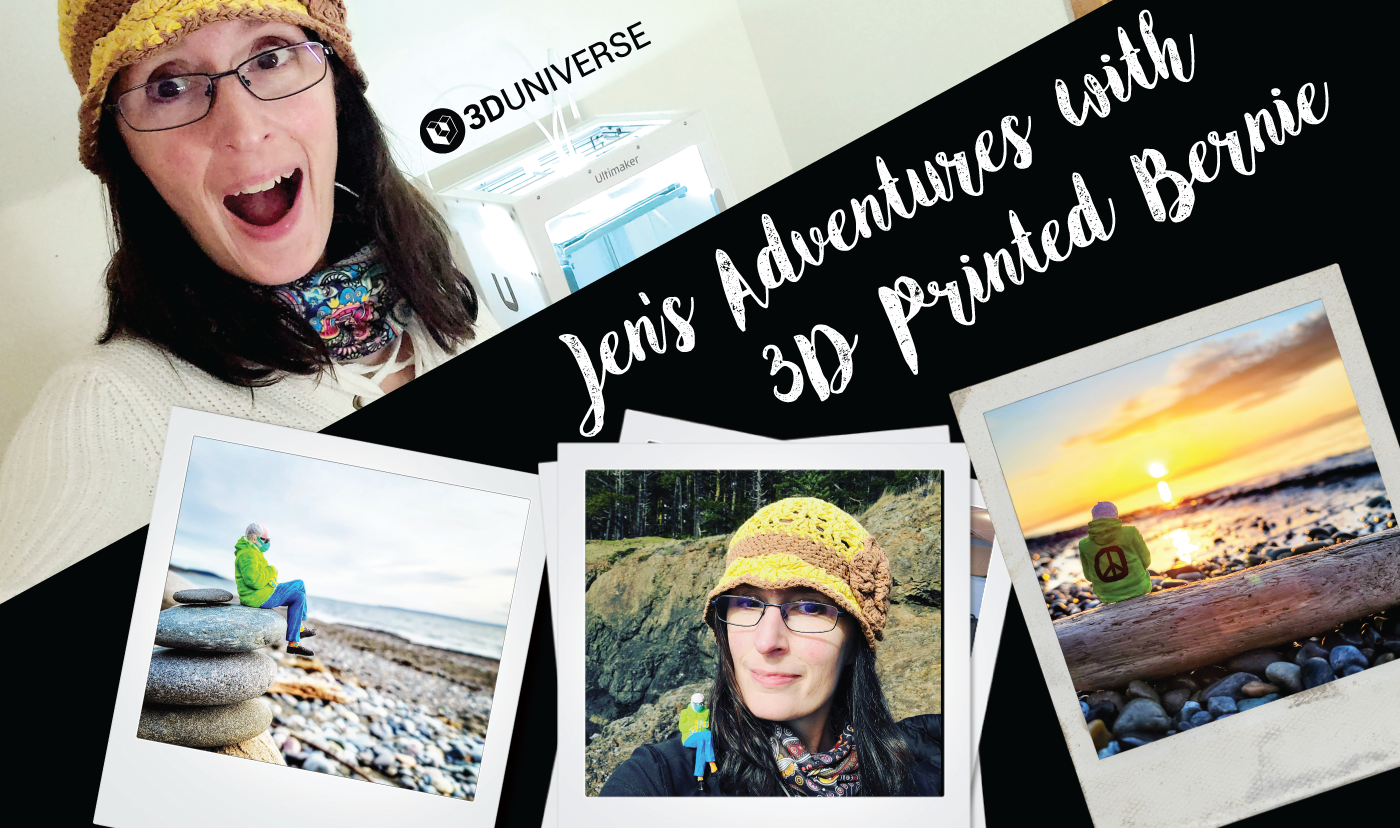 After finally getting my very own Ultimaker S3 3D printer, unboxing it and learning how to set it up, I had to decide what my very first 3D print would be. Of course, it isn't 2021 unless you have 3D printed your very own 3D printed Bernie Sanders with his now-famous mittens!

I decided that not only would he be my first 3D print, but I would also make Bernie my official 2021 Road trip buddy and take him with me on hikes and van life adventures since we are in a pandemic and finding safe travel buddies is a little more difficult than normal.

Besides, I know he will always share his snacks with me.

So I printed him out in white Ultimaker Tough PLA, gave him a fresh colorful outfit and took him for his first road trip while documenting the entire process. From my first experience with Ultimaker Cura, figuring out how to get him unstuck from the print bed, melting away the PVA support materials, and painting him so he would be dressed appropriately for a Pacific Northwest spring, it's all caught on camera for your viewing pleasure.
Watch Jen's Adventures with 3D Printed Bernie
In the video above, you can watch me:

• Give you an intro and share my thoughts on why I chose to make Bernie as my first 3D Print (0:06)
• Download the open-source file for the 3D Printed Bernie from the incredibly talented Chelsea from Chaos Core Tech (1:14)
• Pull the file into Ultimaker Cura for the first time after watching 3D Universe's Jeremy walk me through the process in his "Deep Dive into Cura" video (2:48)
• Figure out infill, adding supports, and preparing him for print (3:42)
• Slice and Preview 3D printed Bernie to get him started printing (4:20)
• Send 3D printed Bernie to the Network and get his print started (5:12)
• My excitement and footage of him coming to life on the 3D printer (5:40)
• Finding Bernie 3D printed and ready to come off the print bed (6:54)
• Scraping him off the print bed (7:39)
• Showing 3D printed Bernie encased in his PVA material prison (8:30)
• Drowning him like a Mob boss (uh, soaking him in water) to melt away the PVA support material (9:15)
• Pulling 3D printed Bernie from the water and showing his adorable little self without the supports (10:09)
• Painting him a fabulous new travel outfit for his first adventure (11:19)
• Sitting in my camper van, sharing my experience with my first 3D print (11:48)
• What happens when 3D Printed Bernie doesn't wear a seatbelt…OH NO! (12:04)
• Sharing what my very first 3D Design will be after almost losing Bernie to sudden death. (12:30)
• A fun collection of photos of 3D printed Bernie's first road trip with me (13:21)
Follow our Adventures on Instagram and Youtube!
Watch the video of our adventures above and make sure to follow 3D Universe (@shop3duniverse) and 3D Printed Bernie (@roadtrippin_with_bernie) on Instagram and catch us on Youtube as I not only take him for a cruise around Washington State (and hopefully warmer locations at some point soon) in my trusty van but also teach myself how to 3D design him some accessories (and possibly some friends) for our epic adventures!

Subscribe to our playlists to get informed when we share new adventures with 3D printed Bernie or all of my digital fabrication "Firsts" as I navigate this fun world of 3D printing, laser cutting and vacuum forming!

If you have suggestions for accessories I might make for him, want to design me something to print out for him in miniature size (Anyone want to design him a nice little cooler and a few cold brews? Don't worry, he's not driving), feel like giving him a Speedo and a sun hat instead of a winter outfit so he can fully enjoy the beach or anything else you would like to have me 3D print and use in our hiking and beachcombing photos, please email me a link at info@3duniverse.org so I can print it out, paint it and take it with us on our adventures and tag you when I share!

Interested in getting your own 3D Printer? Check out our shop at 3Duniverse.com and get started making some fun creations and road trip buddies of your own!