3D Printed Arms For Chickens?
June 08, 2023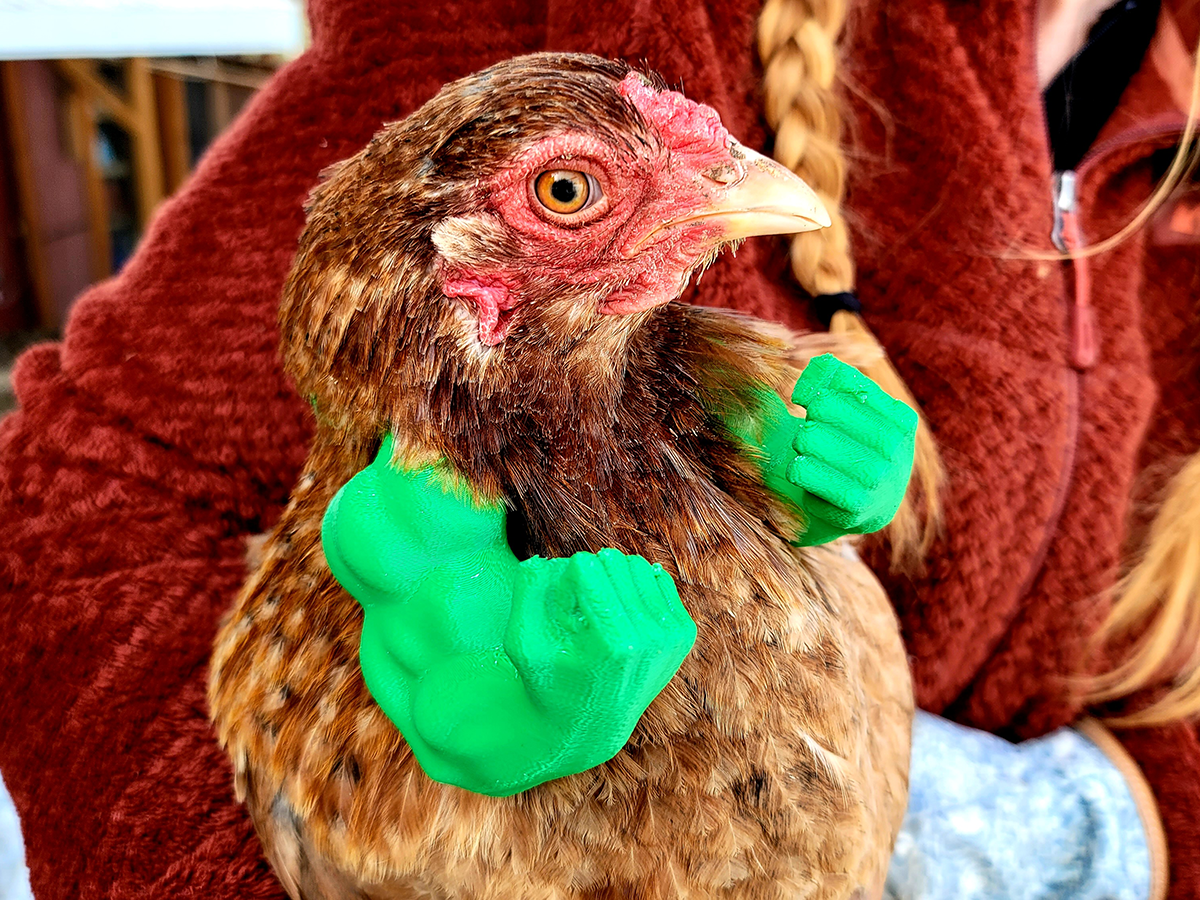 I was recently invited to go house and dog sitting for some friends of mine up in Fairbanks, Alaska and was reminded that they also have chickens I would need to care for. Needless to say, I am not a fan of chickens and their weird little dinosaur feet. I have a fear of them stemming way back from childhood, so I decided that if I was going to face my fear head-on, it was going to be with fun and humor.

So what better way to do that than making 3D printed arms for the chickens to wear?
First, I had to catch one and…touch it and hold it. Which was an adventure all on its own, but then I had to actually put the 3D printed arms on them.
"Lady" was kind enough to give me about 8 seconds of video footage of herself wearing "armed chicken arms" before she shook her head and flung them into the dirt, but made sure to look fierce while she did have them on.
"Ruby" almost seemed excited to muscle her way into the coop and show her friends her new Hulk 3D printed arms and then chase them back out and around the pen.

All in all, it was a great way to get over my fear of chickens and the rest of my Alaska chicken adventures went off smoothly. We even had a dance party and did the Chicken Dance together after I discovered 5 eggs were laid one day instead of the usual 2-3!

Make sure you check out the video below to watch Lady and Ruby testing out their new 3D printed arms!
3D Printed Chicken Arms | Video
Head over to our Youtube channel to check out the video of Lady and Ruby wearing 3D printed arms! No chickens were harmed in the making of this video, however, I may have had a mini heart attack when I first had to pick Lady up and felt her feet on my body!
Making 3D Printed Arms for Chickens
I was super excited to discover that there were quite a few designs already created for 3D printed arms for chickens on Thingiverse! The hardest part was trying to decide which designs I wanted to make!

I chose the Hulk arms design by Rene Gutierrez and used 3D Universe Terrafillum green PLA to 3D print them on my Ultimaker S3. They turned out perfectly!
I also chose "Armed Chicken Arms" from Max Forge on Thingiverse and decided upon the samurai sword and kitchen axe as the weapons of choice.

I printed all of them with the Ultimaker Tough PLA in white because I knew with the thinner arms they might be more susceptible to breaking while in my luggage on the way up to Alaska and wanted to make sure they survived the trip. I painted the sleeves and weapons with basic acrylic paint as I knew they would not be used again after the video was made.
I had a lot of fun with this project though not quite as much fun as making custom seed cakes for my squirrel friends and throwing them a tea party, but still!

Head to Thingiverse to see all of the other fun designs there are for 3D printed arms for chickens, and if you have made some too, please share your videos and photos with us!

I for one, and very thankful that chickens don't actually have real arms…