How Architects Are Using 3D Printing
June 08, 2023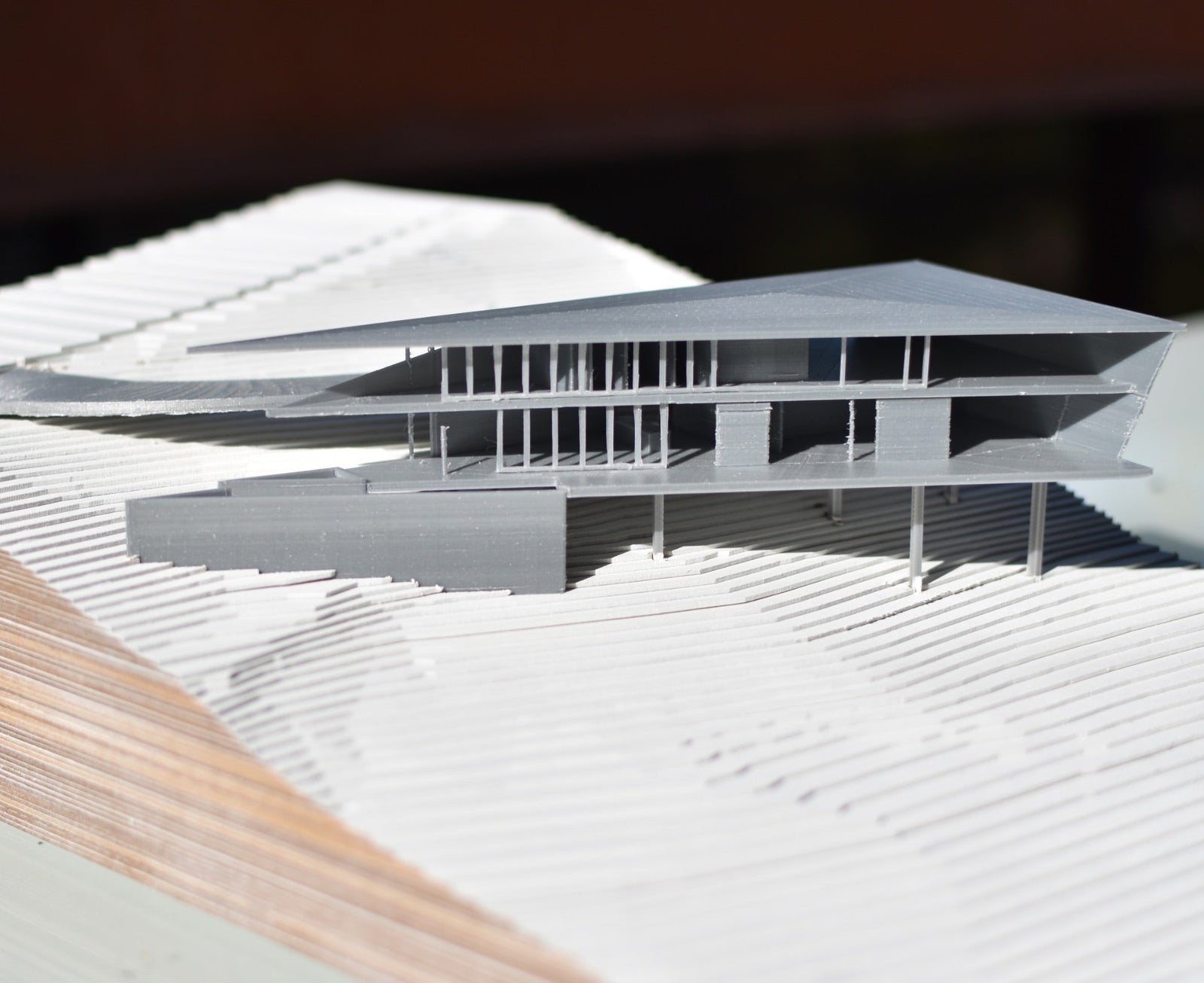 Architects and other AEC professionals are increasingly using 3D printers to produce beautiful, physical, and highly-detailed architectural models. The experts can now showcase their ideas and impress their clients with tangible models that take into account precise building or construction site information.
They are saving time and money as well as winning more business by utilizing 3D printing to create intricate and durable designs straight from CAD data.
Here are some of the ways the architecture industry is leveraging 3D printing:
1. Pitching to Clients
In the highly competitive AEC industry, designers need to express their architectural ideas vividly to win more projects.
Clients want to visualize proposed building components or parts to make informed choices. So, competitive architects pitch to their clients using 3D printed models because these are highly detailed, and they provide a clearer picture of what the final project looks like.
Physical 3D building models make it easier for designers to engage their clients in a meaningful way.
Bercy Chen Studio is an example of an architectural firm that leverages 3D printing to seize more opportunities and expand revenue streams. The company bought a desktop 3D printer to produce tangible structural models in-house. Their designs help remove ambiguity from 2D technical drawings and sketches.
The firm may showcase proposed 3D models during in-person meetings or when video-conferencing with clients. Alternatively, they mail the physical objects to prospective investors' physical addresses. These accurate and stunning presentations are powerful marketing tools in AEC bidding.
"Our clients are always giving us great feedback about how much the model helped them understand the project," says Daniel Arellano, an architect with the Austin, Texas-based firm.
The firm is using CAD or Building Information Modeling (BIM) solutions like Revit to create and print precise 3D models that fit into the contextual design of the building environment. Comprehensive site plan models that impressively showcase structural components help increase the chances of a project's approval by city authorities as well as investors.
Three-dimensional printed architectural models have helped Bercy Chen Studio win several building projects in Texas, including a luxury property set up on the side of a cliff.
2. Reduction of Architectural Models Design and Development Time
With 3D printers, you can produce simple and complex building or structural models in hours rather than weeks or months. Traditionally, architects used cardboard or paper to create physical designs, but the labor-intensive process took a lot of time to complete.
In today's fast-paced construction industry, designers have to use the shortest time possible to develop 3D models that show connections between structural features in multiple configurations. They should be quick to produce tangible architectural models in three dimensions to better visualize spatial relationships between key elements.
Architects can use 3D printed designs to quickly show how core structural elements work together, such as interlocking or overlapping features. They need such visualizations to develop accurate site plans.
Equally important, designers work with multiple models to assess and test the various iterations depicting the placement of other elements within the building, including different rooms. Desktop 3D printers let architects iterate intricate designs as many times as necessary without extending the project's timeline.
In central London, Matt Architecture took part in the design of the Ilona Rose House, which required several preconstruction model iterations. The firm used 3D printing to save time while designing and developing architectural prototypes for the project.
The technology enabled the London-based architects to be innovative and to explore various design options in-house. When working with repetitive elements, they'd 3D-print one piece as a mold before casting it and utilizing the cast to injection-mold the necessary iterations.
3. Development of High-Quality Landscape Prototypes
Cutting-edge 3D printers can produce high-quality architectural prototypes to clarify the details of exterior living and entertainment spaces, including swimming pools. The equipment may use different types of raw materials, for example, ABS, transparent resin, metal, and polyamide, to deliver complex, color objects.
With the advanced technology, architects can produce high-resolution artifacts as well as larger print builds to convey structural elements more accurately. The 3D printed models are robust and durable, unlike their cardboard, hand-made equivalents,
Kurt Kraisinger is a US-based architect who uses 3D printers to create realistic architectural designs. The consultant has helped with the planning process for residential properties, shopping malls, and entertainment centers, among other buildings and facilities.
Kurt says that 3D printed models provide several points of view, helping clients and architects to visualize and comprehend elevations, dimensions, and spatial relationships between structural elements.
4. Saving Architectural Modeling Costs
Architectural firms can acquire 3D printers for on-premises deployment, which is way cheaper than outsourcing to a provider. The equipment helps them enhance overall productivity and cut production costs. By increasing the speed of producing prototypes, the machines help designers avoid overheads associated with project delay.
What happens to the high-quality artifacts that you do not end up using in a project? You can build a library of such objects for future use! The Bercy Chen team mentioned earlier does not discard their unused physical models either. Instead, they preserve the pieces for later application. Reusing your physical sketches where appropriate means avoiding the unnecessary costs of 3D-printing similar objects from scratch.
If the client requests a design adjustment, you may quickly edit the 3D CAD data, share the digital file with colleagues, and reprint the physical object. You also can print multiple pieces very fast from the same BIM file.
5. Closer Prefabrication Collaboration
Three-dimensional printed models are always available for evaluation, testing, and validation by multidisciplinary teams involved in an architectural or construction project. For instance, architects may need to share their physical designs with builders and planners. Designers can communicate and collaborate without confusion as the 3D printed models let everyone involved review conveyed ideas accurately.
A case in point is Matt Architecture, which uses 3D printed building sketches to convey their concepts to the site's planners. Similarly, manufacturers of structural elements, such as steel fabricators, may also refer to tangible architectural models to gain an in-depth understanding of the designer's intentions.
In architecture, there are unlimited possibilities for innovation with 3D printing. The technology lets you create precise and highly-detailed physical architectural models to communicate your proposals quickly, clearly, and more cost-effectively. At 3D Universe, we offer cutting-edge 3D printers that architects can use to produce superior-quality building sketches.
Contact us to learn more.
More 3D Universe blog posts:
Learn how to get started with 3D printing HERE.
Learn about the Ultimaker S5 HERE.
Learn about the Ultimaker 3 and 3 Extended HERE.
Learn about all of the Ultimaker products HERE.
Learn about Dremel products HERE.