3D Printing Uses in the Military
June 08, 2023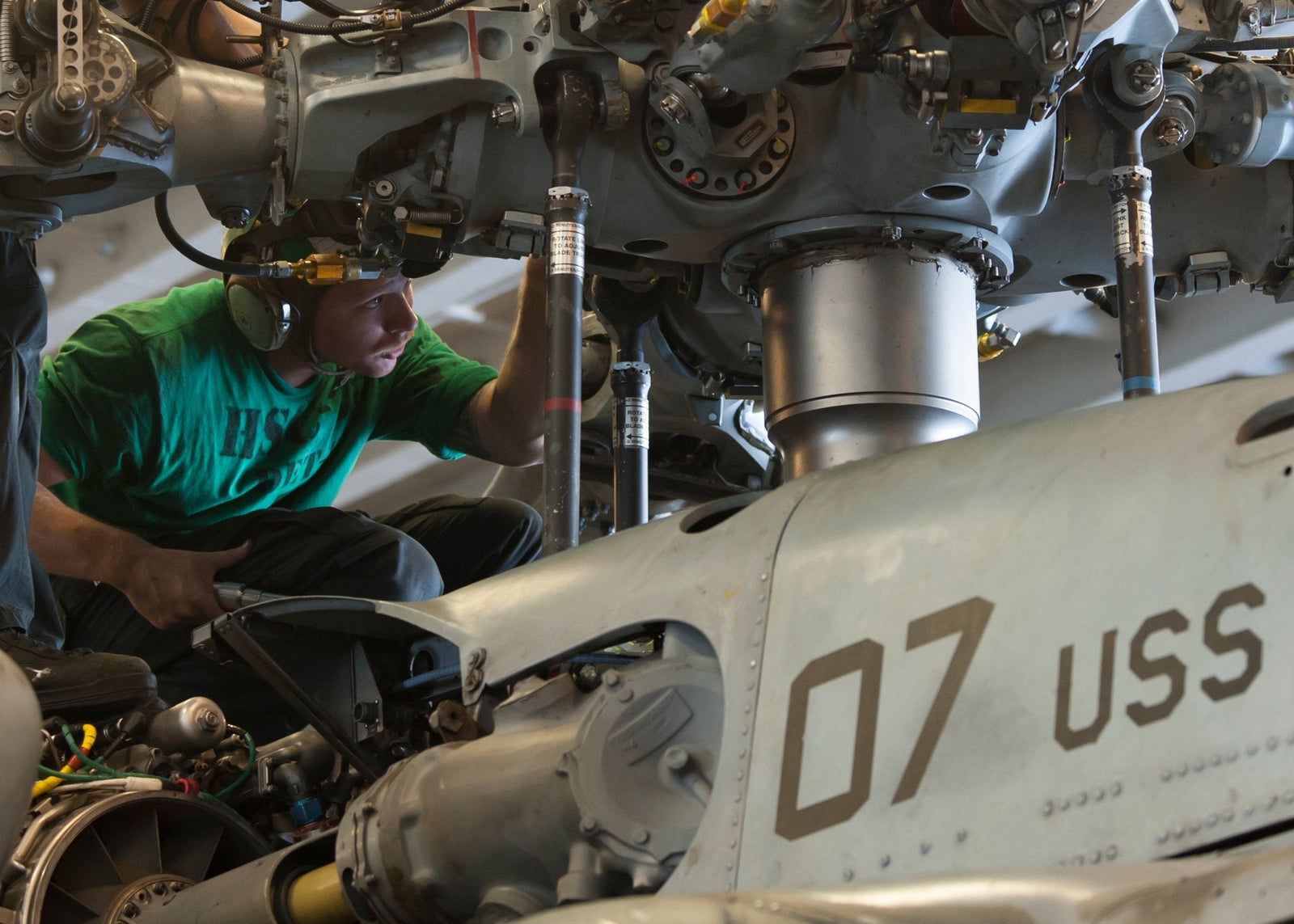 We hear a lot about how different industries, medical groups, educators, and hobbyists are using 3D printing technology, but it appears that the military has quickly started to embrace the idea of using additive manufacturing in all branches of service.

We went on a hunt for stories about 3D printing in the military. We discovered some really interesting projects that are being created and ways that this technology is not only making their lives easier while on deployment, but it is also helping to reduce costs, keep important equipment up and running, and most importantly, helping to keep our troops safe on deployments.

Continue reading below to check out some of the ways in which each branch has been using 3D printing.
F-22 Stealth Fighter Receives First 3D Printed Part
Recently, the US Air Force was able to 3D print a new titanium piece for the F22 Raptor Stealth fighter and the Pentagon hopes that this is the start of big things to come.

Having the ability to quickly produce replacement parts for aging military aircraft will help in reducing lost time and getting these machines back up into the sky as soon as possible.

The new 3D printed component is a fairly small part used in the cockpit that originally was made of aluminum and often gets replaced 80% of the time during maintenance. Unlike the aluminum part, the 3D printed titanium part will not corrode and could last the remaining lifetime of the stealth fighter.

The US Air Force will monitor this part over time and if it proves to remain strong and last, similar parts will be installed in all F-22s.
Air Force Produces First 3D Printed Engine Component
Members of the Oklahoma City Air Logistics Complex, an Air Force Sustainment Center wing, have produced the first additively manufactured metal component successfully tested on a U.S. Air Force aircraft engine, a significant milestone for future sustainment of aircraft like the E-3 Airborne Warning and Control System and the B-52 Stratofortress.
"This accomplishment is truly a historical first," said Johnny Tsiao, AFLCMC propulsion structural competency lead. "This is a digitally designed and digitally engineered component that represents a substantial milestone in Air Force sustainment. Although it is a basic component, the technology our OC-ALC team has developed will help resolve supply chain issues and help bring further capacities to support the warfighter."
"One of the things we found in this collaboration is that we could potentially solve the supply shortage by reengineering and printing something and prove it was safe to fly," said Richard Banks, 76th PMXG delegated engineering authority engineer. "This type of engineering makes it easier to source materials, greatly reduces lead time and ultimately helps to reduce logistical and supply issues."
Marines 3D Print a Rocket Launcher Shelter in 36 Hours
The U.S. Marines recently tested a 3D printer capable of constructing entire buildings with quick-drying concrete. In just 36 hours, ICON's Vulcan 3D printer whipped up a concrete structure that can hold a HIMARS truck-mounted multiple rocket launcher system.
The result is a durable structure that can be built virtually anywhere the Marines deploy, sheltering personnel, vehicles, and supplies from the weather. See the printer in action here:
US Navy 3D Printing Submarines
It usually takes about 5 months to build a small submarine. Now, thanks to 3D printing, US Navy seals can be transported to and from combat zones in small 3D printed submersible hulls that take merely 4 weeks to build.
Optionally Manned Technology Demonstrator (OMTD), the U.S. military's first 3D-printed submarine hull, was unveiled by the Navy on July 24.
The hull is 30 feet long, and made of six carbon fiber composite sections. The project only took four weeks to complete, and the proof-of-concept also cut production costs by 90%.
According to the Department of Energy, a traditional SEAL Delivery Vehicle costs between $600,000 and $800,000, and it takes three to five months to manufacture. So, that means that they made this sub for as low as $60,000 and it was printed in a number of days — total development time took four weeks, but it only took a few days to print the six sections.
US Marines 3D Printing Everything From Buckles to Customized Drones
While US Marines are used to having to "MacGyver" things out in the field, they now have the option in some locations to use 3D printers to help them replace belt buckles, parts for various equipment as well as drones.

Once drones are in use, Marines can work on customizing and otherwise altering the initial design to fit their needs. Then, Marines share their ideas with others and version 2.0 can be immediately pushed out to the rest of the corps.

"We actually have a hotline set up for Marines to call in for support, just like an IT help desk," shares Capt. Matthew Friedell, with the Marine Corps' Rapid Sustainment Office, "Except we're there to respond to Marines' material support—making things."
Army 3D Printing Replacement Parts for Blackhawk Helicopters
The Black Hawk has been a part of our US military for over 41 years, however, they stopped production of these machines nearly 15 years ago. Getting replacement parts for them is difficult and can sometimes take years.

The army intends to keep the Black Hawk in service for at least another decade but had to come up with a way to quickly replace broken parts and have turned to 3D printing for their answer.
"Certain low-use or low-volume parts don't receive any bids from vendors," AMCOM Commander Maj. Gen. Todd Royar says. "When we need those parts, we need the opportunity to get them in the system quickly — not the two-plus years it sometimes takes right now."
The US Army Wants to 3D Print Titanium Armored Vehicles
The US Army is looking to use as many 3D printed titanium parts on their vehicles as possible. The Army's Next-Generation Combat Vehicle (NGCV) is a family of new combat machines now being developed for future warfare.

The plan involves building new infantry carriers, tanks, and robotic vehicles networked together as part of an integrated tactical maneuver strategy.
The Army Research Laboratory is now working to engineer new, lightweight yet survivable vehicle parts such as brackets, turret components, propulsion systems, and weapons, using 3D printing technology. In particular, they are exploring the use of lightweight metals such as titanium, titanium alloys, and hybrid ceramic tile/polymer-matrix composites.

"Titanium is lightweight and has a specific strength to weight ratio. Titanium is half the weight of other metals currently in use," Dr. Brandon A. McWilliams, Materials Engineer, Lead for Metals Added Manufacturing, Army Research Lab, Combat Capabilities Development Command, Army Futures Command, told in an interview earlier this year. "With additive manufacturing, the costs can come down and make business sense."
Army Explores Recycling Discarded Plastic as Filament for On-Site 3D Printing in the Field
The Department of Defense (DoD) wants to find a way to turn discarded battlefield plastic waste, such as water bottles, milk jugs, and yogurt containers into useful replacement parts for US soldiers.

Researchers at the Army Research Laboratory have taken recycled polyethylene terephthalate (PET) from bottles and plastics without any chemical modifications or additives and used it as the material in a fused filament fabrication (FFF filament), one of the many types of 3D printing.
The research will let U.S. forces 3D print replacement parts on demand. This will increase the readiness of their equipment, but also let them make mission-specific devices in the field.
Each unit carries a stockpile of replacement parts for emergencies, but it can be costly to store and ship them. Having the ability to 3D print on demand reduces costs and frees up space.
The US Military is Now Using 3D Printing to Help Fight COVID-19
The Coronavirus pandemic has challenged our US military forces to fight a different kind of war using 3D printing technology. Besides designing replacement parts for war machines and bunkers to keep our troops safe while deployed, they are now using 3D printing technology to fight the war on COVID-19.

The Army Medical Research and Development Command has been 3D printing more than 12,000 nasal swabs per day to conduct Coronavirus testing as well as prototyping and testing N95 respirator masks.
"We're really thinking this 3D printing concept might be an early proof of concept for what we could do going into future conflicts to really make sure we have all the appropriate medical equipment at the right point for the right provider at the right time." – Edward Brown, a biomedical engineer with the Army Medical Research and Development Command
Growing Needs for 3D Printing in the Military
As you can see, there are many uses for 3D printing in the military. Every day it seems that the need grows and solutions are created for how to incorporate this technology into making it easier and more cost-effective for our military personnel in their daily lives while on deployment.
It will be interesting to watch how 3D printing will continue to find it's way into every branch of military service, especially during these unprecedented times while we struggle to keep factories and businesses open during a pandemic that would normally be supplying our military with parts they need to maintain their equipment.

One thing we know for sure is that 3D printing technology opens up a lot of doors for our military personnel that will allow them to continue to provide their selfless service to our country and the world with a little less stress and struggle.

And for that, we are grateful.