Tactile Craftworks | 3D Universe Untethered Episode 10
June 08, 2023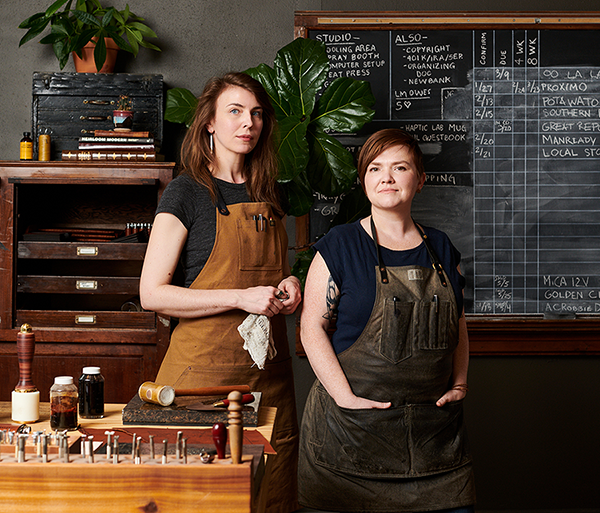 Recently, Jeremy Simon and Jen Owen of 3D Universe spent an hour chatting live with Sarah Heck and Anna Warren of Tactile Craftworks in episode 10 of 3D Universe Untethered.

Tactile Craftworks is a woman-owned and operated leather crafting company based in Milwaukee, Wisconsin. Sarah and Anna have been collaborating together since 2008 where they met at a theater prop shop. They eventually participated in a theater meet and greet at the Milwaukee Discovery World Maker Space and were able to try using laser cutters for the first time and ultimately fell in love with laser cutting technology.

There, they discovered that it was possible to laser cut and etch onto textiles and leather and could take their projects to a whole new level they had never imagined possible before.
"We were playing with the lasers and having a great time and somebody said, 'Well, you know I just tried to laser etch on leather the other day…' and we were like WHAT?! We totally nerded out. We lost our minds. We wanted to try everything that we could!

We were at this point where we didn't really know how we were going to scale our business up.

Hand stitching and hand tooling is such a labor-intensive process. It was this very pivotal moment where everything clicked to "Wait a second…we could DO this."

Anna Warren – Tactile Craftworks
Over the years they have combined their traditional leatherworking skills with laser cutter technology and continue to craft each piece by hand.
"Our work is most inspired by the idea of place, and our emotional responses to both home and travel. We take pride in our methods of using modern technologies to enhance our traditional skills.

We value quality, heritage, history, and longevity; working to decrease the disposable and give story to the ordinary. We strive to make pieces that are durable to use, beautiful to look at, and satisfying to hold."

Sarah and Anna – Tactile Craftworks
Check out the video and podcast links below to hear their story, learn how they combine traditional tooling with laser cutting technology, the struggles they faced (and often still do) as women who run their own business, and some advice and tips on laser cutting with leather!

Follow Sarah and Anna on Instagram, Facebook, and Twitter and check out their shop on their website to see their beautiful leather crafted journals, passport wallets, flasks, Travel Mugs, and other unique items!

If you are interested in learning more about laser cutters or how easy it is to get started creating with them even if you have no prior experience, please visit our blog here. Check out some of the different materials you can cut and etch with laser cutters here.

For more information, please feel free to contact us via email at info@3duniverse.org.
Tactile Craftworks | Video
The video for Episode 10 of 3D Universe Untethered is live on YouTube for those that prefer to watch and learn from our panelists. You can find the link to the video here.
Subscribe to our channel to get the next episodes delivered right to your inbox!
Podcast Link | Episode 10
For those of you who prefer to sit back and listen while you navigate your life, you can check out the 3D Universe Untethered podcast of this episode here or using the player below!
---
3D Universe Untethered
You can find the full descriptions and registration links to join us live for upcoming video-recorded sessions and get access to the links to jump into the Q&A with our guests while we chat. You can also find links to all of our past episodes on our 3D Universe Untethered page!
If you are interested in being a guest on 3D Universe Untethered, please email us at info@3duniverse.org!