Next-Level Cosplay with 3D Printing - 3D Universe Untethered Episode 1
June 08, 2023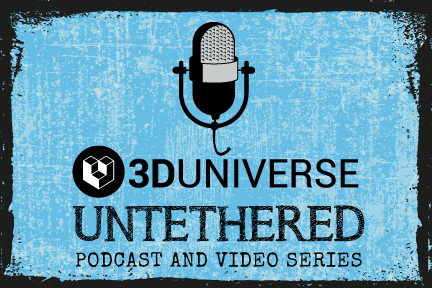 We recently launched a new program, 3D Universe Untethered, a series of webinars, videos and podcasts covering different aspects of 3D printing and digital fabrication across various industries.
For the first episode, "Next-Level Cosplay with 3D Printing," Co-hosts Jeremy Simon and Jen Owen of 3D Universe chatted with Cosplayers Dave Lysen and Dan Simon about their epic Star Wars-themed 3D printed cosplay builds.
"Serial Kilter" Dan Simon originally started using a 3D printer to create PPE (Personal Protective Equipment) during the COVID pandemic to help his local police and first responders and soon discovered he could also now create the Heavy Infantry Kilted Mandalorian armor of his dreams.
Dave Lysen teamed up with 3D printed e-NABLE Prosthetics co-inventor, Ivan Owen and 3D Universe's Jeremy Simon and Dan Pelland to create a K-2SO Cosplay project with functional 3D printed mechanical hands.
Check out the video and podcast links below for some fun stories about their first 3D printed cosplay builds, lessons learned, things that made them giddy, and their epic failures (eh…learning moments) along the way!
3D Universe Untethered on Youtube
Check out our Youtube video of our first episode where Jen Dave and Dan showed off their 3D printed cosplay builds, Jeremy wore his favorite Star Wars t-shirt and displayed some of his favorite 3D printed models and Jen went all out, fan-girled a tiny bit, and showed up in her Yoda Onesie.
Episode 1 Podcast
For those of you who prefer to sit back and listen while you navigate your life, you can check out the 3D Universe Untethered podcast of this episode below!
Upcoming Episodes
We have some awesome episodes heading your way in the coming weeks!

Register today for Episode 2: "Digital Fabrication for Remote Learning" where we will discuss how to incorporate 3D printing and other digital fabrication technologies in a remote learning environment. We will chat with Kevin Smith, VP/Creative Director at Bit Space, about how you can bring digital fabrication technologies like 3D printing and laser cutting to students in a remote learning environment.

Make sure you bookmark our 3D Universe Untethered page and check back often so you can register and watch live or get links to the recordings and podcasts and find out what we are talking about next!

Subscribe to our Youtube Channel and newsletter to get notifications of upcoming episodes and video uploads!

If you have an interest in being one of our guests to share your work or your projects – please email us at info@3duniverse.org!