e-NABLE Community "Giving the World a Helping Hand" | 3D Universe Untethered Episode 3
June 08, 2023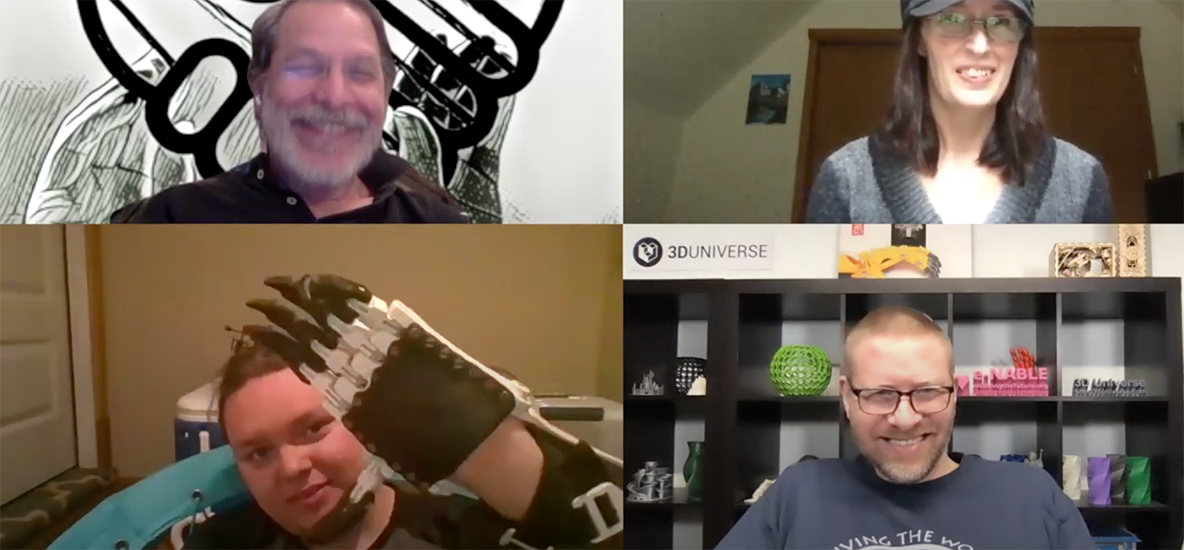 In Episode 03 of 3D Universe Untethered, we spend an hour chatting with some of the co-founders of e-NABLE, a global community of makers using 3D printing to "Give the World a Helping Hand."

Jeremy Simon and Jen Owen of 3D Universe and co-founders of e-NABLE, along with fellow co-founder Jon Schull and 3D printed prosthetic hand user and designer, Peregrine Hawthorn sit down for a brief history of this global maker movement. Hear them talk about the thousands of volunteers who are using 3D printing to create free prosthetic hands and arms for those in need.
Learn how this volunteer community formed, how it has grown and changed over the past 9 years, and how they have impacted the lives of recipients, volunteers, school children, and thousands of makers in over 100 countries around the globe.
Hear Peregrine talk about designing and using their 3D printed e-NABLE device for the past 7 years and how they have modified it to help them as a professional welder! Check out Peregrine showing off their 3D printed "Claw hand" in the video.
"I did many things that would have sent me to the emergency room if I would have done it with a fleshy hand."

Peregrine Hawthorn – e-NABLE Device User and Designer
Listen to Jen, Jeremy, Jon and Peregrine share how the e-NABLE Community switched gears during a global Pandemic and helped create thousands of pieces of PPE (Personal Protective Equipment) and how you can get involved in these efforts in the video or podcast links below!
e-NABLE: "Giving the World a Helping Hand" | Video
The video for Episode 3 of 3D Universe Untethered is live on YouTube for those that prefer to watch and learn from our panelists. You can find the link to the video here.
Subscribe to our channel to get the next episodes delivered right to your inbox!
Podcast Link | Episode 3
For those of you who prefer to sit back and listen while you navigate your life, you can check out the 3D Universe Untethered podcast of this episode here or using the player below!
e-NABLE Resources
• Register for e-NABLE Con 2020 – Join the e-NABLE Community and e-NABLE Alliance for two weekends packed full of incredible stories and hear about new designs, FDA guidelines, educational endeavors, pandemic responses and much more.
e-NABLE Social Media and Websites
• Main Webiste – enablingthefuture.org is the "Home Base" of the e-NABLE Community. Find blog posts and the history of the community, links to resources, design files and much more.

• e-NABLE HUB – Find the e-NABLE Community forums, links to devices, badging system, ask questions, learn about chapters, get help with projects and much more.

• e-NABLE Web Central – This application is designed to support the e-NABLE volunteer community, for the production of 3D printed mechanical hands and arms. If you are seeking an e-NABLE device or would like to make a device for someone who needs one, this application is for you!
• Resources for e-NABLE's Pandemic Response – Find files, information and ways to help the community as they navigate COVID-19
Facebook page – Main Facebook page for the Community

• e-NABLE Alliance – The ENABLE Alliance is a 501c3 non-profit, dedicated to supporting the global e-NABLE Community of volunteers, schools, scout troops, FIRST Robotics teams and e-NABLE chapters worldwide who are using 3D printing technology to create positive change in the world!
They are dedicated to supporting underserved communities, with a focus on empowering women and other minorities by helping them develop valuable skills and gain access to new technologies that will help them realize their full potential.

• e-NABLE Chapters Map – Check out the map of growing e-NABLE Chapters all over the world, learn how to start your own chapter or find the nearest chapter to you if you are in need of an e-NABLE Device.
e-NABLE Facebook Pages and Groups
Main Community Page – The original first Facebook page for the e-NABLE Community. General news and stories from the global community gets shared here.

e-NABLE.org Facebook Page – All the posts from all the e-NABLE Facebook groups, chapters, and pages!There are now over 80 facebook pages around the world flying the e-NABLE flag. It can be hard to keep up. This page aggregates all the posts from all the pages.

e-NABLE R&D and Collaborations – This is a group for the global e-NABLE Community volunteers and their supporters who are using 3D printing technology to create free and low cost assistive devices for those in need!

You do not need to be an e-NABLE Volunteer to join and share your ideas! Anyone that is interested in helping push the designs to new levels is welcome to join and share!

e-NABLE Community Bulletin Board – A space where e-NABLE Community volunteers, chapters and companies that support the e-NABLE Community, can post: discounts on materials/3D printers, links to their fundraising efforts, plug their businesses that have items or sales on items related to supporting the e-NABLE Community and it's members, links to events where they will be sharing about e-NABLE, holding a build event or giving a talk, share their projects and seek collaborative partners, ask questions and help mentor others who are just beginning.

e-NABLE Community Chapter Leaders – This group has been created as a space where our growing number of e-NABLE Chapter leaders can share their needs, reach out for help, offer up suggestions to each other, talk about problems with designs, request assistance in difficult design cases etc. To be part of this group, you must be a Chapter lead for the e-NABLE Community and have a facebook page dedicated to your e-NABLE work.
e-NABLE Educators Exchange – This group has been created as a space where teachers and educators who are involved in e-NABLE, can communicate, share and collaborate with one another and where they can connect with other schools in other countries to help mentor each other or simply share an educational experience that reaches across borders and boundaries to bring us all together.
Donations to help the e-NABLE Community
• Purchase gift cards to help provide 3d printing filament to chapters and volunteers who are making 3D Printed hands and PPE for front line workers and heroes.

• Donate an e-NABLE hand assembly kit – For each one of these kits purchased, 3D Universe will send a Phoenix materials kit to an e-NABLE chapter that will use it to produce an e-NABLE device for someone who needs it!

• Donate to the e-NABLE Fund – This fund helps e-NABLE chapters, teams, and individuals request and raise money for e-NABLE projects and helps e-NABLE evolve into a coherent self-organized force for good.
e-NABLE projects are proposed, discussed, and voted upon in our Loomio discussion forum. (You can see the proposal that authorized this very fund here.)
All donations to, and payments from, this fund are logged transparently.

• Donate to the e-NABLE Alliance – A Maryland based 501C3 Non-profit that provides fiscal sponsorship, funding for e-NABLE chapters, educational projects and much more.

• Support the enablingthefuture.org Website – Make a one time or recurring donation to help toward the upkeep and sustainability of the enablingthefuture.org website, provide the cost of hosting, as well as the design and updating of the pages to ensure that all of the open-source content and information is readily available to anyone who would like to get or create an e-NABLE hand.
---
Upcoming Episodes of 3D Universe Untethered
We have some really great episodes coming up over the next few weeks! You can find the full descriptions and registration links to join us live for these video-recorded sessions and get access to the links to jump into the Q&A with our guests while we chat on our 3D Universe Untethered page!
If you are interested in being a guest on 3D Universe Untethered, please email us at info@3duniverse.org!