Taulman 3D Launches Kickstarter
June 08, 2023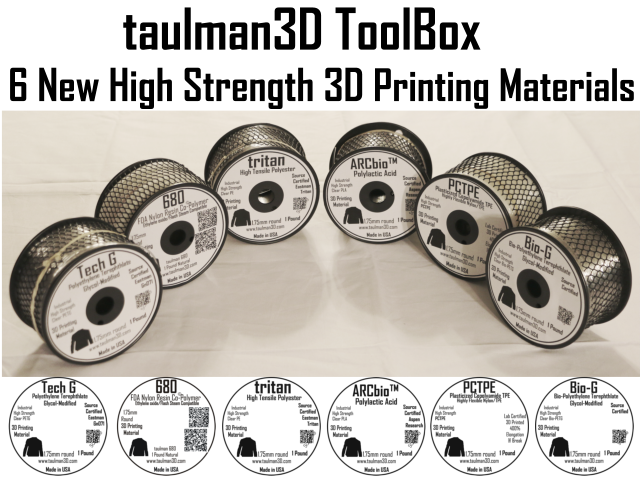 Looking to expand your 3D printing horizons beyond ABS and PLA? Then look no further? Taulman 3D has launched a Kickstarter campaign for SIX new specialty filaments.
These materials are already developed and community tested. The Kickstarter campaign is strictly to raise enough money to go to full-scale production.
3D Universe is proud to be one of Taulman 3D?s testers, so we were lucky enough to get our hands on samples of all these materials, and we were very impressed with the results and ease of printability.
Tritan
Tritan is a new high tensile strength material. Tensile Stress (PSI) of 6,600 lbs, Modulus (PSI) 53,000, E@B was 18.7% ?When 3D Printed?. The reports from testers continue to confirm that Tritan is the strongest material they have printed. To include bonding, bridging, non-stringing, and extremely low warping.
Summary:
Glass clear
FDA approved raw material
Excellent bonding makes for shatterproof parts.
Prints at ~270C on clean glass heated to 85C
PCTPE (A Plasticized Copolyamide TPE)
An extremely flexible yet durable and strong TPE and nylon based material. PCTPE was designed to be both highly flexible, yet retain the durability of nylons. Single perimeter parts can be wadded into a ball, yet are difficult to stretch out of shape. With a lower printing temperature than our nylons, PCTPE easily prints on any 3D printer, as it requires only 225C ? 230C. While extremely flexible, the nylon insures 1.75mm line is no problem for direct drive or bowdens feed systems. That determination was made by our testers, as every sample of PCTPE sent out was 1.75mm.
Summary:
Prints at 225C ? 230C on glass w/PVA heated to 45C
Elongation @ Break = 370%+
Excellent bonding even at 0.3mm nozzle size
ARCbio PLA
ARCbio is a new high strength, crystal clear PLA, biodegradable material. ARCbio is a very new polymer developed specifically for its strength, clarity, and light transmission. The natural color of ARCbio is clear and Aspen Research has worked to develop a PLA the stays clear during thermal processing, thus eliminating the common ?yellow tinge? seen in other PLAs. Unlike t-glase, ARCbio is more optically transmissive rather than reflective.
Summary:
Prints at 205C to 210C on clean glass/acrylic or warm bed with Kapton/Blue Painters tape
FDA approved raw material
Glass clear
Non-Yellowing
Tech-G
Tech-G is an extremely tough PETG polymer with full FDA approved raw polymer documentation and certification. Tech-G will be released as a technical ?Fully Documented? material with the intent to provide Engineers, Design houses and Industry with a material that comes with hundreds of specifications as to strength, chemical resistance, worldwide certifications, and technical data sheets. A simple scan of the QR code on our label will take you directly to our documentation site for Tech-G . You?ll be able to download all of the documentation provided from the chemical company and the St. Louis Test Labs. Working with one of the largest Chemical companies offering PETG variants, we have selected and tested the one chemical configuration that provides the best viscosity, lowest shrinkage and best bonding for 3D Printing.
Summary:
Fully FDA approved PETG polymer with extensive certifications and documentation
Low shrinkage and high bonding
Prints at 238C
Nylon 680 FDA
After almost a year of testing by users worldwide, nylon 680 FDA approved raw material polymer is ready for release. Nylon 680 is an extremely tough semi-transparent line with one of the highest impact ratings and least shrinkage of all of the taulman3D nylon materials. Nylon 680 FDA will have ?traceability? via QR codes. Nylon 680 is currently under evaluation for CE Dental use.
Summary:
Print temperature is 245C
FDA approved raw material
Double Vacuum sealed
Bio-G
Bio-G is a new BPETG that has significant biodegradable features. When your design, idea or invention requires a biodegradable super tough polymer, one that you can count on to survive significant shock and resist harsh chemicals, Bio-G is there to support you. Bio-G is relatively new on the market and has gone through significant testing to meet several certifications. Like all taulman3D materials, you can count on printing huge pieces with no delamination.
Summary:
FDA approved raw material
Prints at ~238C on glass heated to 45C with a coat of PVA
Find our selection on Taulman products HERE.
More 3D Universe blog posts:
Check out our review of Simplify3D HERE?
See our post about Bridge Nylon HERE?