Spool Recycling Program | Spool Drive!
June 08, 2023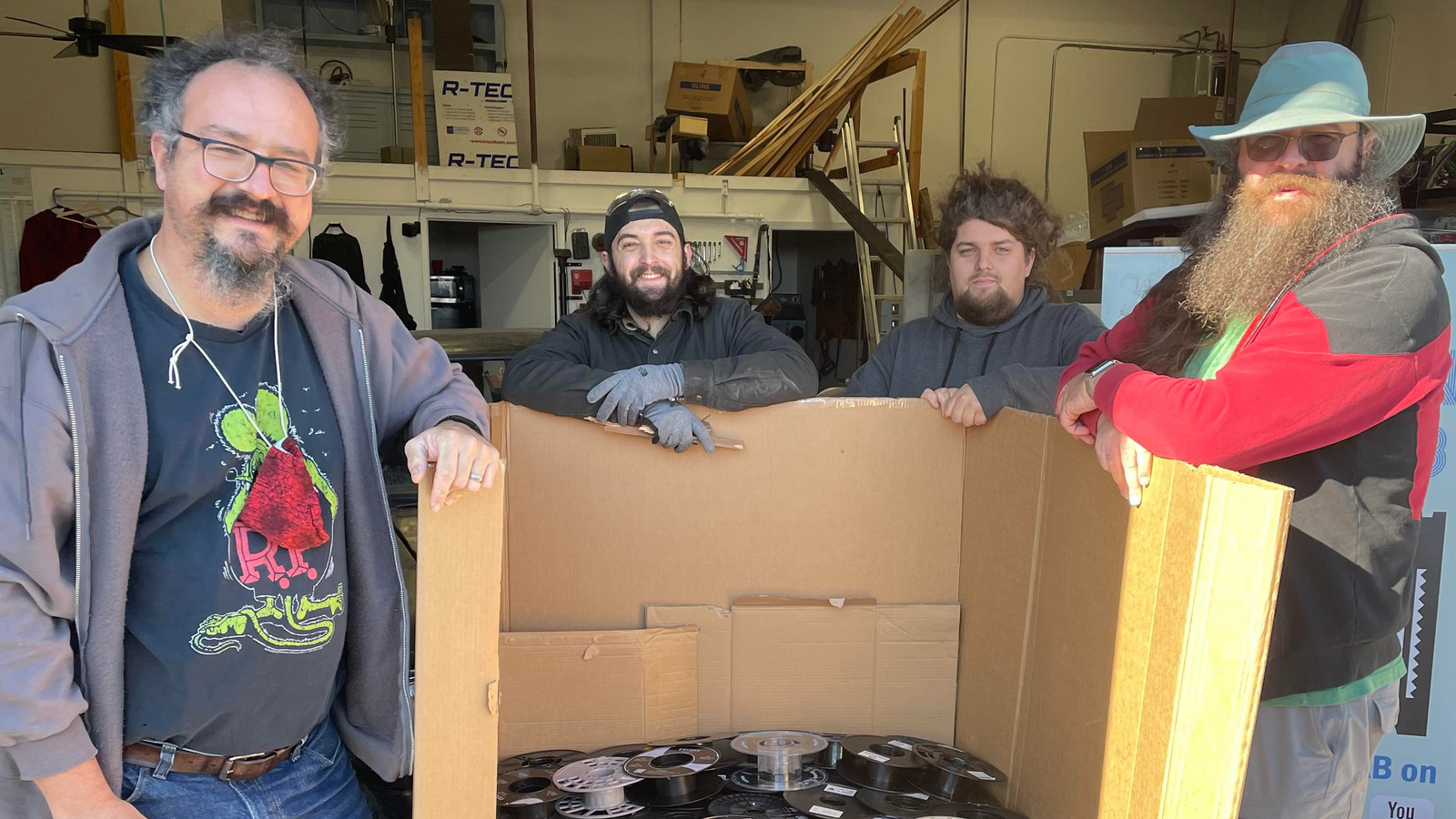 One of the reasons we love additive manufacturing here at 3D Universe is because it can help to reduce environmental waste by allowing people to produce items where they're needed, when they're needed, as opposed to storing things in warehouses and shipping them all over.
But those environmental benefits aren't fully realized if we start putting all of our empty filament spools into landfills. So we are really excited to share about a fantastic spool recycling program from our partners at Terrafillum Engineered Filaments! We feel like we're able to greatly increase the environmental benefits of 3D printing by reducing one of the major sources of waste.
This fall, our friends at Portland 3D Printing Lab and MakerForce who have spent thousands of volunteer hours 3D printing PPE during COVID, put together our first ever spool drive this past fall and recently shipped an entire pallet of nearly 500 used spools back to be reused and recycled! That's a whole lot of plastic being kept from filling up landfills!
---
Spool Drive with Portland 3D Printing Lab and MakerForce
We were really excited to get to partner with the great folks at Portland 3D Printing Lab and MakerForce again for this first community spool drive. We have had the pleasure of chatting with Shashi Jain and Connor Weller during one of our episodes of 3D Universe Untethered about their incredible process and work to create thousands of pieces of PPE during the past 2 years of fighting the Covid 19 Pandemic.

Makerforce is a 501.c3 nonprofit whose mission is to create emergency response systems for Makers, by Makers. During the pandemic, they created a pop-up supply chain that delivered over 67000 pieces of PPE to humans in need.
PDX3DP Lab is a 2000+ members group that communicates across Meetup, Facebook, and the Discord communities as well as in person, pre-covid.

We were pleasantly surprised when Shashi reached out to ask how his group could help recycle spools with a spool drive and he jumped right into organizing it.

Shashi shares, "We had to be really careful (about how to pitch this spool drive to our group) as recycling and sustainability matter to our community. Our purpose was threefold – 1) Ensure that reuse or recycling doesn't incur a huge carbon cost, 2) Bring the community together in a safe way, and 3) Serve the 3D supply chain and small businesses. We hadn't ever done a project inside this part of the 3d printing ecosystem, so we were excited to try something new."

Connor was able to host the spool drive at his facility at Baseline Design and another volunteer, Brian Esquivel Co-organized and worked with the USPS for packaging.

They promoted the event on social media and invited anyone who wanted to participate to simply stop by during a 4-hour window on the day of the drive to leave their empty spools with the crew to package up and prepare for shipping while also maintaining proper COVID protocols.

"Over 200 spools alone came from just one guy (Mike Bartell) who runs the makerspace for the University of Oregon in Eugene. A couple of people brought their kids along and taught them about the circular economy," explains Shashi. "Connor scavenged together a pallet because we didn't have one and Brian who works for the post office, scavenged the big shipping box from an Amazon shipment that came thru USPS."
"This was a grand experiment of sorts. Our community could pull together the materials because they believe in the circular economy," explains Shashi. "As a non-profit (Makerforce) and a community (Portland 3D Printing Lab), we have come together for group projects before. We could handle the Making and Giving part – the Funding is where the gap lay. Shipping 200kg of spools require specialized logistics, which isn't cheap. Nor is it easy," he explained.

"When we committed our community to deliver 350+ spools to Terrafilum Engineered Filaments we also committed to raising the funds for shipping. When we asked Tim for a discount, he gladly obliged. When Tim at Worldwide Logistics Partners removed a piece of the barrier, Chris at Terrfilum stepped up to remove another big piece. When Jeremy at 3D Universe saw what was happening, he removed the final part of the barrier," Shashi explains. "And that, for our community was a magic moment, where our efforts were matched by funding to create a circular use of materials in the 3d printing ecosystem, but also to help a small business in our industry do good work."
Altogether, these two incredible groups collected about 500 spools to ship to the spool recycling program where Chris and his team at Terrafilum will now be able to reuse and recycle them and keep them out of landfills!

Chris shares, "Thanks to this group's efforts, we were able to rescue several hundred spools. The spools were received here at Terrafilum® and have all since been sorted, cleaned, and staged for re-use. By the end of the 2021 holidays, more than 100 of those spools will have been re-filled with material and sent on to another maker for some terrific work. Great job Shashi and team!"
We are so proud to have been a part of this spool drop event and look forward to doing this again in the future!
---
What Happens Now? | Spool Recycling Process
So what happens now?

We asked Chris to share the steps he goes through with us so we can understand more about the process of recycling spools and how it makes a difference and lessens the impact on the environment.
Chris shares, "We receive materials from all over the country in a variety of packaging. We can even accept in bulk when palletized! Once we receive the empty spools, we separate them all by size and type."
"We then take the time to sort the spools and stage them for an initial inspection and surface cleaning. We remove labels and then sanitize the spools with an industrial cleaner," shares Chris.
"We follow that by packaging the empty spools by type and size and store them for re-use," explains Chris. "When we produce materials, we try to make each batch utilize the same type of spool during production," he adds.
"We produce the filament onto the spools and send it out for re-use," Chris shares. "As long as we keep the chain moving, the spools can be used again and again!"
---
Terrafillum Engineered Filaments | Spool Recycling Program
We asked Chris, to share a little bit more about the spool recycling program. "Our recycling program at Terrafilum Engineered Filaments incorporates our love of plastic and the many ways in which our customers are transforming our filament into such amazing projects, as well as our love for the environment."
He goes on to say, "We hear so much about the negative side of plastics without considering the positive contributions of things like electric vehicles, life-saving medical devices, cutting-edge innovations, and groundbreaking technologies. We address the value of reuse of plastic by having our customers consider returning to us their used spools, any unused material, or printed parts for us to recycle. It is our continued effort to help reduce plastic waste, promote sustainability, and address issues regarding climate change."

"We wish to provide for a safer, and cleaner future for everyone," Chris adds.

Terrafilum Engineered Filaments will recycle your unwanted 3D printed parts and especially your spools. For your unwanted parts, it's helpful to note the material and the manufacturer. Obviously, we would like you to consider ordering from us, but other materials can be sent in as well.
Chris explains, "We are particular about the resins we use and the formulations of our materials. It's important to us to know the source of our feedstock so we can maintain full identification and traceability from start to finish. We may not use the material you send us back in our products unless we know the origin and can identify potential ingredients. However, we will grind, segregate, and store the material for other recyclers use."

So go ahead and send in your misprints, unused materials and those "well that didn't go as well as expected" trial and error prints!
Where to Ship Your Spools for Recycling
Please send Chris and his team at Terrafillum Engineered Filaments your spools! They will clean and disinfect the spools and set them for a refill.

That plastic then never hits a landfill!
All spools and materials can be sent to:
Terrafilum
Recycling Program
740 Industrial Drive; Unit D
Cary, IL 60013
Please send them an email it is coming to: support@terrafilum.com
Please include what the material is, the amount (approx. weight), and your contact information!

We are incredibly proud to be part of this spool recycling program with Terrafillum and hope that you consider shipping your used parts as well as spools in to help do your part in making a difference for our environment!