Introducing the Mayku Multiplier Reducing Plate and Custom Mode!
September 26, 2023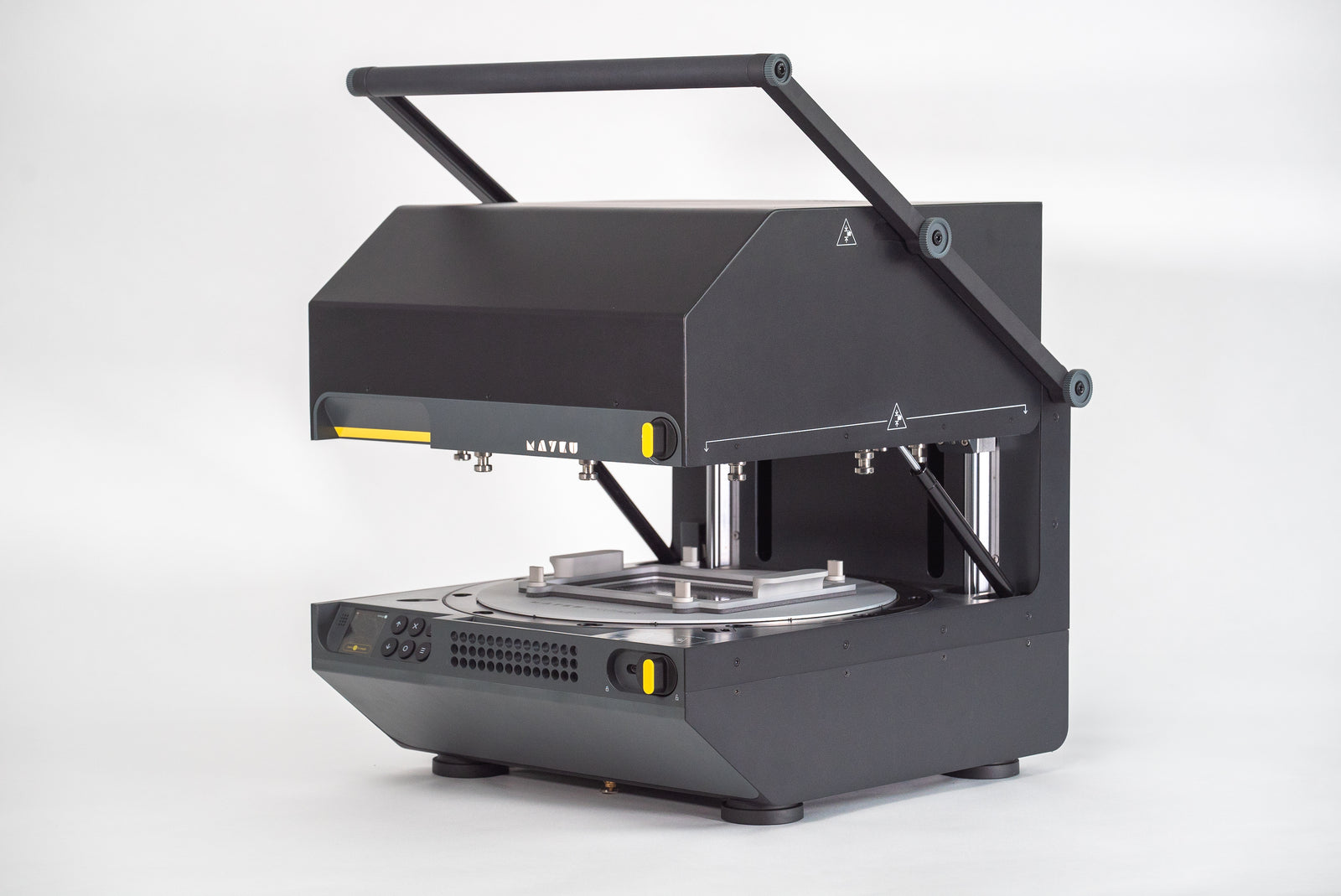 The Mayku Multiplier is a desktop pressure former that 
can achieve sub-one-micron resolution in sheet thicknesses of up to 5mm. This technology combined with high-resolution 3D printing, can achieve injection mold-like quality parts right from the desktop in a matter of minutes.
Today, we are excited to announce that  Mayku has updated it's Firmware which now includes Custom Mode. This gives you full control over your Multiplier settings and also allows you to create, save, and edit material profiles for future use. You can work with any factory-grade thermoforming material, whether it's Mayku material, third-party, or any other materials you want to experiment with in the Multiplier.
Mayku is also releasing a brand new accessory for the Multiplier pressure former: The Reducing Plate.

This new Reducing Plate condenses the forming area of the Multiplier down to A4 or US letter format sizes which opens up access to hundreds of global sheet suppliers and also reduces waste from unused materials.
Together, these new releases unlock access to hundreds of thermoforming materials you can use with your Multiplier – and combined with hi-res 3D printing, you can achieve injection mold quality parts from the desktop in a matter of minutes.
---
Custom mode: Tune the machine perfectly to access hundreds of materials
Custom mode on the Mayku Multiplier, now allows you to create, save, and edit custom-forming profiles for any compatible thermoformable material. This feature will enable you to achieve consistent, high-quality results with your own materials between 0.1 and 5mm (and with the Reducing Plate, you can use sheets over 5mm). You can also precisely control temperature and pressure, which will give you the option to adjust the level of detail and achieve your desired finish.
 With these new capabilities, engineers, designers, and educators can test, validate, and save their desired settings for a huge range of thermoformable materials.
---
Opening up a world of new materials and reducing waste with the Reducing Plate 
By seamlessly integrating with the Mayku Multiplier, the Reducing Plate effectively shrinks the forming area to A4 or US letter format. This reduction provides access to a wide array of global sheet suppliers specializing in straight-cut sheets, making specific or specialized sheets easier to source.
In addition to opening up the options for using other types of sheets, the Reducing Plate minimizes material waste when forming smaller components, which will ensure precise material usage. Because it utilizes less material, it also reduces the chances of webbing on final parts.
With the Reducing Plate, you can also start to form much thicker materials, over 5mm in thickness, to create rock-solid, highly detailed parts in a wide variety of different materials.

On the opposite end of the scale, the reducing plate enables the use of incredibly thin materials down to 100 microns for super-fine film application.
Advantages:
Employ readily available thermoformable materials in A4 or US Letter sizes (250 x 180 mm)
Handle materials thicker than 5mm.
Mitigate the risk of webbing on taller objects.
Combining the reducing plate and custom mode turns the Multiplier into a desktop production powerhouse, especially when it is combined with hi-res 3D printing. It can achieve injection mold quality parts from the desktop in a matter of minutes.
If you want to reduce webbing on your thermoformed parts, the Reducing Plate is a useful accessory. It allows taller tools to be used than with standard-sized multiplier sheets, and makes it possible to form thicker materials of up to 8mm.
---
Upgrade your Multiplier
Your Multiplier's new firmware is available directly on your machine, and the Reducing Plate will be available from our shop starting mid-October.

Firmware updates are simple on the Multiplier – just connect the machine to your Wi-Fi network. When updated, Custom Mode will be ready to use right away. You can find more details in Mayku's Learn section.

For more information or to get a quote, please email us at info@shop3duniverse.org!