Introducing the Ultimaker S5 Pro Bundle and Ultimaker S3
June 08, 2023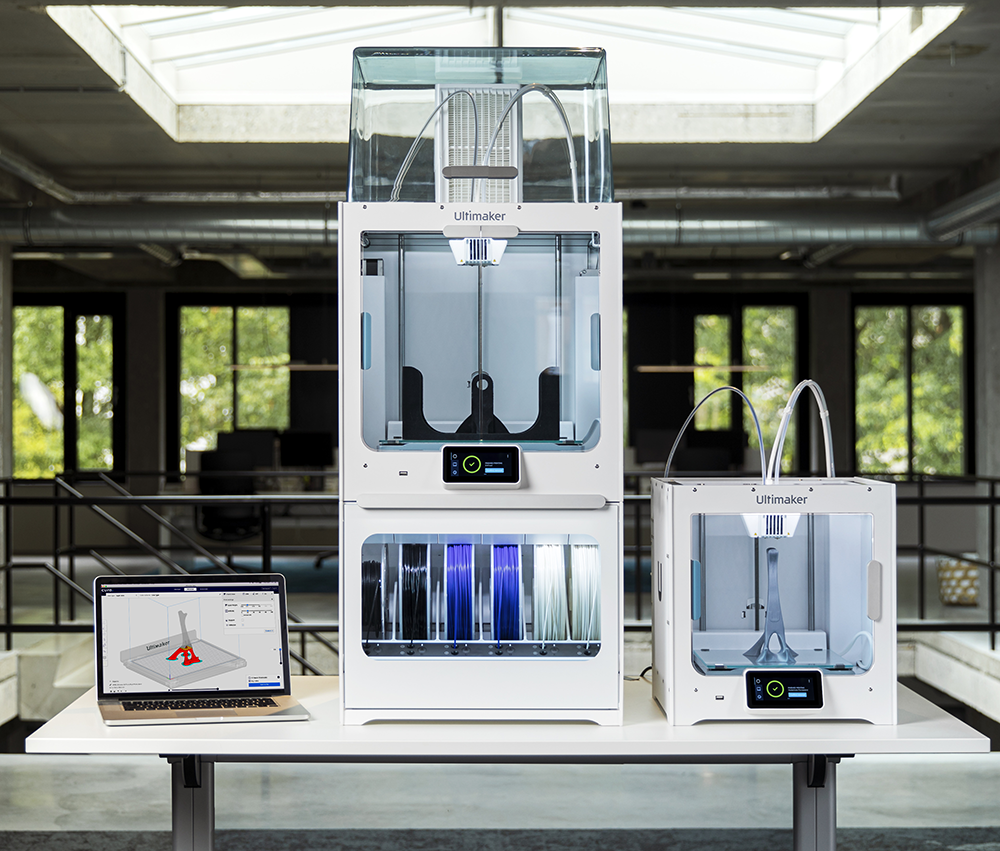 There is never a doubt that when Ultimaker is planning to launch a new product (or multiple in this case), it will be something to sit up and take notice of. Today they are announcing the release of the Ultimaker S5 Pro Bundle that includes the new Ultimaker Material Station as well as the Ultimaker Air Manager, along with the introduction of the all-new Ultimaker S3.

In the S3, they have taken many of the best features from the Ultimaker S5 and combined them into a smaller, more affordable device. The Ultimaker S3 delivers the same high-quality, composite-ready dual extrusion, with the same market-leading reliability and ease of use – just with a smaller build volume (230 x 190 x 200 mm or 9.1 x 7.4 x 7.9 inches).
For more information on the Ultimaker S3, please visit our product page. We will have a more in-depth look at the S3 tomorrow as we take some time to fully explore each new product!

Today, we are going to focus our attention on the beautiful S5 Pro Bundle and everything that goes into this amazing set-up.
Meet the New Ultimaker S5 Pro Bundle
What if – in a single purchase – you could massively boost your 3D printing productivity and confidence? Well, today that product is available!

We're excited to see the launch of the Ultimaker S5 Pro Bundle: A unique production solution that, by taking the hassle out of 3D printing when using an extended range of materials, gives busy engineers and designers more freedom to focus all day on doing their best work.

It allows teachers and educators to start prints for their student's projects and not have to worry about filament running out mid-print and setting their schedules back by hours for a reprint.
Check out our video to see all of the great features the Ultimaker S5 Pro Bundle has to offer and a walkthrough of how each component works together.
The Ultimaker S5 Pro Bundle is made up of three breakthrough devices:

• Ultimaker S5 – the award-winning, composite-ready dual extrusion FFF 3D printer.

• Material Station – a 6-spool pre-feeder with humidity control that automatically switches between materials.

• Air Manager – a top enclosure with a material-matching adaptive EPA filter These integrate seamlessly together to overcome the common challenges associated with FFF material handling and storage – making it easier to unlock demanding 3D printing applications that deliver real business value.
These integrate seamlessly together to overcome the common challenges associated with FFF material handling and storage – making it easier to unlock demanding 3D printing applications that deliver real business value.
Ultimaker S5 Material Station – More Materials, Less hassle
The Ultimaker S5 Material Station was designed and tested to be an automated material delivery workhorse.

Its 6 spool bays give you huge capacity for bigger prints, more small batches, or more flexibility in your setup – which means higher uptime and fewer manual operations.
Each bay is NFC-enabled and compatible with:
• All Ultimaker filaments (not including 350-gram spools).
• All materials from leading brands with predefined settings in Ultimaker Cura Marketplace.
• Including glass or carbon-reinforced materials.
• Any other third-party 2.85 mm filament with a spool that fits.
The result? Unprecedented flexibility for the widest range of 3D printing applications.
For example, we worked out that, for Ultimaker materials alone you can load over 28 million material combinations!
If you're someone who wants to effortlessly 3D print parts and models in house, then the Ultimaker S5 Pro Bundle can store and manage your perfect material setup.

• Educators with limited budgets for filament who have numerous partial spools remaining, can now reduce waste in their classrooms.
• Manufacturers can easily color-code factory tools.
• Engineers can print functional prototypes and end-use parts with advanced mechanical properties – including 6x spools of glass or carbon fiber composites for high-strength parts.
• Architects can load up to 4.5 kg of white PLA for large context models.
• And so much more… Simply load material in any order, at any time.
Even while another spool is printing.

And when it comes to loading?
Load 3D Printing Materials In 5 Easy Steps
That task which used to take minutes now takes seconds:

1. Open the door
2. Put the spool in any empty bay
3. Insert the filament into extruder holes 1 or 2
4. See confirmation from the device LEDs
5. Close the door and get back to more important work

To remove a spool: Press the button and the filament fully retracts with a clean, sharp tip – ready for next time.

Now, the hardest part of material loading is finding the end of the filament. (Where did it go again…?)

By making these little actions as simple and intuitive as possible, the Ultimaker S5 Material Station reduces the time it takes to handle material, letting you change spools when it suits you and get on with more important tasks. This accelerates innovation and reduces the need to employ a dedicated 3D printing operator.

This is an incredible feature for educators with limited space in their classrooms. Now their students can avoid having to pull the printers out from the wall to change out their filament and simply load from the front of the printer.
Unleash True 24/7 3D Printing
The Ultimaker S5 Material Station has been tested and tested to earn your trust when automatically switching materials. It takes care of every spool swap before, after, and even during a print job – so you don't have to.

Each bay features end-of-spool detection with maintenance-free, abrasive-resistant pre-feeders. So, when one spool runs out, it automatically switches to the next without extra friction, without tangling – without fail.

Teachers with the Ultimaker S5 can upgrade to include the Material Station to help ensure that when their students start a print for a project and underestimate the amount of filament needed to finish the print job, the printer will switch to another roll to complete it.

You can even reduce waste by starting a print with a used spool and trust that the material will be switched at exactly the right time. Better yet: this automation is made more powerful when combined with Ultimaker Cura Connect.

Constantly aware of all the possible loaded material configurations, Ultimaker's free printer management software will assign the next print job from the queue, and even maximize uptime by pre-feeding the correct material before the job starts. As a result, you'll be surprised how much time you save when all those small, repetitive actions are no longer part of your daily grind. Instead, that time can be better spent on valuable tasks worthy of your attention.

And since the Ultimaker S5 Material Station is designed to be left unattended, it has the capacity, build quality, and reliability to deliver true 24/7 production capability.
Always-fresh 3D Printing Materials
Every decision during the Ultimaker S5 Material Station's development was made to deliver materials in optimal condition for 3D printing. Humidity and dust…the Ultimaker S5 Material Station defeats them both.
Its silica gel extracts moisture and automatically regenerates, keeping the fully enclosed chamber below 40% relative humidity – even in outside conditions of up to 70% humidity.
By removing the chance of moisture absorption, the polymer doesn't degrade over time. The filament is kept pristine for longer as if the spool never left its packaging. This results in higher quality prints with a higher print success rate – with less chance of human error.
So that's how materials are handled below the Ultimaker S5. But what about that device on top?
3D Print More Materials With Greater Peace Of Mind
If you thought that the Ultimaker S5 Air Manager was just a cover for the Ultimaker S5… think again! This seamlessly integrated device efficiently solves any in-house air quality concerns you may have.
What Difference Does the Ultimaker S5 Air Manager Make To Air Quality?
Independent researchers found that it removes up to 95% of all ultrafine particles. While we're excited about that result, it does more than simply check a health and safety box, and more than avoid the need for extra workplace ventilation… It gives you the confidence and peace of mind to choose materials without compromise.
So now you can create the parts and models your business or classroom needs, with the mechanical properties your applications demand – knowing that any air-quality risk is dealt with.
Teachers can feel more confident that their students will not be exposed to ultrafine particles and provide them an opportunity to experiment in their classrooms with more materials than they had been able to before.
So How Does the Air Manager Work?
The Ultimaker S5 Air Manager features a quiet 140 mm (5.5 inch) fan. This has been optimally positioned to create an inside-out airflow, which pulls the maximum volume of air through a high-efficiency air filter.
And that filter is big, making it effective for longer – before Ultimaker Cura Connect tells you when to replace it.
You can easily install the Ultimaker S5 Air Manager without tools, via a sturdy bracket and a single cable. All other functionality is handled by (and regularly improved via) Ultimaker S5 firmware and Ultimaker Cura software. This includes material-matching fan speeds. Now embedded into Ultimaker Cura's predefined print profiles, they ensure that the fan and filter operate at optimal efficiency the whole time you're printing.
Keep Your Prints Safe, As Well As Your Workplace or Classroom
Finally, by fully enclosing the build chamber, the Ultimaker S5 Air Manager stops anyone interrupting a print by touching hot or moving parts, especially for classrooms with younger children. And it maintains a more stable print environment inside the printer.
While we've found this slightly improves print quality for some materials, it certainly gives you more freedom to 3D print where you want. In drafty locations, near air conditioning units – the choice is yours, knowing that the build chamber is protected from unwanted airflows.
Conclusion: Industrial Production Power On Your Desktop
We're excited by this introduction. More than any other Ultimaker product to date, it delivers our vision of the ultimate desktop experience: hassle-free 3D printing thanks to automated material handling, air filtration, and filament humidity control.
Bigger than that: it's the next step toward our ambition of placing the power of digital distribution and local manufacturing within reach of any business as well as giving teachers an excellent and hassle-free option in their classrooms.
But most of all? We're excited to see how customers, teachers, and students will use the Ultimaker S5 Pro Bundle to simplify their workflows and free up more time to explore fresh ideas, optimize designs, and unlock demanding applications. And we're convinced that doing so will increase their cost-savings and drive more innovation in the process.
Take the next step to accelerate your innovation: The Ultimaker S5 Pro Bundle is available to buy today.
For more details and to get a quote, please email us at info@3Duniverse.com.
Visit the Ultimaker S5 Pro Bundle product page.
Already own an Ultimaker S5? Check out the Ultimaker Pro Bundle Upgrade!
These new products look amazing! If you purchase your own, we would love to hear from you and see your images and videos of your unboxings and first prints!

Please feel free to follow us on Instagram (@shop3duniverse) and Twitter (@3dprintingisfun) as well as Facebook or tag us with #3duniverse!
Check out our unboxing video below!