Introducing the Ultimaker Essentials Software
June 08, 2023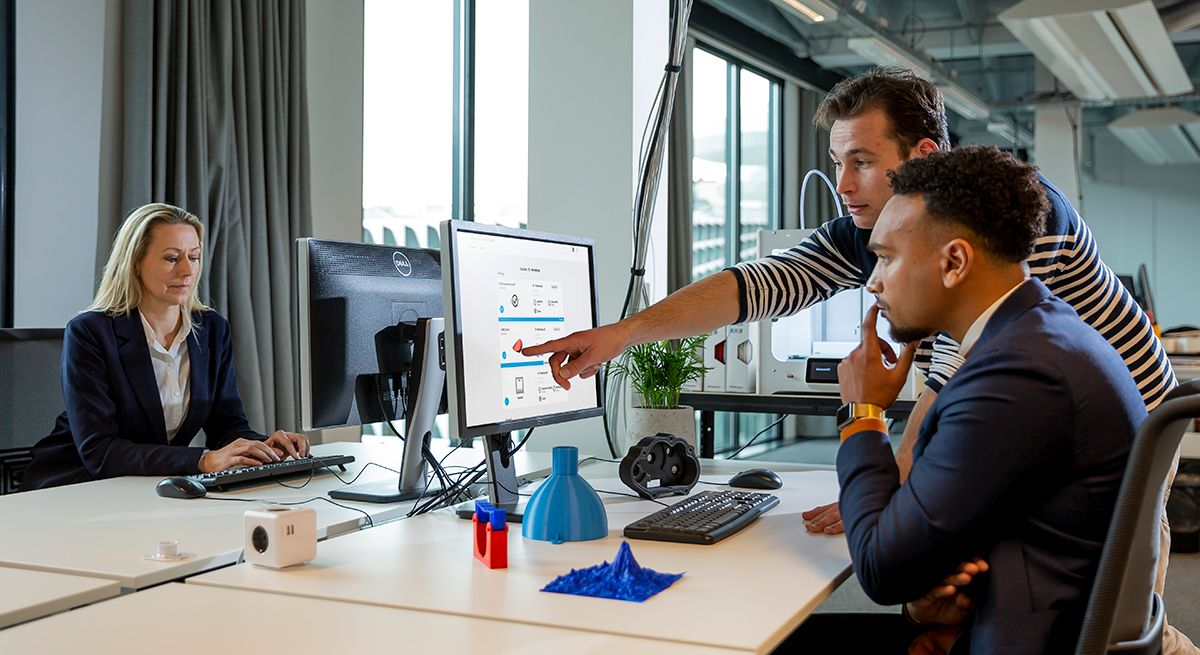 We are excited to officially introduce Ultimaker Essentials to our 3D Universe customers and offer this incredible subscription plan.
What is Ultimaker Essentials?
Ultimaker Essentials is a software subscription plan, tailor-made for enterprises with more strict IT policies.

With Ultimaker Essentials, we can enrich our ecosystem, including Ultimaker Digital Factory, Ultimaker Cura, and Ultimaker Marketplace, with features such as a higher IT security and stability to make our software portfolio a better fit for regulated business environments.

In this way, Ultimaker Essentials allows more organizations to scale the benefits of 3D printing across their business.
Why Did Ultimaker Develop Ultimaker Essentials?
3D printing users at larger organizations were encountering challenges to further scale and roll-out 3D printing in their company. Ultimaker Essentials is developed to help overcome these challenges and enable professional organizations to adopt Ultimaker's ecosystem and access all its benefits.
Which Organizations Subscribe to Ultimaker Essentials?
Ultimaker Essentials is designed for businesses. Therefore any organization that intends to 3D print professionally (and not for individual use) benefits from adopting Ultimaker Essentials.
What are the Benefits of Ultimaker Essentials?
Ultimaker Essentials is a subscription plan that enables functionality in other products of the Ultimaker ecosystem. As a software product, its features are not static and will be enriched over time.

At launch, Ultimaker Essentials has the following key benefits:

• Adopt software that's built for business: Users can now empower everyone to 3D print at work. Ultimaker Essentials is designed with regulated business environments in mind. Share access to software that boosts innovation with 3D printing, but that's also built based on our commitment to their security.

• Accelerate the growth of 3D printing in an organization: Ultimaker Essentials means teams can now realize the 3D printing potential where they couldn't before. Customers gain a seamless workflow with Ultimaker Digital Factory and Ultimaker Cura to increase productivity and efficiency, and 3D print easily with advanced material profiles via the managed Marketplace.

• Dedicated support to simplify the adoption of 3D printing: With a choice of service and learning levels, customers can customize Ultimaker Essentials for your business. Choose between Light, Standard, or Advanced plans to reduce possible disruptions (through improved software support response times), and maximize additive technology's value (with increased e-learning access).
Distributing Software That Drives Innovation
Now IT can roll-out 3D printing across your business. Distribute software that not only boosts 3D printing innovation, but that's also built based on a commitment to your security.
Here's what's included in an Ultimaker Essentials subscription:
Ultimaker Cura Enterprise
Ultimaker Digital Factory
Ultimaker Marketplace
Ultimaker 3D Printing Academy
Plus technical support
Deploy 3D Printing Where You Couldn't Before
With Ultimaker Essentials, you can now deploy the full 3D printing platform across regulated enterprise environments.

Use the Ultimaker Digital Factory to increase productivity and efficiency, and 3D print easily with advanced material profiles via the managed Marketplace.
Ultimaker has always been dedicated to the feedback and requirements from the community. Is this still the case with the launch of enterprise software?
Ultimaker is being used by various users, from students, makers, professionals, to enterprise organizations. These audiences all have their own set of requirements. One user might be more eager to manually tweak and test every setting available; others may want to fully integrate 3D printing into existing workflows.

Ultimaker is committed to adding new value to its full user base. This means, from individuals to enterprise customers, users will see new value added to their software ecosystem and their workflows.

To learn more about Ultimaker Essentials or to purchase, please visit our website or contact us at info@3duniverse.org.