Multimaterial 3D Printing With Mosaic Palette 2
June 08, 2023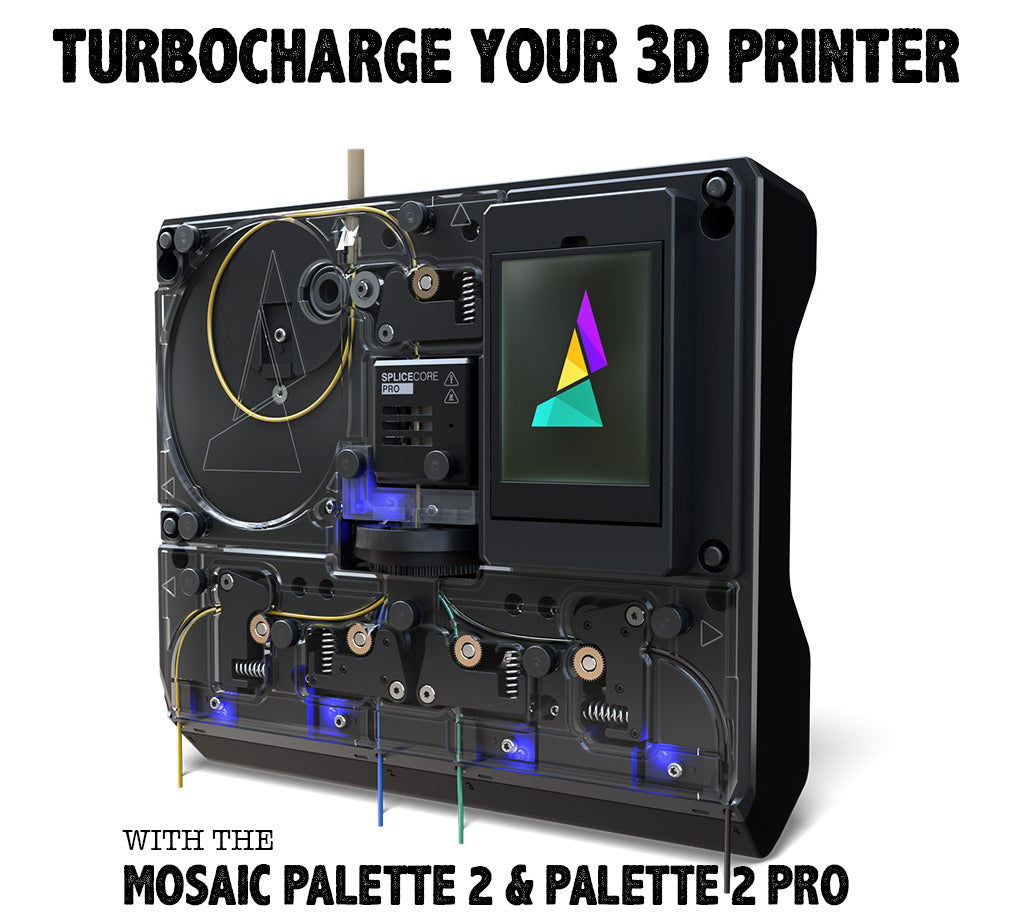 Canadian digital technology company, Mosaic Manufacturing, has released the next "bit of awesome" that you are going to want to put on your "WANT" list! The Mosaic Palette 2 and the Palette 2 Pro have arrived to help you turbocharge your 3D printer!
Feel free to start dropping hints to your loved ones as soon as possible in preparation for the gift-giving season! You may just want to go ahead and get one of these now… for yourself! Then you can use it to make the coolest gifts that you have EVER given in your gift-giving history and put more filament on your "WANT" list instead!
Palette 2 combines four filaments and feeds them into your printer in real-time. No modifications are required! This allows multi-material printing on a single-extrusion 3D printer.
You can do all sorts of things with these Mosaic Palette 2 and Palette 2 Pro machines! For example, you can print impossible overhangs using water-soluble support, make heat and water-resistant models in four colors of durable PETG or create functional end-use products by combining PLA with a flexible TPU.
Take your 3D prints and your art to the next level and bring them to life with the ability to give them more depth and personality.
We live in a bold and colorful world. It is time that your 3D prints take on a more realistic and lifelike form. The Mosaic Palette 2 and Palette 2 Pro are here to help you do just that, with an improved hardware design that helps to create consistent and reliable bonds between filaments and a color touchscreen that includes built-in gradient and pattern modes.

How Does It Work?
Palette 2 takes up to four filaments and combines them into a single filament strand. This strand is then fed to your printer, enabling your single-extruder printer to create multi-filament prints!
Drive: Palette 2's all-metal drive systems, inspired by those on industrial FDM machines, accurately control filament to ensure the right lengths are driven from each input.
Cut: A rotary cutter system slices filament to ensure a clean, low-resistance cut, time after time.
Connect: Palette 2's updated Splice Core connects filaments together end-to-end before passing them through a machined PTFE (Teflon) channel and splicing them together.
Cool: The newly spliced filament is passed to our buffer area to cool and ensure that it keeps tight dimensions before being passed to your printer.
Calibrate: There's no need to attach our Scroll Wheel to your printer anymore, as it is now built inside of Palette 2, allowing for more precise calibration and a streamlined Palette experience.
Palette 2 Pro: High-Performance Features for Power-Users and Professionals
For high-demand printers and professional users, we offer the Palette 2 Pro which includes:
All aluminum Splice Core Pro, allowing for up to 20% faster splicing and cooling, improving the overall print time
Additional parts to ensure optimal performance and maintenance
Sleek all-black casing
Includes many spare parts and 2-year warranty
Mosaic Palette 2 and Palette 2 Pro Compatibility
The Mosaic Palette 2 and Palette 2 Pro are designed for use with 1.75mm filament. They are compatible with most 3D printers that use 1.75mm filament, including Dremel 3D printers. There is also a separate adapter available that will allow you to use the Palette 2 or Palette 2 Pro with certain printers designed for 2.85mm filament:
Power Up Your Mosaic Multi-Material Printing Workflow with the CANVAS Hub
Simplify and enhance the entire printing process by wirelessly connecting your printer, Palette 2, and computer using CANVAS Hub (sold separately).
The CANVAS Hub is the keystone of Mosaic's multi-material ecosystem. Think of it as the center of everything to do with multi-material printing. It is the bridge that allows your hardware products to communicate with each other and come online.
With a slimmer design, the Mosaic Palette 2 or Palette 2 Pro will give you more space on your desk to use for wrapping up all of those "most awesomest" gifts you will be giving this year!

For more information, please visit our shop or feel free to email us at info@3duniverse.org!