The KickStarter campaign for the Strooder
June 08, 2023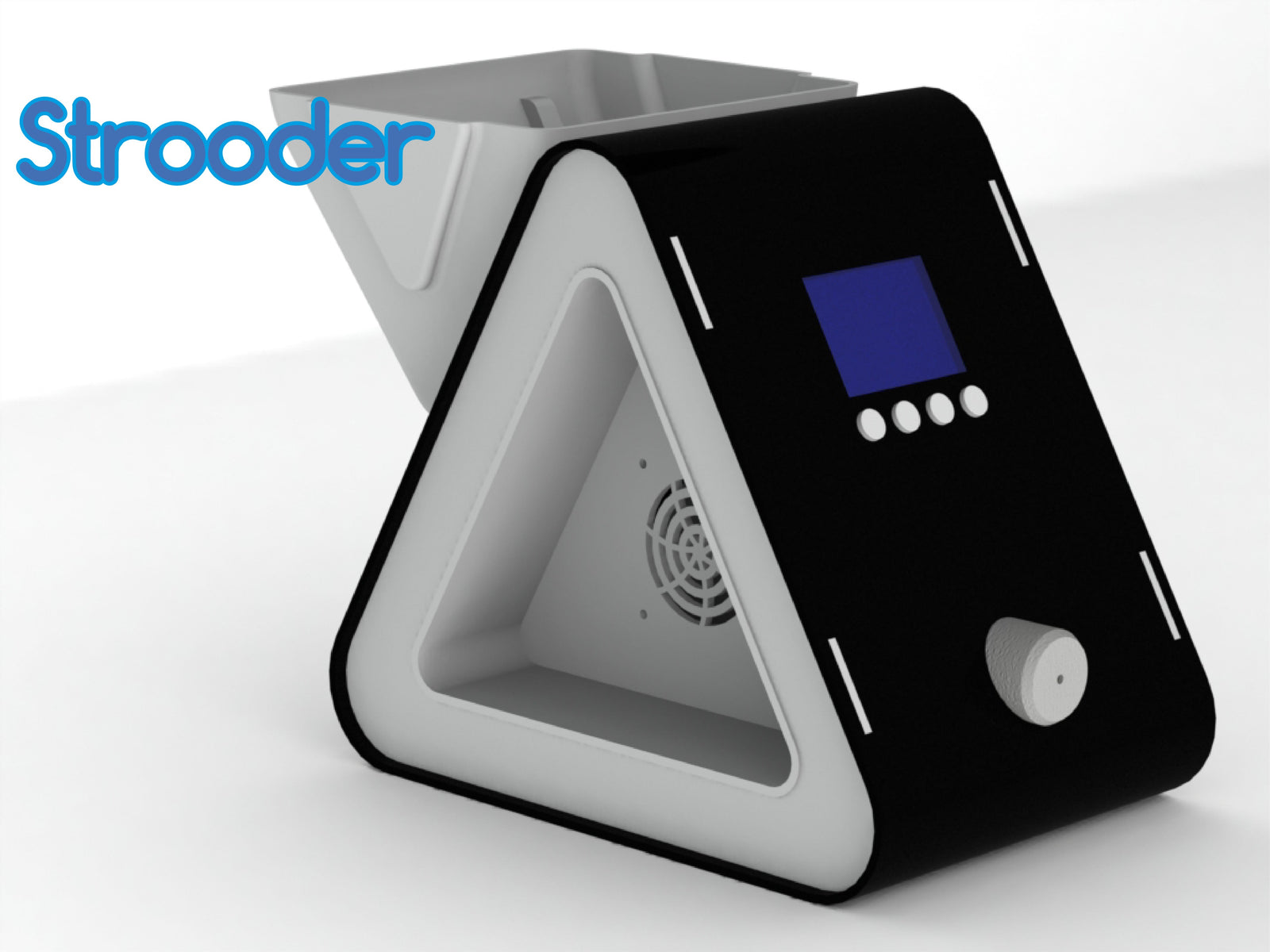 Strooder: A Consumer-Oriented Filament Extruder You'd be Proud to Have on Your Desktop.
Anyone who spends a lot of time with 3D printing eventually starts to look at how to reduce the cost of filament. It's the biggest ongoing cost of 3D printing by far, so it's where we naturally look for savings.
A typical spool of filament weighs 1kg and typically costs around $30-45 (USD) for ABS or PLA, the most common 3D printing materials. Costs vary for other kinds of materials, but most of them are more than ABS or PLA.
Once my wife saw all of my filament orders, she started asking if there was a way to make our own for a lower cost. I told her about filament extruders, which have been around for a while.
She loved the idea, but when we looked at available options, we found that 1) everything currently available was either in a kit form, over-priced, or both. A kit would have been fine and could have been a fun project for us, but . . . 2) the available designs tend to look like something built from spare parts out of someone's garage, and 3) the general consensus in online discussions seemed to be that it was difficult to obtain consistent results from available models and that it may end up being more hassle than it's worth currently.
Several months later, along came Strooder:
I had a chance to talk to the founders of the company behind this attractive device via Skype the other day. Greg Gruszecki and David Graves are two robotics engineers in Bristol, UK who joined forces and founded OmniDynamics.
They started out working on an overall robotic system but they found themselves limited by the lack of materials available for prototyping. Strooder, therefore, became a vital stepping stone to enable the company to achieve those initial goals in the future, by enabling faster, lower cost prototypes and the use of more exotic materials.
They turned their attention towards developing a consumer-oriented filament extruder. As you can see from the above and below photos, the design was an important consideration from day one. It was important that the final design be something people would want to have sitting on their desk, next to that fancy 3D printer. I'd say they hit the mark:
Along with design, their focus was on being able to help lower overall filament costs and increase the range of material options available for consumer-level 3D printers.
The initial investment seems reasonable, especially compared to other existing options. The Strooder will have an early-bird Kickstarter price of about $250 (149 GBP) and a final retail price of about $420 (249 GBP).
OmniDynamics plans to sell ABS and PLA pellets for somewhere around 20% the normal cost of filament spools. They also plan to offer a variety of colors, and eventually additional materials, so that users can mix up custom colors and obtain specific physical properties by mixing different pellets in the hopper.
Aside from being cost-effective, the Strooder is also environmentally friendly. I have bins of material left over from failed prints:
So now I'll be able to cut up those failed prints (into pieces no larger than about 1 inch) and feed them into the Strooder to make new filament! Recycled prints can be combined with new pellets to help prevent the material from breaking down from too many repeated extrusions.
Of course, I haven't had the opportunity to use one myself, but having spoken to Gruszecki and Graves, I can tell you this much: I intend to back their Kickstarter campaign.
Here's why:
Having seen other similar Kickstarter campaigns, and knowing the demand for a solution like this, I have a feeling their campaign will succeed, so the risk seems fairly low to me, given the early-bird cost
It comes fully assembled and ready to use
It includes an easily-swappable nozzle for 1.75mm, 2.85mm, or 3mm filament
It has an interactive onboard display so you can easily select what material and nozzle size you're using, and the machine will determine all of the appropriate settings for you
It's designed with safety in mind (i.e. active protection against overheating, no exposed parts that could burn someone)
Once their company has revenues coming in, they plan to develop and offer a filament spool winder, as well as a grinder for recycling failed prints, which, when combined with the Strooder, will provide a complete desktop filament production solution.
Their testing so far has yielded very consistent results. They claim you can load a full hopper of material, push the button, and walk away. I pointed out that, while that may be true, you would probably come back to find a tangled heap of filament on the ground.
That's when we started talking about their plans for the prints grinder and filament spool winder. They might end up offering those as part of a stretch goal for the Kickstarter campaign, but that hasn't been determined yet.
In order to help ensure the highest quality results, the OmniDynamics team has been focusing their testing primarily on PLA, which is somewhat more challenging to extrude properly than ABS. Most other designers of filament extruders seem to focus more on ABS and sometimes have difficulties with PLA. Later, OmniDynamics plans to offer the ability to work with other materials in addition to ABS and PLA, such as HDPE, PP, and LDPE.
Strooder's specifications are as follows:
Screen: 2.4inch, 340 * 220 Pixels
Hopper Volume: 1 liter
Pre-set Material Options: PLA & ABS
Extrusion Rate: 0.7m – 1.5m/minute
Extrusion Temperature: up to 250°C
Enclosure Size: Height 225mm, Width 165, Depth 285mm
Feed Screw Speed: up to 10RPM
Input Power: 115VAC and 220VAC
Power Draw: ~200W
Filament Diameters: 1.75mm, 2.85mm, & 3mm
Filament Tolerance: (+ .1/ – .1mm)
Pellet Sample: 100g

The KickStarter campaign for the Strooder just launched! Check it out here!
More 3D Universe blog posts:
Learn how to assemble the "tensioner" lines on the Cyborg Beast 3D printed prosthesis HERE…
My Cyborg Beast 3D Printed Prosthesis: Assembly and Testing post can be found HERE…
Check out my post titled "Man Compares His $50 3D Printed Hand to His $42K Prosthesis" HERE…