EnableCon 2019 | New 3D Printed Prosthetic Designs
June 08, 2023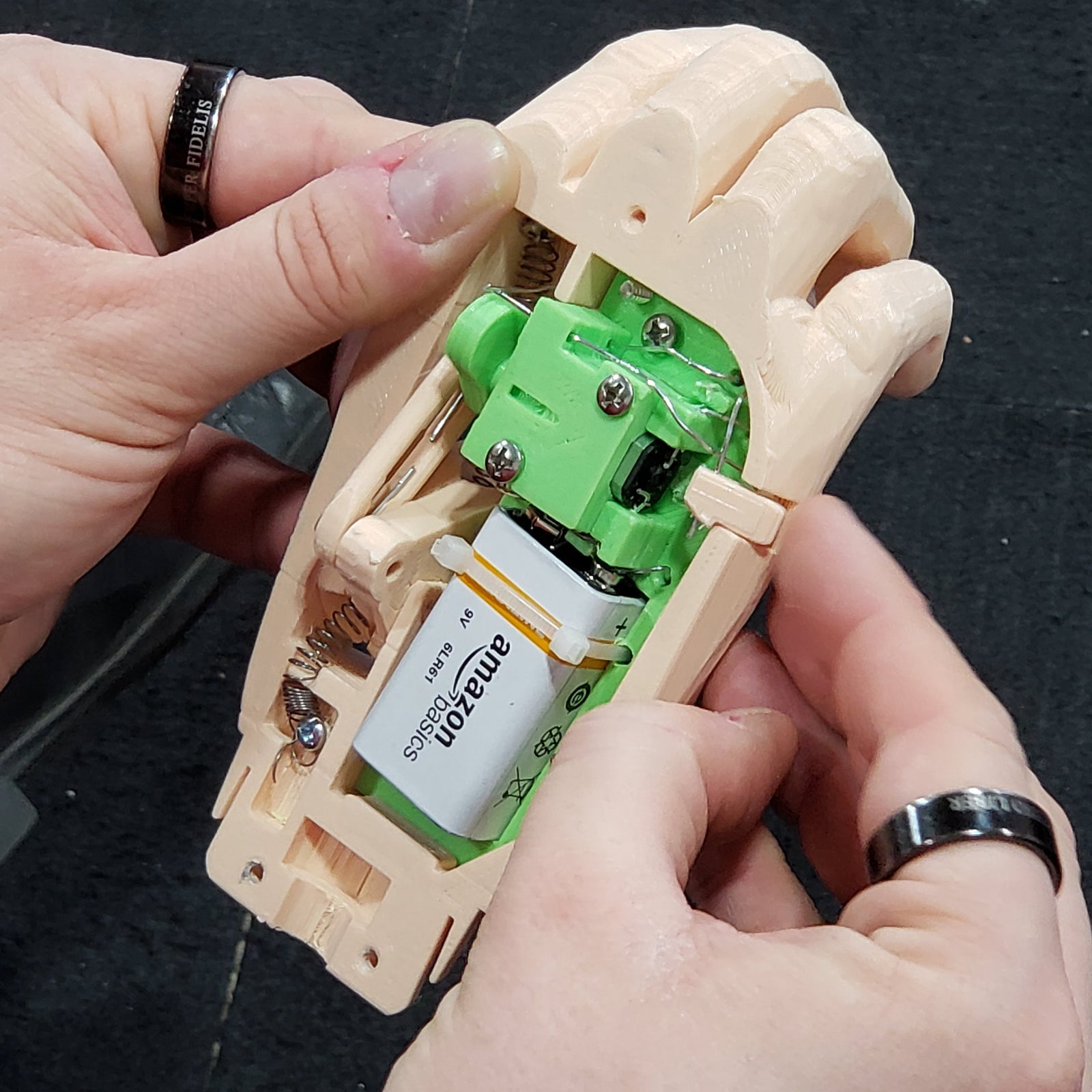 For the past 3 years, College Park, Maryland has been a convergence zone for e-NABLE volunteers from all over the world in what has been named EnableCon. Volunteers gather together to learn from each other, share new 3D printed prosthetic hand and arm designs and to finally get meet each other in person after years of only knowing one another through computer screens.
This year, 3D Universe was able to attend and spend a few days getting to see some of the incredible and promising 3D printed prosthetic designs that are coming out of places like the Dominican Republic, Colombia, Guala (Honduras) and Mexico, as well as right here in the USA.

Most of these designs are still in the development stages, some are being given to beta-testers and some have been well received and are being used on a daily basis by actual recipients.

Below are some of the new e-NABLE designs that were shared at EnableCon this year!
Bionic Glove Project – Flexible Arm Design, Florida, USA
Chad Coarsey (Director of Operations, The Bionic Glove Project) and Wen-Yu (Marty) Cheng (Undergraduate Researcher, FAU BioRobotics Lab) demonstrated a new flexible arm design that allows for greater freedom of movement.
This segmented design created using PCTPE 3D Printing Filament allows for full rotation and movement in the forearm and wrist for those who still have a wrist but are missing fingers.
This arm has a modular socket at the end that can be used with interchangeable tools or myoelectric and bionic hand designs. Their team is currently experimenting with incorporating muscle sensors into this design.
This is another design that is including the Boa tensioners as a way to get a good sturdy fit for the end-user.
We are really excited to see what improvements these e-NABLE volunteers make to this design, as it has the potential to help a lot of people.

You can watch the video of their presentation HERE.
Analog Electric Hand – Dean Rock, the Dominican Republic
e-NABLE Volunteer, Dean Rock, has been working with recipients in the Domincan Republic for quite some time with the Rotary Club in Portland, Maine.
Dean discovered very quickly that recipients in the Dominican Republic would shy away from the brightly colored e-NABLE devices that the community was used to gifting and were only interested in accepting devices created in colors that more closely matched their skin tones.
In 2018, we were able to poll the e-NABLE Community and vote on 4 skin tone colors to provide to Dean as well as many other volunteers who were working with recipients in cultures where they would prefer a device that allows them to blend in with their local community versus stand out.

You can find those flesh tone filaments HERE.
Dean's motorized hand has one "tendon", one linear actuator and one switch. This design has a fixed thumb with a flexible loop embedded into it to hold small things like a toothbrush, spoon, paintbrush or pen that can be slid underneath it.

The switch has three positions. When the recipient flips the switch in one direction, it closes the fingers and they meet the thumb. Flipping the switch in the other direction opens the fingers. Moving the switch to the middle position stops the fingers in their current position.
The creative placement of the switch (on the underside of the forearm) means the user can activate the switch by pressing the arm against a table or other object. This means this design could even be useful for double-amputees.
We thought this was an innovative approach to tensioning. It's reminiscent of the Boa tensioners we looked at some years back but were never able to figure out how to incorporate them in an affordable manner.
Individual Finger Design – Dean Rock, the Dominican Republic
Dean brought along some individual finger prototypes that he has been working on for a recipient in the Dominican Republic.
This design was created for an oyster fisherman who had gotten his hand caught in a winch trying to pull up the oyster traps he was working with, which resulted in the amputation of two of his fingers.
He made these finger prosthetics out of nylon, which makes them flexible but very strong. The black pieces on the side are made of flexible TPU material and provide some extra support while still allowing for freedom of lateral movement and twisting.
Because the recipient works in saltwater, Dean was able to design these replacement fingers without having to use any corrosive materials of any kind.
Hybrid Gripper Snap Talon Hand – Dean Rock, the Dominican Republic
During EnableCon 2019, Dean was also able to showcase a design he is calling the "Hybrid Gripper Snap Talon." You can find the files for this design HERE.
These designs are for a terminal device that can be adapted in a large variety of ways. As a standalone, the fingers can be closed by either wrist, electric or elbow actuated systems.
You can watch the video of Dean's presentation that includes all of his design work shared at EnableCon 2019 HERE.
The Pulgarcita Hand – Samantha Morales, Mexico
While she was unable to attend in person, Samantha Morales (Lead Industrial Designer, Intero Mexico) presented the design process used for the Pulgarcita prosthetic arm. Fellow e-NABLE volunteer Rodrigo Savage was able to attend the event and bring an example for EnableCon attendees to explore.
The knob on the Pulgarcita design allows the ring finger and pinky finger to be adjusted independently. This allows for different kinds of grips, like when you want to hold a can of soda or bottle of water with the ring finger and pinky supporting the object from underneath.
For this design, their team created a thumb that can rotate either to the side for a key-grip or to the front for a pincher grip.
To see the video of their presentation and learn more about this design, please visit their video HERE.
MotoGripper Hand Design – Skip Meetze and Jon Schull, Rochester (NY, USA) e-NABLE
e-NABLE Rochester Lab's Jon Schull (Co-founder of e-NABLE) and Skip Meetze (pictured) showed the latest MotoGripper, a powered hand device that uses a simple and straightforward design to provide a motorized gripping function.
This design takes the original Gripper Thumb and adds a 9-volt battery, some springs, a zip tie, a gear motor, a few screws, an actuator, and 5 paper clips!

All of the electrical connections are made with paper clips. There are no electronics involved in this design.
If you would like to see the video presentation for this design that was presented at EnableCon 2019, please watch the video HERE!
Task-Specific Tool: Bow Holder – Cameron and Sarah Haight, North Carolina, USA
Cameron Haight, one of the youngest e-NABLE volunteers who is also a recipient of an e-NABLE hand himself came to share some of his newest designs for task-specific tools. He likes to design, along with his mom Sarah, for kids who are also in the limb difference community who may not want a hand but are looking for help to do a variety of activities.
Together, they created a bow holder that can attach directly to the bow and will allow the user to slide their affected limb into place and give them a little stability when pulling back the bowstring.
It was really awesome to see innovation coming from such a young end-user! We are excited to see what he might come up with next!

If you would like to follow his adventures and their Different Heroes page, please click HERE!
Get Involved With e-NABLE!
EnableCon 2019 was packed full of back-to-back talks and presentations, fun, collaboration, and friendship building again this year. It was also a great reminder that though e-NABLE has come a long way over the past 7 years, there is still a lot of work to do to make 3D printed prosthetic designs more functional and accessible to those who need them most.

If you would like to join e-NABLE volunteers in continuing to work on new designs, would like to volunteer to make a device for a recipient on the waitlist, have design skills that may help recipients who have limb differences that do not work with the basic e-NABLE hands, or would just like to find out more information on e-NABLE, please visit their website at enablingthefuture.org.

If you are interested in watching the presentations, please check out the videos from EnableCon.
You can also purchase your e-NABLE hand assembly kits in our shop!
We are already starting to plan for next year's EnableCon, so stay tuned for more information about how you can participate or sponsor the event and help grow this gathering to bring even more brilliant minds together!