COVID-19 Accelerates the Fourth Industrial Revolution
June 08, 2023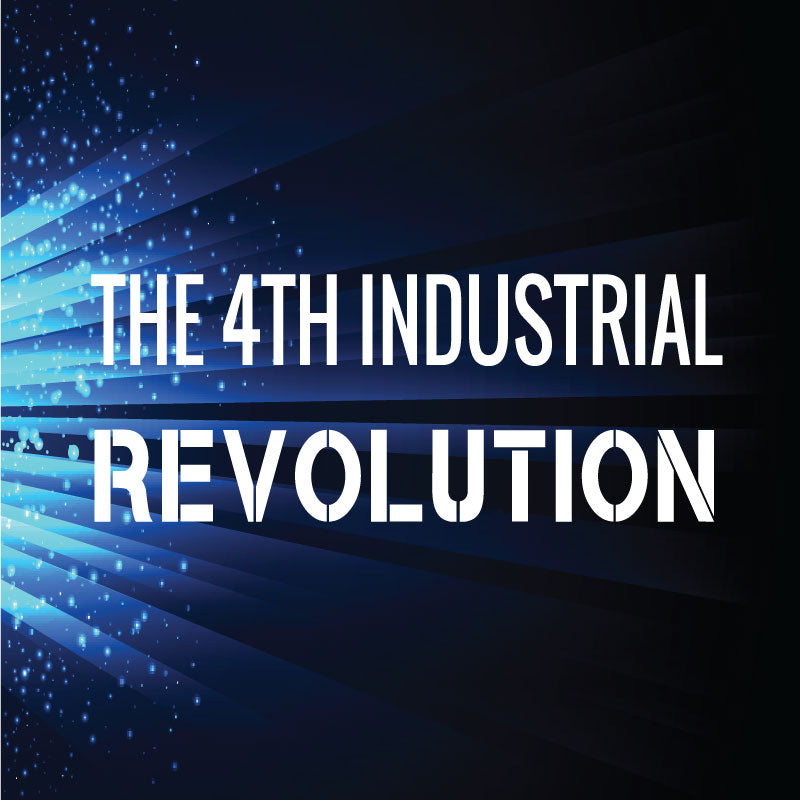 "The Fourth Industrial Revolution is a way of describing the blurring of boundaries between the physical, digital, and biological worlds. It's a fusion of advances in artificial intelligence (AI), robotics, the Internet of Things (IoT), 3D printing, genetic engineering, quantum computing, and other technologies."

Salesforce
Thanks to a global pandemic forcing the world to quickly come up with new solutions to life-threatening, business destroying, and daily life problems, COVID-19 has accelerated the Fourth Industrial Revolution faster than we ever anticipated was possible.
The COVID crisis has impacted every industry imaginable, forced us to think outside of the box, and pushed some of us into roles we never imagined we would fill.

Whether you own a distillery who suddenly had to switch gears to producing gallons of hand sanitizer instead of bottles of Whiskey to sneak into flasks at (now canceled) weddings or you were a 3D printing hobbyist who put your dormant machine in the corner to work producing face shields for your local nursing homes – the current pandemic crisis has required us to innovate at a much faster rate than we predicted.
As we head into 2021, we can expect to see a lot more innovation taking place from companies and large corporations, but also by everyday average citizens, students, and teachers alike – out of mere necessity.

With factories and many small businesses shutting down, replacement parts and items we rely on for repairing household objects, running our own businesses, or sustaining our jobs and lives, are increasingly more difficult to find. When you do find some of these items, it can now take weeks and even months to arrive when ordered and some are completely now unattainable.

Thanks to Additive Manufacturing (AM) and 3D printing design by professionals, companies, and hobbyists alike, we can (and will continue to) provide our own solutions for creating some of our own replacement parts in a matter of hours. In turn, this also allows us the opportunity to share some of our solutions and designs into the open-source community to help others who may be facing the same problems.
"In this time of great flux, we must dare to take bold steps and discard what is not future-proof. We need to harness the core values of technologies like additive manufacturing (AM) to move towards new ways of thinking and doing that have meaningful impact," says Fried Vancraen, Materialise CEO and Founder.

We believe that additive manufacturing is meaningful when it empowers people to make better choices. The COVID-19 crisis has shown that AM can step up and provide meaningful solutions to emerging challenges. But so far, these solutions have not truly played to the strengths of the technology. The value of AM lies in being able to create things that no other manufacturing method can.

Materialise.com
The Next Wave of Innovation
"Additive Manufacturing (AM), or 3D Printing, has been around now for over 30 years. For a long time, there were only a few technologies available and applications were generally limited to prototyping. In recent years, however, a new wave of innovation and use has emerged, extending beyond engineering and design into short and medium scale production applications."

John Kawola, CEO of Boston Micro Fabrication,
As we leave 2020 behind us and head into 2021, still struggling to get COVID-19 under control, re-open businesses, and repair our global economies, we are discovering just how big the potential is for 3D printing to completely change the world and our lives during this Fourth Industrial Revolution.
With 3D printing, we can create more sustainable solutions that can be customized for specific needs, produce less waste and give us opportunities to create new income sources for our families.

In his article published recently by Materialise, Vice President for Medical, Brigitte de Vet says, "COVID-19 has launched the world into a state of constant urgency. Healthcare professionals as well as regular consumers have been confronted with shortages and quality issues for both essential medical products and everyday consumer goods, a consequence of a global market model that hinges on centralized, mass-manufacturing. Things we used to take for granted are no longer necessarily available or even appropriate, and new solutions need to be developed fast."
With 3D printing technology, not only are companies and everyday hobbyists discovering ways to contribute to solutions for problems that have arisen due to COVID-19, but it is also offering job and business opportunities many were not expecting.

Many 3D printing hobbyists who have lost their jobs due to lockdown and layoffs are now suddenly finding themselves qualified for well-paying, newly invented positions where they are able to use their 3D design skills (previously used merely for fun) from the comfort of their own home, to help companies make rapid changes to designs for parts and products.

We are seeing more and more on-demand, remote, 3D printing businesses popping up to produce anything from customized jewelry and D&D characters to helping design a part for a plumbing mishap.

Now, thanks to 3D printing and 3D printers that are available for home use as more affordable prices, those who have been affected by job loss in this past year are finding ways to provide for their families with online sales of items that can be produced on demand and do not require investing in inventory that they may not be able to move.
Additive Manufacturing in 2021 | Growth Predictions
The manufacturing and dental sectors are predicted to have the largest growth potential in 2021 for additive manufacturing. Small manufacturers are expected to move away from machining and molding and focus more on customized small productions, while the dental industry is expected to start moving away from 3d printed molds to directly 3d printing dentures and aligners.
Software tools for 3D design and creating stronger and more consistent parts are improving rapidly and are expected to continue to do so as we head into 2021. From slicing and simulation software to remote and cloud management tools, we can expect to see growth in all of these areas, along with more reliable 3D printers on the market.
We are looking forward to seeing what 2021 has in store for additive manufacturing and 3D printing industries all over the world. Will you be part of the Fourth Industrial Revolution?

For more information on 3D printers, materials, and more, please visit our shop at shop3duniverse.com or drop us an email at info@3duniverse.org.