Man Compares His $50 3D Printed Hand to His $42K Prosthesis
June 08, 2023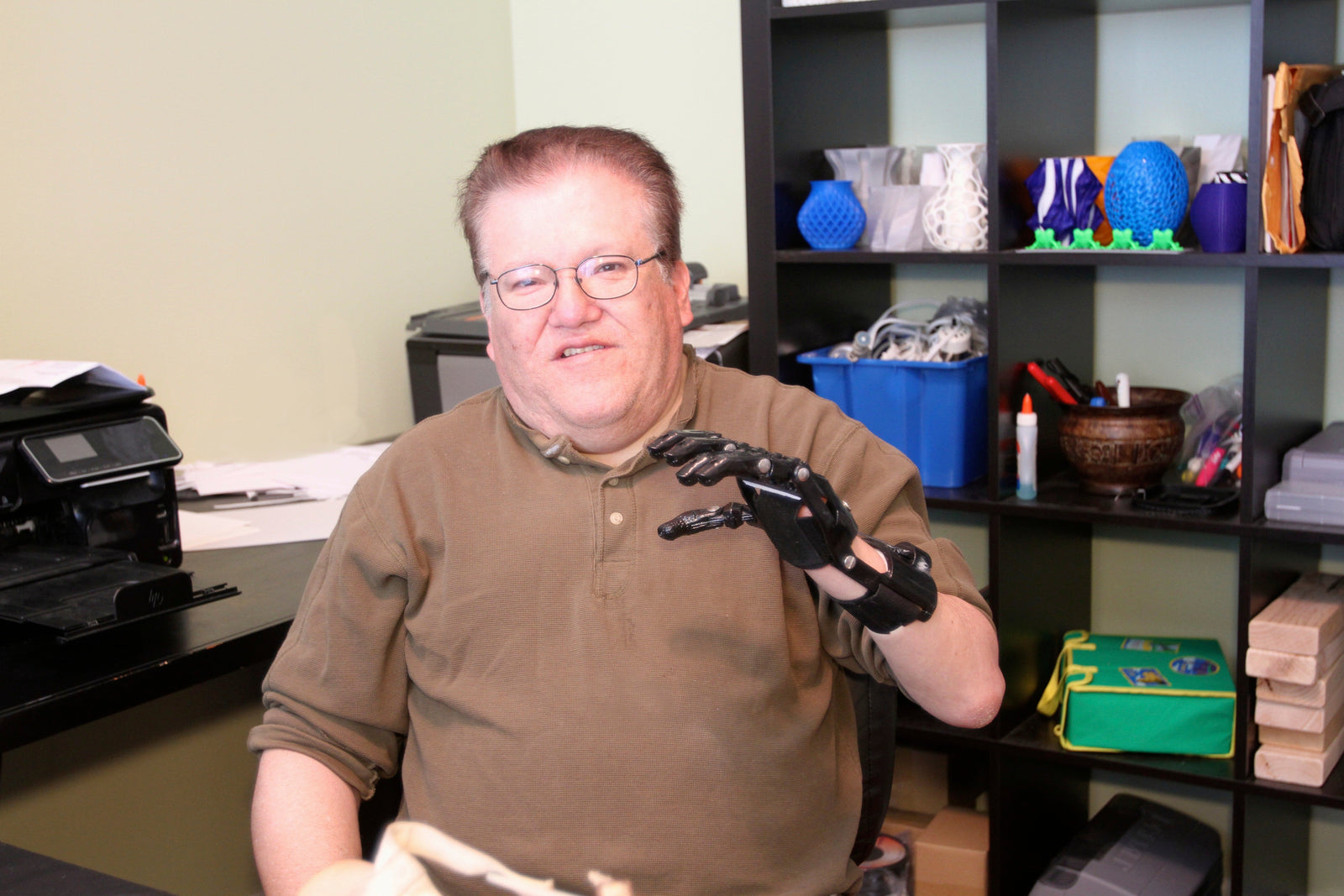 I would like to share a story with you about the power of 3D printing technology to transform lives.
I recently had the opportunity to work with a great guy named Jose Delgado, Jr., a 53-year old who was born without most of his left hand. Jose found his way to me and asked if I could help make a 3D printed prosthesis for him.
Jose has used multiple types of prosthetic devices over many years, including a myoelectric version that uses the muscle signals in his forearm to trigger closing or opening the fingers.
The cost of this myoelectric device was $42,000.
Only a portion of that was paid by insurance and the rest by Jose. The cost makes it an unaffordable option for many in similar situations.
The total cost of materials for a 3D printed e-NABLE Hand is about $50. This device (also referred to as the "Cyborg Beast") is a completely mechanical design.
There are a series of non-flexible cords running along the underside of each finger, connecting to a "tensioning block" on the top rear of the device (the "gauntlet"). Tension is caused by bending the wrist downward. With the wrist in its natural resting position, the fingers are extended with a natural inward curve.
When the wrist is bent 20-30 degrees downward, the non-flexible cords are pulled, causing the fingers and thumb to bend inward. A second series of flexible cords run along the tops of the fingers, causing the fingers to return automatically when tension is released.
I was curious to see what sort of experience Jose would have with this mechanical hand design compared with his myoelectric device. My expectations were limited, however.
Jose works in an environment that involves a lot of box lifting and moving. I anticipated that the e-NABLE Hand, made of ABS plastic (same material as legos), might not hold up for long.
To my surprise, however, Jose says it's been doing very well. He actually prefers it to his far more expensive myoelectric prosthesis!
Jose and I got together again today so I could fine-tune the tension on the "tendon" cords. I asked Jose if he would be willing to talk with me on camera about his recent experience using the e-NABLE Hand and compare it to his experience with other prostheses.
As a result of using a number of different prosthetic devices over many years, Jose has a unique perspective. He has extensive hands-on knowledge of what can or can't be done in terms of day-to-day functionality.
Since the prosthetic devices Jose has used are completely different types, his statements do not represent an apples-to-apples comparison. The comparison here is simply in terms of how useful Jose has found each device to be on a day-to-day basis.
Here's a follow-up interview with Fox News:
It turns out, this simple, mechanical design provides Jose with more day-to-day functionality than his far more expensive myoelectric prosthesis. If a part does break, I can easily print a new one for him in a matter of hours.
Now I am going to print another e-NABLE Hand for Jose using Bridge nylon, a material that is still lightweight but with significantly enhanced strength properties. I'll also provide him with an alternate thumb mount to enable a different kind of grip. I look forward to getting his valuable feedback from those changes as well!
I believe that 3D printing is a transformational technology. Jose's experience is a great example of that. 3D printing completely changed the possibilities for one man, and at 1/10 of 1% of the cost of other devices, those possibilities are becoming more readily available to anyone, anywhere.
3D printers are coming down in price rapidly. As of today, a self-assembly kit starts at around a few hundred dollars. A fully assembled "prosumer" level printer sells for $1000-$2000. In other words, this kind of technology is rapidly becoming very accessible.
When you combine that kind of technology with the collaborative power of the Internet, the inherent generosity of human beings, and a global open source community, truly remarkable things start to unfold.
The e-NABLE volunteer community is a great example of this. Less than a year after being formed, more than 650 volunteers have joined in to help provide inexpensive assistive technologies (such as 3D printed prosthetic hands) for underserved communities everywhere.
For more information about e-NABLE, or to join in, please visit the e-NABLE Facebook page or Website. Everyone is welcome. With or without a 3D printer, everyone has something valuable to contribute!
To download the model for this prosthesis, the e-NABLE Hand (aka the "Cyborg Beast"):
Want to get started with e-NABLE? Click HERE to learn more.
To purchase the assembly materials kit for Cyborg Beast prosthesis click HERE.
More 3D Universe blog posts:
Learn how to assemble the "tensioner" lines on the Cyborg Beast 3D printed prosthesis HERE…
My Cyborg Beast 3D Printed Prosthesis: Assembly and Testing post can be found HERE…