Top 3 iPad 3D Modeling Apps
June 08, 2023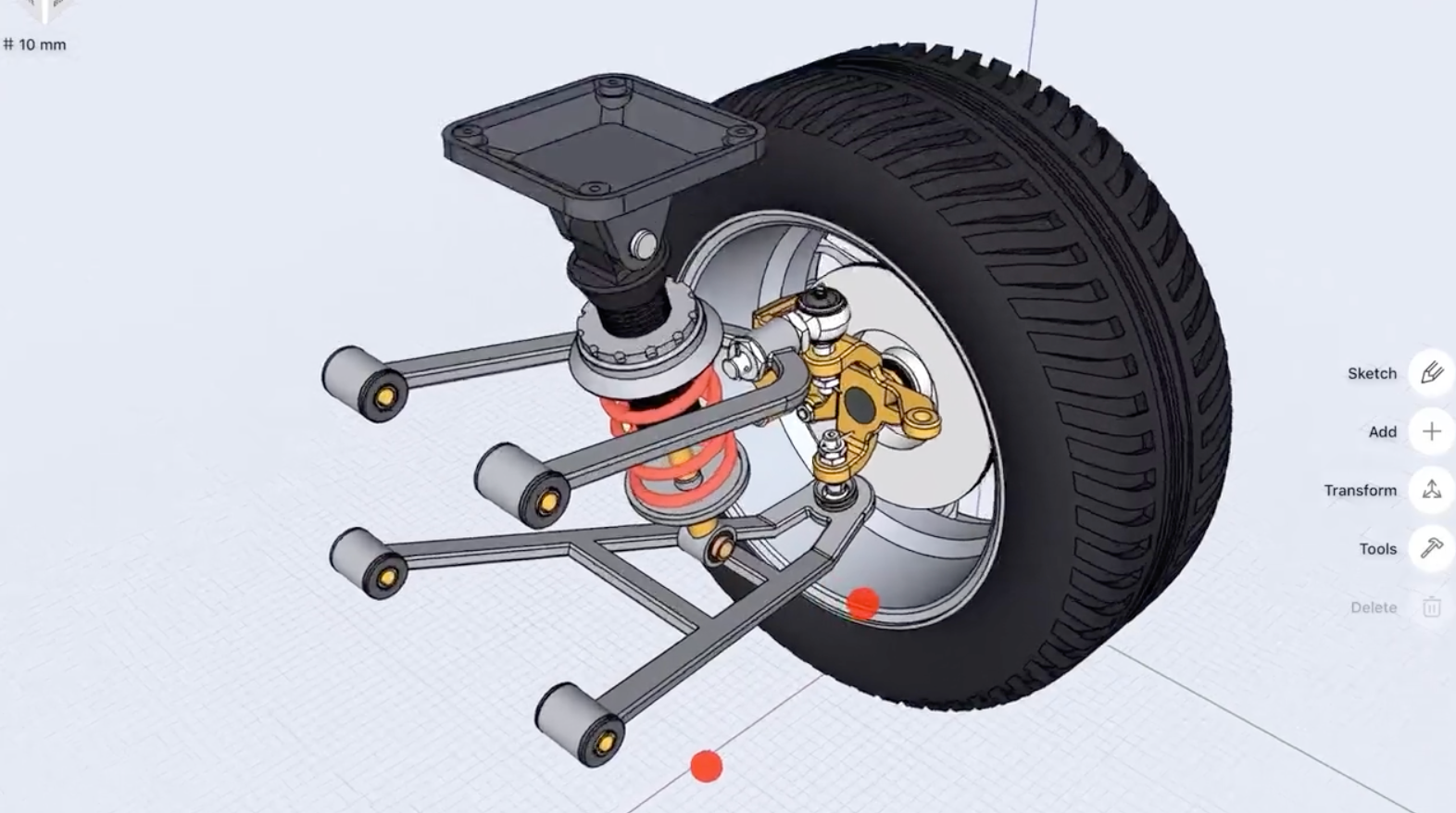 3D modeling apps, tools, and software are magical. They transform your ideas into beautiful 3D models and prototypes. 3D modeling tools are used in 3D printing, animations, architecture, and gaming. 3D designing is going mobile and finding its way in smartphones and tablets.
When you search on Google for mobile apps with 3D design, you will be shocked by the vast number you get. You will have to sift through the entire pack to find a reliable and functional one. Also, a good number of 3D apps target users who want visualization as opposed to designing 3D printable models. Fortunately, this article presents the top 3 iPad 3D modeling apps for all your design needs.
Shapr3D
The Shapr3D modeling app allows you to create professional 3D models anywhere, anytime. It markets itself as the world's leading 3D design app due to its intuitive direct modeling, quality, and power.
Features
Precise, powerful, and intuitive sketching. You can create intricate technical drawings thanks to the app's constraints, dimensions, and grid.
Import drawings and 3D models from CAD apps and refine them with Shapr3D.
Export your drawings and 3D models to other CAD apps to get your desired outcome. You can start creating a design on Shapr3D, and finish designing in another app.
It has the same modeling engine like Solidworks – a professional modeling software.
Pros
It is easy to use, and has a great interaction design. Many people find the app easy to learn and adapt. You use your fingers to move the workspace and the Apple Pencil to influence the model.
It is excellent for parametric modeling.
The Apple Pencil enables you to make flawless models.
It is perfect for professional engineers, architects, jewelry makers, and industrial designers.
Shapr3d has hundreds of reviews on App Store with a 4.5-star average.
You can design content on the go with or without an internet connection. Shapr3D is ideal for people who are always on the move, and still, need to get their CAD work done.
Offer desktop-quality experience on the app.
The app is free to download. You can subscribe to get additional features.
Cons
It lacks some features that are available for desktop.
It is only compatible with iPads supporting Apple Pencil like iPad Pro, iPad Mini 5, iPad Air 3, and iPad 2018.
---
Morphi

With Morphi, you don't need WiFi or mouse to draft 3D designs. You simply open the app and start designing. Morphi is a simple and powerful app for 3D design and modeling. You can use the app to create designs for animation, game design, and graphic design.
The best thing about Morphi is that it can be used by people of different ages and skill levels to sketch, explain ideas, visualize, and teach.
Features
Robust CAD tools.
Create designs without an internet connection and logins.
Easily import 3D models from other 3D modeling apps.
Has pre-loaded 3D models in case you don't know where to start.
Ability to export STL and OBJ files.
Use your fingers to draw 3D objects, merge objects, and cut and paste objects.
3D libraries that offer you shapes, texts, and color features.
Pros
It is ideal for anyone who wants to create 3D models. If you wish to create a decorative project, architectural model, and a 3D model for Maker education, you can use Morphi.
You can create models on the go because you don't need a mouse and internet connectivity.
The app has an autosave feature, so you don't lose your work in case of anything.
No subscriptions, you only pay a one-time price.
Has a high ranking among users who have given it a 4.5-star rating.
Cons
Has a big learning curve. You need some time to learn to use the app. Nevertheless, you can use the app's guide to get accustomed to it.
---
Onshape
Onshape is a 3D modeling app that enables you to create, modify, and share 3D mechanical CAD models. Onshape aims to help businesses modernize the product design process. It combines CAD, data management, collaboration tools, and real-time analytics to give you the perfect 3D design experience. Onshape is a complete cloud 3D modeling app that allows teamwork. Team members can work collaboratively on projects.
Features
It has parametric modeling tools.
Secure cloud workspace.
Robust feature set.
Controlled access to CAD data.
Anywhere access: you can access your models using any Android device.
Data security.
It has an inbuilt PDM.
Design data management that lets you have a single data source.
Pros
It has a relatively short learning curve. Someone with basic CAD knowledge can easily navigate the app.
It is cloud-based and hence can run on multiple platforms; PC and mobile.
Regular and rapid updates on the app.
Promotes collaboration and hence ideal for professional designers and engineers who work in teams.
Cons
Lack of organic CAM features.
Hard to find commands.
Lacks offline caching.
---
Choosing between Shapr3D, Morphi, and Onshape
Shapr3d, Morphi, and Onshape are all great iPad 3D modeling apps. They are reliable, functional, and innovative for all your 3D modeling and design needs. However, choosing between these top three 3D modeling apps can be difficult. These 3D modeling apps have different features to help you create 3D models and designs. Your choice of a 3D modeling app depends on your needs.
Settle for the app that best meets your needs. For example, if you want to create precise 3D models very fast, then, Shapr3D is the best bet. However, if you want a 3D modeling app that promotes collaboration between team members, then Onshape will not disappoint. In a nutshell, your choice of 3D modeling app depends on your needs and the features you are looking for. Happy Choosing!
This article offers adequate evidence that the future of mobile apps for 3D design and modeling is promising. Many apps are being developed and existing ones refined. You don't have to be in the office or home to do your CAD work; you can do it on the go thanks to mobile apps. Whether you are a student, professional, or enthusiast, there is a 3D modeling app for you.
Visit 3D Universe to learn more about 3D technology and the promise it holds for the future!