Laser Cut Halloween Decoration Ideas
September 20, 2023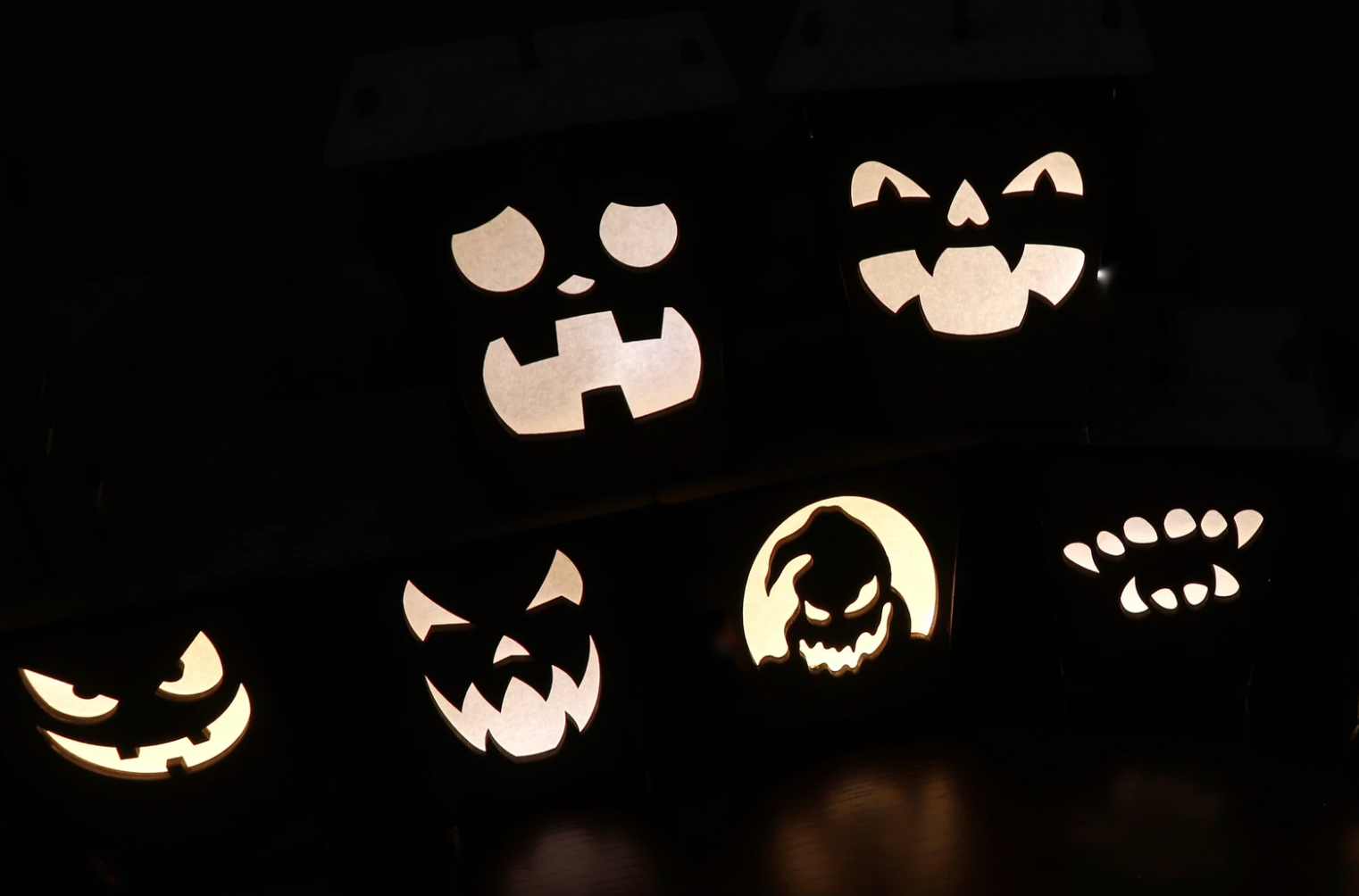 It's that time of year again to share some of our favorite spooky, scary, creepy, crawly and super fun laser cut Halloween decoration ideas with you so you can fill your homes, porches, and party tables with all kinds of awesome!

Below we have collected some of our favorite Halloween Decoration ideas, party games, craft projects, wearables, and scare-ables for you! If you make some of these, please share them on your social media channels and tag us so we can see what you have done with the place! Don't forget to check last year's collection while you are at it!

Get your materials, fire up those laser cutters, and have a fun, safe, and happy Halloween!
Laser Cut Halloween Decoration | Lanterns, LED Candle Holders, and Light Boxes
Bored with turning living pumpkins into lanterns to leave on your porch? How about making yourself one of these fun laser-cut pumpkin lantern designs by LaserCutano to change things up a bit this year.

You can find the above design and 8 others to choose from on their Etsy page here.
ABOUT THE FINISHED PRODUCT:
Set of 9 Halloween multilayer layout size (finished product): 9 x 8 x 5 in
Recommended material - Plywood, MDF, Acrylic, Plexiglas, Metal, Cardboard, Paper
Recommended Material Thickness for Wood - 4 mm
---
This spooky Halloween decoration LED Candle scene from BlackspaceDesign is loads of fun and will make a great piece to add to your decorations for your holiday party or to set up in your window for those trick-or-treaters to ooh and ahh over!

This design at full size is 19 inches wide x 9.5 inches high and about 2.5 inches deep.
You can get the files for this design here on their Etsy shop!
---
Check out this incredible Halloween decoration graveyard lightbox design from FancyonShop, complete with a scary tree that wants to chew your face off! Add some LED lights and paint to this design and really bring it to life. (See what I did there? Graveyard. Bring it to life. Oh, never mind.)

You can find the files for this design here on their Etsy page along with information about a commercial license that allows you to create no more than 100 of these beauties if you would like to sell some at your local craft shows.

Dimensions for this design are length 8.9 inches x width 3.39 inches x height 11 inches.
---
This fun set of lanterns from TimberlandCNC would be great for a Halloween party craft night and are easily assembled with no gluing required and can be stored flat when you are ready to take them down and replace them with Christmas decorations!
There are twelve different graphics included.
You can also cover the cutouts with white paper to diffuse the light
The finished dimensions are: 6.77" tall (5.72" without the hanger) and 5.25" wide.

You can find the files for this bundle here on their Etsy page.
---
Want some easy and fun paper lanterns to create some spooky shadows around your house? Check out these fun spider web paper lanterns from SVGStudioDesigns to use with LED candles or lights. This design comes in 2 different sizes and includes perforations for easy folding and assembly!

You can find them in their Esty store here.
---
Laser Cut Halloween Decoration | Spooky Houses
These beautiful haunted Halloween mansions from EconstructorDigital are a fantastic addition to your home, front porch, or as a centerpiece for your spooky costume party treat tables! Pop a few LED candles inside and watch the shadows on the walls!

You can find the files for this design here on their Etsy page.

Finished design measures 12.6 x 10.2 x 14.2 inches.
---
Set up this spooky textured Halloween house, add some mood lighting or paint it to take it to the next level of creepy! You can find the files for this design here from our friends at FLUX.
---
This set of 3 Halloween houses by LaserCutano is designed to hold small LED candles or lights inside or you could also use it as a candy dispenser. Easy to assemble with a size of 4.5x9x3 inches but can be scaled up if you would like to make larger versions.

You can find the files for this set on their Etsy shop here.
Laser Cut Halloween Decoration | Pumpkin Designs
Can't stand the thought of sticking your hand into those pumpkin guts and touching that oozy, slimy, goo so you can carve a masterpiece to leave out for your trick-or-treaters? Well never fear! Now you can cut pumpkins with your laser cutter and you never have to worry about that again!

Check out this set of 5 beautiful laser cut pumpkins from Winetopia.

For these files to fit together properly, you will want to use 1/8in materials and make no adjustments to the design as the pieces will not fit together properly if you do so. The designer recommends MDF for this project.

You can find the files for this design here on their Etsy page.
---
Here is another fun set of 3D laser cut pumpkin designs from PresetsKaterinaShop if you are more into spiders and bats and witches (oh my!) Leave them as is, stain them or paint them as you wish or cut in orange acrylic. No matter what material you use for these, they are sure to be the talk of the party!

You can find the files for this set of 5 laser cut pumpkins here on their Etsy shop.
---
This set of 5 layered laser cut spooky pumpkin designs from Winetopia is a great addition to your Halloween decoration collection. Paint them or leave them as is for a great set of spooky additions for your windows or party tables.

Pumpkins range from 3-6 inches tall and the file download has options for the slotted stand or an easel if you prefer that instead. For the slotted version you must use 1/8in MDF or other materials for the design to fit together properly.

You can find the files for these here on their Etsy page.
---
Halloween Themed Party Games, Crafts and Treat Toppers
Scare up some good fun with these ghostly laser cut cake toppers from Simple Laser Files for your party guests! Boo-Berry pie anyone?

You can find these files here as a set of 4.
---
No Halloween party is complete without party games. Take a look at this fun Tic-Tac-Toe design from Simple Laser Files that can also be used as fun party favors for guests to take home.

This design can be made in whatever size you'd like and at any thickness.

You can find the files for this design here.
---
Need a fun and easy, giggle-producing craft for your kids or students for a Halloween party? Check out these fun Halloween monster designs from GloryOaksCreative! Grab some paints and glitter or bedazzle them with rhinestones, feathers, or painted noodles. Whatever you do, have fun!

You can find the files for these here on their Etsy page.
---
Want to have a fun Halloween craft party for all of your single friends? Invite them over to build their own +1 with this "Build Your Own Skeleton" design from RecycledFarmhouse!

This design is great for adults as well as kids who love to build and assemble decorations. Add some paint, throw on some dance music and get that party started!

Files include 1 with tabs to hold the pieces, 1 with tabs and bone names, 1 with no tabs, and 1 with no tabs and no bone names. These skeletons can be scaled to any size.

You can find the files for this design here on their Etsy shop.
---
Have fun making this cute black cat witch Halloween decoration from SideQuestCreationsUS that includes 2 layered designs, one of which has markings as guides to paint the finished product.

This purr-fectly adorable design stands 10 inches tall.

You are free to use this design commercially as well.

You can find the files for this design here in their Etsy shop.
---
Skulls, Skulls, and More Skulls
Love you some skulls? Well, this design from WoodworldCNC is to DIE for. (Sorry. Not Sorry.)

You will get layouts for 1.5, 2, 3, 4 and 6 millimeter skulls and you can find the files here on their Etsy page.
---
This little moving skull design from ItsKindaSweet is super fun and would make a great party favor or craft project for kids and adults alike!

This is a multilayer design that will need to be glued together and you will need to get yourself a 3/16" dowel to make this function properly but once finished, it makes for a great conversation piece. It measures 4.25 inches in diameter when finished.

You can find the design files for this project here as well as take a look at their little video to show it in action so you can see how it works.
---
Not a fan of the cutesy skull designs and want something a little more fright-inducing? Check out this incredible original design from NiceToLaser and scare the pants off of your party guests. (Maybe put this in the bathroom, just in case that actually happens.)

Take a look around their shop for even more realistic horror skull designs to complete your collection.

All files are high resolution 10x10 inch sized. If you need a different size, they are happy to work with you.

You can find the files for this design here on their Etsy shop.
---
Planning a fancy Halloween dance party? This bundle of skull silhouettes from CatsunSVG includes a fancily dressed couple along with a gorgeous oval frame to display them.

The designer has created two versions for you so that those who have smaller laser beds can opt for the split design and create larger pieces.

You can find the files for this beautiful design here on their Etsy page.
---
Laser Cut Halloween Jewelry
This beautiful set of 8 designs for sugar skull earrings from SwallowbirdArt are not only perfect additions to your Halloween-themed jewelry collection but this artist has also given permission to create these for commercial purposes so you can sell them in your own shops and at craft fairs. How cool is that?

The finished design measures 2.2 inches and can be hand-painted to add pops of color. Not an earring fan? These would make fantastic pendants as well.

You can find the design files for these here on their Etsy page.
---
These earrings are a horror movie fan's dream! Check out this fantastic Horror Character bundle from ManhLeather and take your earlobes to a whole new level of spoooooooky.

You can find the files for this 15-character bundle set here on their Etsy page.
---
Want something a little more unique that will get people talking? These incredible earring designs from TLTKdesigns will no doubt get conversations started! You could also create these as fun party favors as keychains or string them along some lights for some killer Halloween decoration.

This bundle includes animal skeleton designs for a cat, bunny, llama, sloth, beaver, chicken, mermaid and a woman's head.

You can find the files for these designs on their Etsy page here.
---
Another fantastic and fun design for Halloween-themed earrings from ShallowbirdArt that can also be worn year-round just for the fun of it! This collection of cute animal skeletons is adorable and will bring a smile to anyone who actually has a heart...(shoosh.)

This set of 20 is available on their Etsy shop here.
---
Shop Laser Cutters at 3D Universe
Take your digital fabrication to the next level with a desktop laser cutter! These machines offer the ability to cut and etch a variety of materials, including wood, fabrics, and plastic. Desktop laser cutters can be used to create a variety of products, including signs, stencils, and models. They are also well-suited for cutting intricate designs and patterns. In addition, desktop laser cutters are much easier to use than traditional cutting tools, such as saws and routers. They are also much safer, as they do not produce any heat or sparks.
3D Universe offers a variety of laser cutters to fit different needs and budgets. Don't hesitate to reach out to us if you'd like some assistance finding the right solution. You can always email us at info@3duniverse.org or call us at 800-689-4344.