Introducing the MakerBot SKETCH 3D Printers
June 08, 2023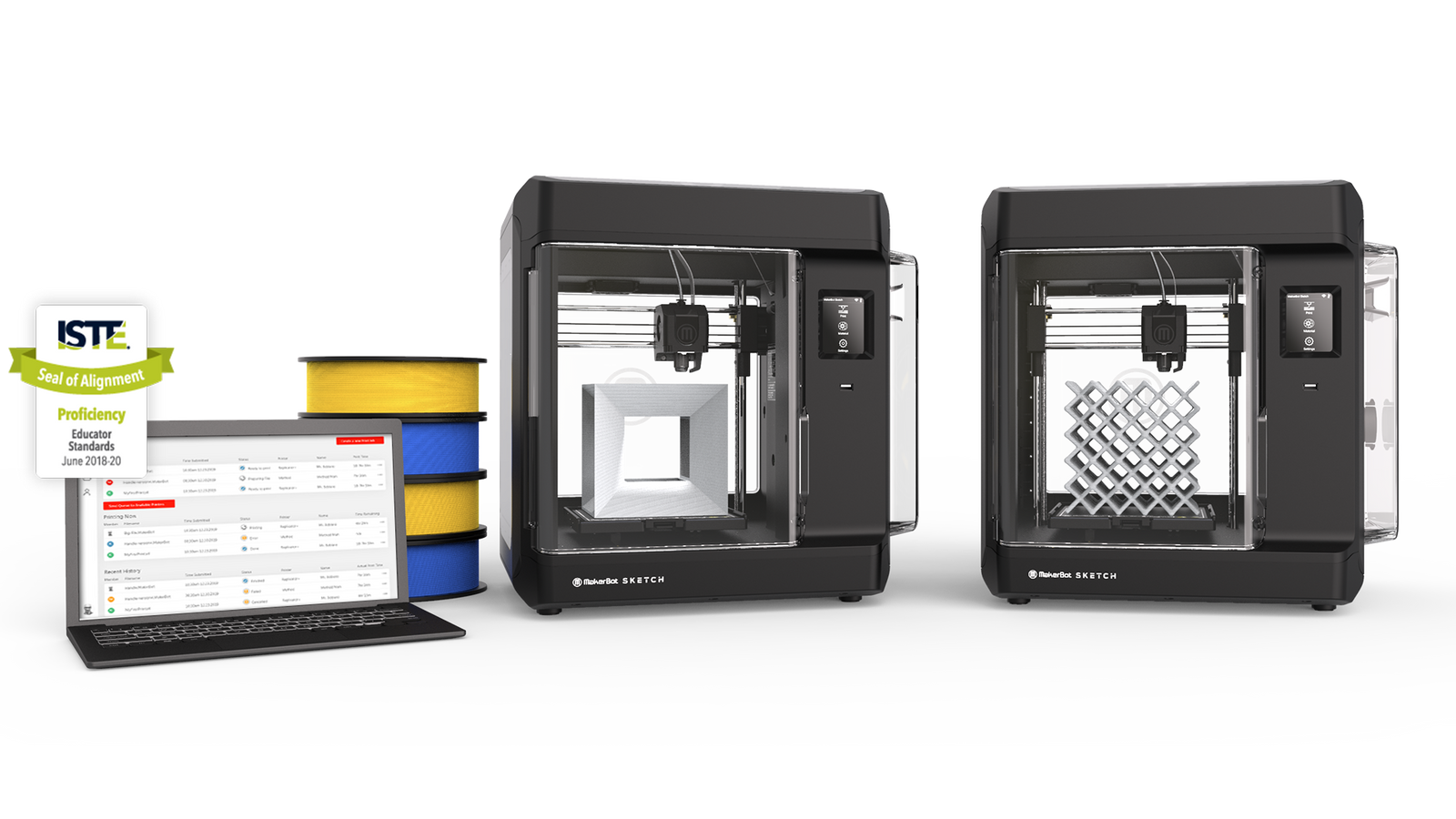 Meet the all-new MakerBot SKETCH Classroom 3D printers!

Teachers are facing significant challenges in preparing students for a rapidly changing job market. Skill sets such as problem-solving and design thinking are in high demand; however, many students today lack those skills.
3D printing can be used to teach critical thinking, but there is a sharp learning curve to using 3D printing in the classroom successfully. Teachers and students need to learn to use the 3D printer, integrate the technology into their curriculum, and manage 3D printing resources in the classroom. In addition, the challenging printer-to-student ratio in a classroom requires a different workflow set up for effective deployment.
"With SKETCH, we are changing the way 3D printing is used in schools and advancing the possibilities of learning to boost student innovation."

Nadav Goshen, CEO, MakerBot
The SKETCH Classroom addresses the challenges of 3D printing in the classroom with a solution that includes interactive certification courses for both teachers and students that trains them on how to use the MakerBot SKETCH 3D printer, create and implement engaging curriculum, and teach design thinking and problem-solving with 3D printing.
Maximize Student Success with the Dual MakerBot SKETCH 3D Printer Setup
The MakerBot SKETCH dual printer setup allows for a much greater student to printer ratio, allowing you to have more student projects printing at once and ensuring that everyone gets a chance to have their designs printed within the project timeline.
For educators that are working on distance learning projects with their students due to the COVID-19 school closures, having two 3D printers available to the teacher to print student designs during their working hours is an incredibly great asset.
ISTE-Certified 3D Printer Training for Teachers and Students
Do you want to teach your students more than just how a 3D printer works? Do you want to get them thinking outside of the box and using their ideas and imaginations to make a difference in the world?
Certify your students in real-world problem solving through design thinking and 3D printing. Get access to a full set of interactive content, projects, quizzes, and exams developed by MakerBot Certified Educators.
The MakerBot SKETCH Bundle includes ISTE-certified 3D printer training for 2 teachers and 10 students.
Manage Your Classroom's 3D Printing with MakerBot Cloud
Manage your classroom's printing like a boss!

SKETCH classroom makes the 3D printing experience even easier with MakerBot's cloud-based, 3D printing file management software. Students submit their designs without issue, and teachers queue up their classroom prints with ease.
MakerBot Cloud™: Manage students' projects with a cloud-based print queue
Print directly from TinkerCAD™
Industry-leading support
For teachers and students who are working remotely during the COVID-19 crisis, having the ability to allow students to upload their designs directly to the cloud will make 3D printing for students and their teachers much easier during these times of distance learning.
Access to Over 600 Certified Lesson Plans for the Class
Access hundreds of lesson plans from educators all across the country with community-driven lesson plans reviewed & approved by MakerBot Education.
Included with the MakerBot SKETCH bundle, you will have access to over 600 lesson plans designed specifically for your student's grade levels and the subjects applicable to your classroom and curriculum.
Everything You Need to Implement 3D Printing in the Classroom with the MakerBot SKETCH
This value-priced MakerBot SKETCH bundle includes everything you need to implement a successful 3D printing program in your classroom.

The bundle includes:
(2) MakerBot SKETCH 3D Printers
MakerBot Cloud
(2) Seats for MakerBot Teacher Certification
(10) Seats for MakerBot Student Certification
(4) Large Spools of MakerBot Sketch PLA Filament (1kg)
(2) Small Spools of MakerBot Sketch PLA Filament (250g)
(4) Heated and Flexible Build Plates
(2) Spatulas
(2) Snips
Touch Screen Controls
An Enclosed Chamber and Particulate Filter for Safety
Get started with dual printer setup and complete your classroom printing faster, make 3D printing more accessible to your students and boost the opportunities for student innovation.

Please visit our website – shop3duniverse.com for more information about the new MakerBot SKETCH 3D Printers: