It's here, 3D Printing in the Dental Industry!
June 08, 2023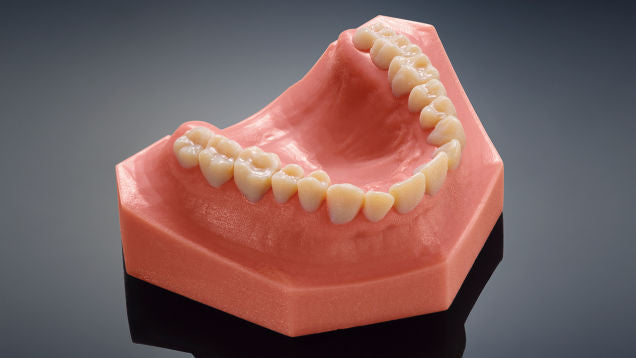 Fellow boomers, rock concerts and sugar really did a number on our ears and teeth, and it seems as though Medicare anticipated our issues. What are the two things most of us need about now that Medicare doesn't cover? You've got it! Hearing aids and dental implants, both costly items.
Hope is on the horizon, though, thanks to 3D printing, which has been part of both the hearing aid industry and the dental industry for a long time, and advances are happening every day in both areas. This post focuses on the most recent advances of 3d printing in the dental industry.
As tempted as I am to contemplate the future when we will be able to grow our teeth in a lab, without the need for porcelain or composite fixtures, I'll focus on a few recent reports, things that are happening right now, or are about to happen, in dental offices.
In an in-depth report on 3D printing in dentistry from SmartTechPublishing, '3D Printing in Dentistry 2015: A Ten Year Opportunity Forecast and Analysis' we learn that 3D printing is moving more rapidly than many other industry segments toward digital production technologies.
3D printed dental components require 'high-value parts, with high-performance standards, at high volumes.' Other industries are attempting to 'bring 3D printing into this scenario for maximum value and competitive advantage, but dentistry is already achieving it.'
Significant players reviewed in the report include 3D Systems, Argen, BEGO, Concept Laser, DWS, EnvisionTEC, EOS, Prodways, Solidscape, Stratasys, and others.
According to the report, both polymer and metallic applications are already in use in dentistry for:
surgical guides and models
casting and tools to aid in traditional techniques, and
actual dental restorative components
We'll look at one illustration of each of these three applications, first surgical guides, and models. As Stratasys says, 3D printers do the hard work and eliminate the bottleneck of manual modeling in dentistry. In the dental industry, modeling is probably the most basic current usage. Combined with oral scanning and CAD/CAM design, 3D printing allows dental labs to move quickly into the production phase of stone models.
Stratasys alone offers four printers for dental modeling and component creation, and the most basic model, Objet30 Orthodesk, allows dental labs and offices to create surgical guides as well as models.
Casting and tools. Avi Cohen of Stratasys says that 3D printing has advanced dental techniques from 'analogous, manual manipulation of materials to a systematic, digitally verifiable process.' 3D imaging software and 3D printed dental casts allow dental practitioners to engage in a verifiable process, creating products that are more consistent and reliable.
The foundation of 3D printing use in dentistry, though, is digital dentistry,'?the use of dental devices and technologies that have computer-controlled or digital components. While traditional dentistry relies on devices like electric drills, stone molds, and braces to restore dental structure and health, digital dentistry relies on innovative technologies such as lasers, X-Rays, and oral scanners.'
Short of actually making teeth, 3D printers have been important tools in dental offices and labs for years, increasing the efficiency of traditional practices. These printers may 'feature lights of lasers that polymerize a liquid or fuse a powder with the computer-guided precision required to produce small objects with intricate details.'
Dental restorative components. If you've ever had a crown or an implant, you know that one of the most difficult parts of the process is the wait between preparing your tooth (or space) for a crown or implant and actually getting it. It can take weeks, and in the meantime, you either have an empty space, making you feel like you never want to go out again or a temporary (bulky and awkward) cover for your tooth.
A limited number of dental offices already make crowns while you wait with technology that has been available for about 30 years.
The current process is:
Take a picture with a digital camera or 3D scanner,
send the digital image through CAD/CAM software,
tweak the result with the aid of the software, and
send it to an in-house milling machine that makes the final crown or implant.
The milling machine uses a block of composite and sculpts the crown or implant out of it. It's exciting for anyone who has suffered through the wait of the traditional method. The milling method is called CEREC (Chairside Economical Restoration of Esthetic Ceramics).
Only 10% of dentists use a CAD/CAM milling machine, however, even though the technology has been available for such a long time. The learning curve can be steep, and most dentists still prefer to leave the work to skilled technicians in dental labs.
The day is almost here, though, when 3D printers will not only assist in making models, they will actually print your tooth. The advantage of 3D printing over milling is that it can better manufacture a tooth with all its intricate, individual details. The disadvantage of 3D printing in dentistry has been that it takes more time than milling.
Now, though, researchers are racing to come up with faster 3D printing methods in dentistry. Joseph DeSimone, the CEO of the 3D printing company Carbon3D and a professor of chemistry at the University of North Carolina at Chapel Hill, announced at the TED Conference in Vancouver in March 2015, that a breakthrough technology allows teeth to be printed in 6.5 minutes.
So Boomers: if Medicare won't cover your tooth replacement, watch for that 6.5-minute tooth to come to a dental office near you. Take half an hour to get that tooth replacement, and go out to your next night on the town looking like an eighteen-year-old! But hold on the sugar anyway until they're further along on 3D printed heart replacements.
In the meantime, follow us on Twitter (@3dprintingisfun) and like us on Facebook. Subscribe to this blog, or visit us at shop3duniverse.com.
More 3D Universe blog posts:
Learn how this will benefit seniors HERE