3D Printing and Pancreatic Cancer
June 08, 2023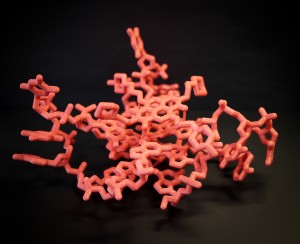 Does 3D printing offer new hope for this deadly disease?
Pancreatic Cancer: The Facts
Pancreatic cancer has been on my mind a lot recently, so I wanted to get the latest information and find out what hope there might be for improving the prognosis for this deadly disease. This post focuses on what 3D printing, specifically, offers.
Pancreatic cancer is the fourth highest cause of cancer deaths, most often affecting people over the age of 65. It is one of the few cancers that is on the increase, and by 2020, it is expected to be the second highest cause of cancer deaths. It is difficult to detect and treat, and often it isn't detected until it is too late to treat.
Pancreatic cancer is very aggressive. Five years ago, people with Stage IV pancreatic cancer lived a median of 6 months. Thanks to breakthrough research, that time frame is extended to 11 months. For all stages, the five-year survival rate is an average 5%, for Stage I, only 20%, and for Stage IV, 1%.
With a dismal prognosis like this, it is certainly one of the areas of cancer research that begs for discoveries and solutions.
3D Printing and Pancreatic Cancer Treatment Advances
3D print models. Models help researchers understand cancers better, allowing more targeted and effective treatment.
Dr. Rosalie Sears, Ph.D., a professor of molecular and medical genetics at Oregon Health and Science University in Portland, prints models of cancer tumors, exact replicas of patients' cancerous growths. These models allow testing in real time of how a patient's tumor will respond to particular treatments.
Another university, the University of Alabama, announced in February 2014, the very first 3D printed model of a G-quadruplex DNA sequence, with its molecular structure.
G-quadruplex molecules are nucleic acid sequences and have been described as "a structure in search of a function." Research has shown that "targeting G-quadruplex sequences with particular compounds can inhibit or stabilize tumors leading to pancreatic cancer."
The 3D printed live model produced by the University of Alabama has proved "invaluable," according to Dr. Stephen Ohnmacht of University College in London, a British collaborator in the project. Dr. Vincent Scalfani from the University of Alabama says, "The G-quadruplex 3D model allows us to observe all the symmetry, edges and angles inside of the molecular structure."
As researchers are able to hold the intricate structure of the DNA in their hands, they are better able to understand it and plan how to target treatment.
3D Bioprinting. One of the most exciting developments in 3D printing that has the potential for treating pancreatic and other cancers is Organovo and Autodesk's alliance to develop "the sophisticated molecular design and simulation software required for engineering living systems."
Organovo's 3D Bioprinter applies the concept of additive manufacturing to cell biology to convert the cells of a clinical tumor specimen into an accurate model of human tissue. The model will be used to test a promising pancreatic and breast cancer drug, greatly accelerating the test stage.
3D printed device to push chemotherapy drugs directly to the tumor. Pancreatic cancer is typically very difficult to diagnose, and often by the time there's a diagnosis, the tumors are intertwined with major organs and blood vessels.
A group at UNC-Chapel Hill has created "a device that can be customized for each patient via 3-D printing, potentially right in the operating room. It uses electrical fields to push chemotherapy drugs directly to tumors and has the potential to dramatically increase the number of patients eligible for life-saving surgery."
The technique has been tested successfully on animals, and human testing will begin next year. A paper in the research journal, Science Translational Medicine (February 2015), describes the project.
Tissue engineering and organ regeneration. Possibilities for tissue engineering and organ regeneration are also part of the 3D printing picture of the future.
3D Printing and Pancreatic Cancer Detection Advances
The real solution for difficult, aggressive cancers like pancreatic and lung, however, lies in early detection when there is a possibility for treatment.
Jorge Soto, part of a team of scientists and technologists from Chile, Panama, Mexico, Israel, and Greece, reports that this group believes they have found a reliable and accurate way of detecting several types of cancer at the very early stages through a blood sample.
"The test is performed by detecting a set of very small molecules that circulate freely in our blood called microRNAs…This is a single non-invasive, accurate and affordable test that has the potential to dramatically change how cancer procedures and diagnostics have been done. Since we're looking for the microRNA patterns in your blood at any given time, you don't need to know which cancer you're looking for. You don't need to have any symptoms. You only need one milliliter of blood and a relatively simple array of tools."
As Soto says in his Ted Talk, "This entire platform is a working prototype. It uses state-of-the-art molecular biology, a low-cost, 3D-printed device, and data science to try to tackle one of humanity's toughest challenges." The design of the 3D printed device is open-source to encourage community input and accelerate advances.
Imagine how many lives can be saved with a simple, effective blood test that allows early detection and treatment of pancreatic cancer!
I'm curious, since the open source 3D printed device is already out, and the method is in place to test for several cancers, including pancreatic, so far…why hasn't this low-cost equipment become part of every doctor's office or at least every lab and testing become commonplace whenever blood work is done?
Has anyone else seen Jorge Soto's TedTalk? Have you ever known anyone who might have benefited from earlier testing?
Follow us on Twitter (@3dprintingisfun) and like us on Facebook. Subscribe to this blog, or visit us at shop3duniverse.com.
More 3D Universe blog posts:
Check out the post titled "Man Compares His $50 3D Printed Hand to His $42K Prosthesis" HERE…