3D Printing: Coming Soon to Kitchens Everywhere
June 08, 2023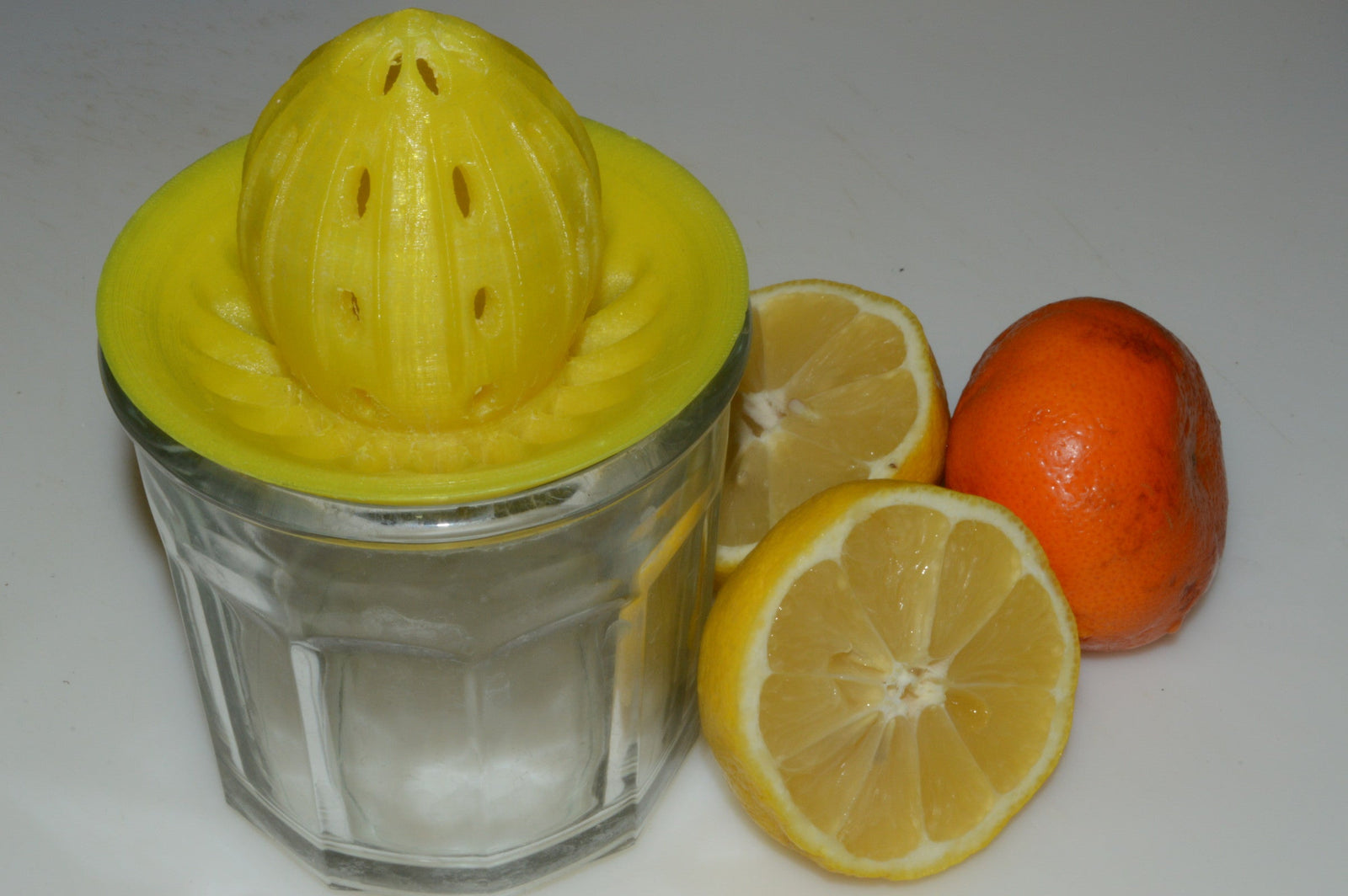 How 3D printing made life in my kitchen easier
I'm a foodie, and I love to cook. Naturally, all the buzz about 3D printed food stimulated my curiosity. I have discovered very interesting possibilities and wonderfully useful applications . . . but probably not yet for my kitchen. Does that mean there's no place for 3D printing in my kitchen today? Not at all!
I use a lot of lemons in my cooking. A while back I was chatting with a next-door neighbor, complaining about the shape, cumbersomeness and relative ineffectiveness of lemon juicers currently on the market. Short of getting a professional juicer like I used to have in my cafe, there isn't much I like.
Did I mention that my next-door neighbor owns a 3D printer? The next morning I received a beautiful 3D printed lemon juicer. It was love at first sight. I knew immediately it would be the BEST lemon juicer I have ever had. One minute later, my neighbor had fresh lemonade!
Having a 3D printed lemon juicer in my kitchen may seem like a small thing, but as I said, I squeeze a lot of lemons when I cook. And now I'm free from a little bit of kitchen drudgery! Not only that – I can make lemonade in a heartbeat.
The Real Lemonade Revolution: brought to you by 3D printing
A few years ago I offered a glass of freshly squeezed lemonade to a 20+ employee. She took a sip and had a stunned look on her face. "Amazing," she said. Noting her ecstasy over the drink, I wondered if it was possible she had never had real lemonade before? Sure enough, prior to this moment lemonade for her was something made with water and canned powder. She had no idea you could just make lemonade from . . . well, real lemons.
Have you ever compared the ingredient list on a lemon with the ingredient list on one of those cans of lemonade mix? Here is a typical powdered lemonade mix ingredient list: Sugar, Fructose, Citric Acid, Less Than 2% Of Natural Flavor, Ascorbic Acid, Maltodextrin, Sodium Acid Pyrophosphate, Sodium Citrate, Magnesium Oxide, Calcium Fumarate, Artificial Color, Yellow 5 Lake, Tocopherol.
Compare that list to…lemon. No wonder my employee was so amazed by that glass of fresh lemonade I handed her.
Now you, too, can make fresh lemonade faster than you can open that can of powdered mix, just in time for summer – with a 3D printed juicer. I'm going to have one made for everyone I know this year.
Three more MUST-HAVE 3D Printed Kitchen Tools & lots more
I love my 3D printed juicer so much. It started me wondering, what other ways could 3D printing transform my life in the kitchen? Here are a few things I found that I want to try.
For now, I'm going to go enjoy a tall glass of fresh, 3D printed juicer lemonade and figure out how I'm going to hit up my favorite 3D printer owning neighbor for a Cheese Press.
The "Juicy Juicer" featured in this article can be found on Thingiverse, here. Model credit: Procrastinator.
Follow us on Twitter (@3dprintingisfun) and like us on Facebook. Subscribe to this blog, or visit us at shop3duniverse.com.
More 3D Universe blog posts:
Learn more about the possibility of 3D printed food HERE…
Check out our review of Simplify3D HERE…