Laser Cut 2020 Humorous Holiday Ornament Designs
June 08, 2023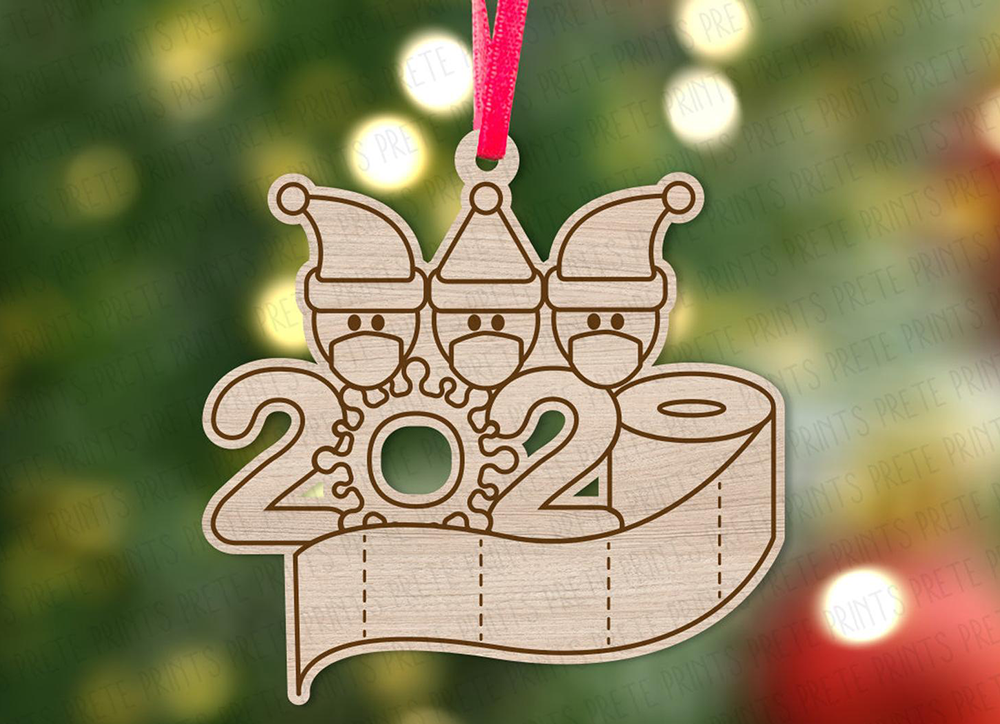 In 50 years from now, our children will be pulling out that old box of holiday ornaments from the top shelf in the garage so they can decorate their holiday trees alongside their own grandchildren. Along with their "Baby's First Christmas", handmade kindergarten handprint ornaments, and that weird blob with snowflake confetti glued to it, they will find themselves holding their 2020 keepsake laser cut ornament in their hands.

They will sigh (or possibly get teary-eyed, but not in the "good way") as all of the memories that go along with this year come flooding back like a pump bottle of hand sanitizer at the grocery store entrance that you thought was gel but was really just rubbing alcohol that sprayed all over your shoe.

They will bust out the "Good Scotch" (the booze, not the toilet paper…or possibly the toilet paper they stocked up on in 2020) and try to remember the coping mechanisms their therapist recommended all those years ago when they get triggered by seeing two number 20's side by side with no spaces between them.

They will scour the tree for what is actually only 30 seconds but feels like 3 years, to find the perfect branch to hold this reminder of their very first global pandemic. They will step back and gaze blankly at it, pretending to listen to their grandkids asking them what 2020 means with the same blank stare they had in zoom class meetings back in the "old days" when their teacher asked them to do simple math.
Mind you, the branch they choose will no doubt end up snapping in two and the ornament will fall to the floor, get chewed up by the dog, then yacked up into someone's boot by the front door, wiped clean, placed back on the tree next to the one bulb in the light strand that was shorting out, catch on fire and burn the house down.

But that is the nice thing about laser cut Pandemic Ornaments…you can just make a replacement (after your homeowners insurance replaces the laser cutter you lost in that house fire of 2070) and hope it isn't cursed like the last. (Maybe try using acrylic or etching on glass instead of wood, just to be safe.)

We spent way too many hours being entertained by all of the different and creative laser cut 2020 ornaments on Etsy that you can purchase STL files for to make for yourselves on your FLUX or Dremel laser cutters. We put some of our favorites in one place so you can decide which one you are going to be triggered by 50 years from now when you put it on your own tree.

Enjoy!
2020 Pandemic Holiday Ornaments | The Lighter Side
Of course, every holiday tree across the world needs one of these "First Pandemic 2020" holiday ornaments by OhMyLaser to remember this "Tremendous, best ever, unlike anything we have seen before" milestone.
This toilet paper roll holder ornament by RarickEngraving is perfect for holding one of your coveted 2020 prized "tooshie wipe treasures" you wrestled from the cute little old lady at Costco, that will obviously one day be considered an antique. Think of it as a retirement fund.

You could sell that thing on e-BAY in 40 years for thousands of dollars (or at least probably $5) and retire in Costa Rica where you were supposed to be spending Thanksgiving 2020 on a warm sunny beach instead of crying in your coat closet with a heat lamp shining on you while sitting in a kitty litter box full of sand and the kids spraying you with nerf guns full of saltwater.
You all know that "An Old Fashioned Quarantine Christmas" is going to be the next generation's favorite holiday Hallmark movie right? Move over "National Lampoons Christmas Vacation!"

Instead of spending the whole movie trying to get the Christmas lights on the outside of the house to stay on, our "Quarantined Christmas" movie family will be trying not to strangle each other with the light strands and couldn't afford to turn them on even if they wanted to.

Check out this "Old Fashioned Quarantine" ornament above by LaserShark.
You could always make yourself one of these sweet "2020 Dumpster Fire" ornaments by LuckyDuckGift. This one comes complete with cute little icons for toilet paper, masks and staying 6 feet apart. Imagine the fun conversations you will have with your grandchildren when they ask you what "Dumpster Fire" means.
Pretty sure this "Seriously Elfed Up" ornament by lOrangerieHandmade says exactly what most of us would like to say, just a little more Christmas friendly and less likely to get you put on the "Naughty List" or chewing on a bar of handmade soap that grandma brings when she drives over and risks getting COVID so she can shove it in your dirty mouth.
This "Wine Spilling Drip Whine Snowflake" ornament by TopKnotWoodShop sums up 2020 for a lot of parents and teachers out there. Maybe throw in a nice $15 box of wine while you are at it so they can get through winter break and give the recycling truck drivers a week off of hefting 20 gallon recycle bins full of glass bottles for the holidays.
This collection of Funny Toilet Paper Christmas Ornaments by FrontierDesignsAK would be fun to make and share with your family but we know you are going to keep them all for yourself and will probably make 25 sets just to make sure you have enough.
This ornament set by GraphaholicDesign is both accurate and something we wish were possible…except what if 2021 is actually worse? Let's just leave you with that thought to mull over while you laser cut these on your FLUX or Dremel laser cutters with Mariah Carey's "All I Want For Christmas is You" stuck on repeat because it is 2020 and Alexa has been waiting all year to make sure your holidays are even more maddening than they already are.
On a Serious Note | 2020 Laser Cut Ornaments
All joking aside and trying to make light of this crazy year we have been surviving, we also wanted to share some laser cut ornament designs like this one from TopKnotWoodShop that honor the healthcare heroes on the front lines who are exhausted, will most likely miss holidays with their own families to care for others and should be recognized.
For many of us, we will be missing out on our traditional holiday gatherings with our loved ones this year. Staying home and keeping our vulnerable relatives and local populations safe is a priority for many of us.

This simple but beautiful "We Stayed Home" design by SentimentsofGrace is a great little ornament to add to your tree as a reminder for your future selves that you did your part during this global crisis and very difficult time.
Last but not least, this awesome "Remembering 2020" ornament by BoogieBanana says it all. We have survived a lot this year, gone through some of the hardest experiences of our lives, watched our children, grandparents, friends and family members struggle, have found ourselves in some very dark times and many have lost loved ones.

One day, 50 years from now, when you pull out this laser cut ornament to put on the tree, perhaps you will look at it and not see the struggles, but more so, the things you learned about yourselves. Maybe you will remember the new talents you discovered you had during quarantine and how strong, brave and capable you really are when the world feels like it is out to get you.
Join the #FLUXmas Challenge!
Do you have a FLUX Beamo, Beambox or Beambox Pro laser cutter? If so, join us for the #FLUXmas Challenge and potentially win a prize!
3 Steps to participate
Create your beautiful project for Christmas using a FLUX laser cutter.
Share photos or videos of your work on FB/IG/Twitter, hashtag #FLUXMAS #Createwithflux and tag @FLUXinc (Facebook and Twitter) /@flux_inc (Instagram)
Get ready to win a Marshall Emberton speaker!
Challenge Period: Dec.1st – 25th, 2020​
Winner Announcement: Jan.1st, 2021​

Visit their Facebook page for more information and official rules!
Learn More About the FLUX and Dremel Laser Cutters
Don't have a laser cutter of your own yet? New to the laser cutting world but want to try it out? Check out the FLUX Beamo Video and our Creative Director Jen learning how to use a laser cutter for the first time to see just how easy it is to make your own cool designs!

Happy Holidays, stay safe and Merry Laser Cutting!