Making 3D Printed e-NABLE Hands with Peck Elementary School!
September 07, 2023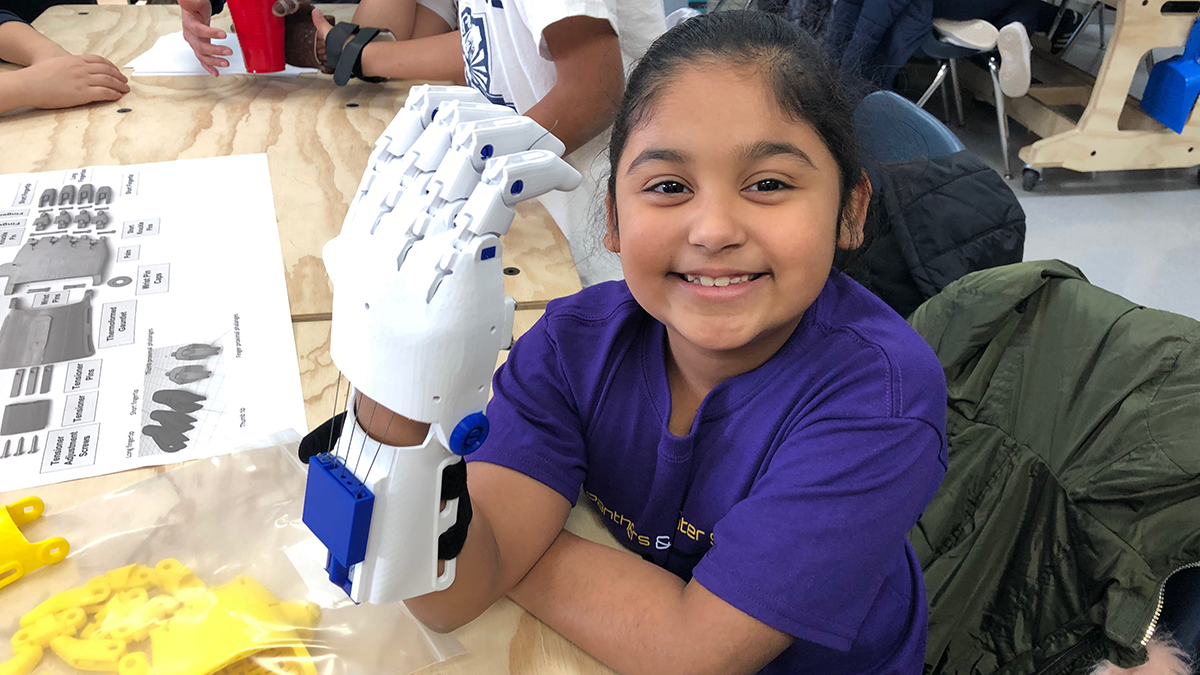 We love to share stories about how 3D printing is being used in the classroom, where students get to see how the technology can make a difference in the lives of others through service learning projects.
We especially love it when we get to be directly involved with getting the minds of our future change makers, thinking of how they can use their own ideas and imaginations to create assistive devices for those in need with the help of a 3D printer, laser cutter or 3D forming machine.
As our team began to put together our annual e-NABLE 3D printed hand assembly event with the Elkgrove Library in Chicago, BitSpace, a maker space and close partner with 3D Universe, was inspired by the project and found that Peck Elementary, a local school in the district, was interested in joining forces for a huge event for their school.
Peck Elementary was looking for 2 school-wide presentations for the 3rd and 4th graders, followed by 10 one hour workshops where the students would be able to work in teams to assemble 50 e-NABLE 3D printed hand kits for their STEM program.
---
What is an e-NABLE 3D Printed Hand?
The e-NABLE Community is a group of thousands of volunteers from all over the world who work together to design and 3D print assistive devices to gift to children and adults who were born missing fingers, hands, and partial arms or who have lost them due to accident, war or disease.
Hundreds of K-12 and higher ed schools and universities have joined up to help with the project by having students improve the open source designs in STEM based classrooms, re-share them back to the community, hold hand assembly events or 3D print them for those in need.

Not only are these students now a part of a greater global movement of makers, but they are learning how STEM fields can be used to encourage positive change. They are getting hands-on learning experiences with real world problem solving and discovering that they don't have to wait until they "grow up" to make a difference.
Peck Elementary School educators were eager to get their 3rd and 4th graders excited about all of these things and invited 3D Universe and Bitspace to present to their students and help teach them how to assemble the 3D printed hand devices through workshops.
---
Elementary Students Learn Empathy with the e-NABLE Project
After a round of assemblies with the Peck Elementary students to share how 3D printing can be used to help people and even animals, they were broken up into teams at tables to start our 3D-printed hand-building workshops.
Before we brought out the 3D printed parts to assemble the hand kits, we had each student reach out their dominant hand to insert it into a sock where we then taped it up so that they could not move their fingers!
Then we asked them to stack blocks and cups, zip coats, tie shoes and try opening doorknobs with just one hand and the other without the use of their fingers.

It was an eye-opening experience for most of them as they realized how difficult some simple daily tasks would be for them if they suddenly no longer had the use of two hands.
Seeing the empathy rise up in their faces as they realized that the 3D printed hands they were about to build for recipients who needed a device to help with daily tasks just like this, was incredible.
---
Working Together to Make a Difference

In their classrooms, the students were set up at tables as teams to work together to build an e-NABLE 3D printed hand. This was a great exercise in collaboration and team building for them as they each had to work together and find their strengths in the groups.
Some were helping to read the IKEA-like assembly instruction mats that we provided them while others worked together to assemble the fingers, snap the fingers to the palms, string the strings, and attach the wrist pieces.

After fully understanding how useful these devices could potentially be to the recipients who would be gifted them later, the Peck students really seemed to take extra care and time to make sure they did their best work to provide a quality device to the intended gift recipient.

We had some teachers as well as our BitSpace and 3D Universe teams there to guide the students when they had questions or a pin wouldn't fit just right but the students themselves were the makers and got to do the majority of the work.
---
Connecting to the Recipients of the Finished 3D Printed Hands

Once the students finished assembling the 3D-printed hands, they took the time to create cards to send along with the devices and write notes to the recipients.

This was a great way for them to feel even more connected to their recipient and make this experience more personal and meaningful. Knowing that their hard work and dedication were not just for a school project, but that it would potentially make a positive impact on someone's life was a great way to wrap up this project at Peck Elementary School.
---
The Biggest Challenge for This Project

You would think that trying to get a couple hundred 3rd and 4th graders to work together to build a 3D-printed hand would be the biggest challenge of this project, but that was not the case at all!

The biggest challenge to tackle was trying to get 50+ 3D printed hand kits 3D printed in less than 3 weeks, as each complete kit would take between 10-12 hours of 3D printing to accomplish.
Jeremy, CEO of 3D Universe and a co-founder of e-NABLE reached out on the e-NABLE Hub, an online forum for the e-NABLE Community to connect, and asked if any volunteers would be interested in 3D printing hand kits for the Peck students to assemble during the workshops. Then he eagerly awaited for the global community's response.
Within the first day, 48 devices had already been offered as 9 maker volunteers stepped up to the bat to provide the 3D printed parts that the students would require to be able to assemble 3D printed hand devices to donate to those in need.
One e-NABLE volunteer Barry Maxwell single handedly (pardon the pun) signed up for 20 kits and another volunteer, Bob Rieger, signed up to 3D print another 10. Many other volunteers offered to donate their time, materials and 3D printers to get the number of kits the students would need to allow each student to participate.
The experience reminds Jeremy of his first adventures with an e-NABLE conference in 2014. It was designed for prosthetists to meet the e-NABLE 3D printing community, where families with children who were in need of 3D printed prosthetics could attend and learn how to assemble the devices on their own.

Jeremy worked hard to coordinate volunteers learning how to put 3D printed hands together. He created a spreadsheet, included the scales and quantities, and put it out for the community.
The response was huge with 70-80 kits printed in just days.
It left him with a sense of awe at what was possible and how people can come together so quickly to make a difference.
The same was true for this experience for the Peck students!
---
3D Printing and e-NABLE in the Classroom
There are thousands of schools around the world that have incorporated e-NABLE into the classroom to help teach students about 3D printing and to encourage design thinking to solve real-world problems with this technology.
If you would like more information about how 3D printing and e-NABLE have been used in STEM-based classrooms from K12 to higher education, please check out some of our blog posts and other resources below:
3D Printing in STEM Education | Human-Centered Design
Help 3D Print Assistive Technology Devices to Improve the Lives of Others
Educational Maker Kits Available at 3D Universe
Purchase e-NABLE Hand Assembly Kits (3D printed parts not included)
---
For more information on e-NABLE:
Have you incorporated e-NABLE or interesting 3D printing projects into your classrooms? If you would like to share with us for a future podcast or blog post to feature your students and classrooms, please reach out to us at info@3duniverse.org! We would love to hear from you!