1000 Volunteers, Making Free Prosthetic Limbs for Those in Need
June 08, 2023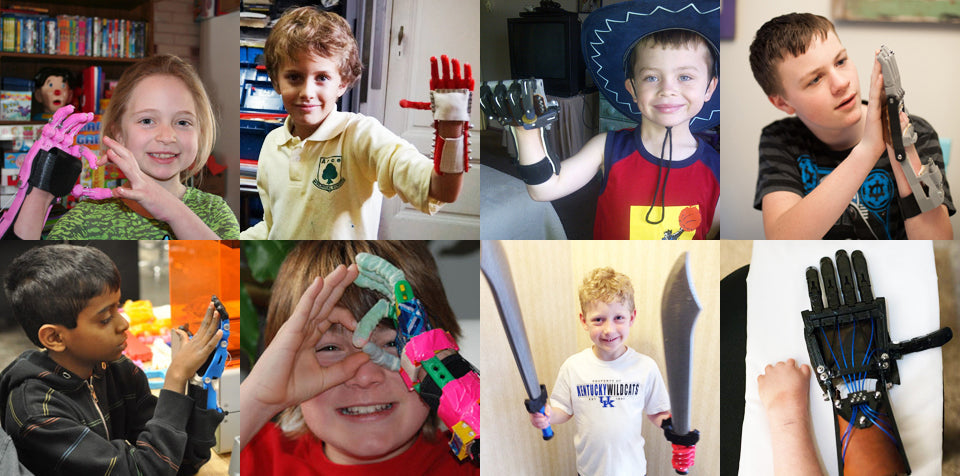 "Never underestimate that a small group of thoughtful, committed citizens can change the world; indeed, it's the only thing that ever has."

– Margaret Mead
---
Yesterday marked an important milestone for the e-NABLE volunteer community, as the 1000th member joined the group! 1000 people from all over the globe, all making FREE prosthetic limbs for anyone who needs them. How amazing is that?
e-NABLE's crowd-sourced, Internet-enabled global network of volunteer designers, technologists, and researchers designs and delivers 3D-printed assistive technology devices to underserved communities around the world.
We have already advanced the state of the art in technology and in collaborative pro-social innovation. We believe we can globally scale and generalize our approach.
Upper limb differences accompany up to 1% of live births worldwide. Fingers, hands, and arms are also lost in accidents and armed conflicts.
Traditional prostheses cost tens of thousands of dollars, and insurance coverage in the developing world and for children who will outgrow them are rarely adequate. As a result, physiological, sociological, and psychological development can be impaired and human potential wasted.
Our distributed manufacturing model provides local solutions that are inherently sustainable, replacing industrial manufacturing processes with in-place fabrication by end-users with locally-reproducible, recyclable materials.
In less than a year, e-NABLE has grown to over 1000 members, spread around the globe, focused on providing 3-D printed prosthetic hands free of charge to anyone who requests assistance. e-NABLE continues to grow rapidly, currently at a rate of about 20% monthly.
What originally started out as a couple of guys who created something to help one child in need…has grown into a worldwide movement of tinkerers, engineers, 3D print enthusiasts, occupational therapists, university professors, designers, parents, families, artists, students, teachers and people who just want to make a difference.
They are coming together to create, innovate, re-design and give a "Helping hand" to those that need it – whether it is helping to print parts for them, creating a completed device for them or simply helping to guide them as they build one themselves.
There are people around the globe – 3d printing fingers and hands for children they will never meet, classes of high school students who are making hands for children in their local communities, a group of people that are risking their lives to get these devices onto people in 3rd World countries and new stories every day of parents working with their children to make a hand together.
Come see what it's all about…
e-NABLE's web site
e-NABLE's Facebook page
Ready to volunteer? Click HERE to learn more.
Looking to obtain a free prosthetic device? Click HERE to learn more.
More 3D Universe blog posts:
My Cyborg Beast 3D Printed Prosthesis: Assembly and Testing post can be found HERE…
Check out my post titled "Man Compares His $50 3D Printed Hand to His $42K Prosthesis" HERE…