e-NABLing Sierra - Part 4
June 08, 2023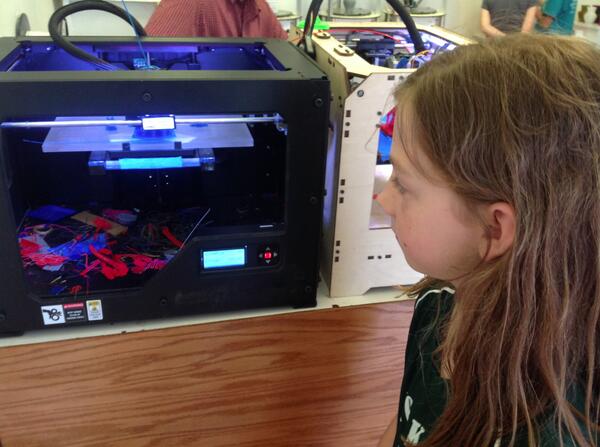 For background on this story, please see:
---
The science fair is over, but the e-NABLing Sierra project continues! As you may recall, having finished her work for the science fair, Sierra still wanted to do more. At her request, I worked with e-NABLE to locate an 8-year old girl in need of a prosthetic hand. Sierra is now helping to build that device for this girl she's never met!
Also, this is a new design, developed by several e-NABLE volunteers, made specifically for people who have a functional thumb but no fingers. So not only is Sierra making a new hand for another girl, but she's also helping us to test this new design and is providing valuable feedback from the assembly and testing process.
Today, Sierra was going to be speaking to a large group of teachers in Vermont, as part of a "Make, Create, Learn" event focused on personalized education. Unfortunately, she came down with a bad cold and 102-degree fever yesterday, so she wasn't able to make it to that event.
I, however, had the honor of being a guest speaker for that event, so I got to talk to 50+ educators who are working to bring more personalized and experience-based education to our schools.
Kate Gagner, Sierra's teacher, was also there, and had the following to say about Sierra's project:
"I think Sierra said about 27 words the first six months of school – she's very, very quiet. But this hand became the unofficial mascot of our classroom. She was a rock star. She had all of this intellectual and social capital because she had designed this project for herself, and it was so innovative and so cool and so engaging, that she just stole the show. It was really great to see."
While she couldn't make it to the Make, Create, Learn event, earlier tonight, Sierra was featured on her local news station, WCAX, in Vermont!
Let's review…
Sierra came up with this project idea for exploring possibilities for 3D printed prosthetic devices (for people or animals). She went on to not only make a fully functional prosthetic device, with minimal assistance but also made another device for someone who actually needs one! Along the way, she has been inspiring people all around her. Her classmates have been inspired. Her teacher and fellow educators have been inspired, and I've been inspired by the e-NABLing Sierra project. Today, that circle of impact broadened considerably, with 50+ other teachers being inspired by her work. Now they're tweeting about it and sharing it with others.
Sierra is making a real impact that is already spreading far beyond her home town.
Would you like your kids (or your classroom) to be involved in a project like this? Send me an email or give me a call, and I'll be happy to help you get started!
Email: jeremy@3duniverse.org
Phone: 800-689-4344
For more information about e-NABLE, please visit:
More 3D Universe blog posts:
Learn how to assemble the "tensioner" lines on the Cyborg Beast 3D printed prosthesis HERE…
My Cyborg Beast 3D Printed Prosthesis: Assembly and Testing post can be found HERE…
Check out my post titled "Man Compares His $50 3D Printed Hand to His $42K Prosthesis" HERE…