e-NABLing Sierra - Part 3
June 08, 2023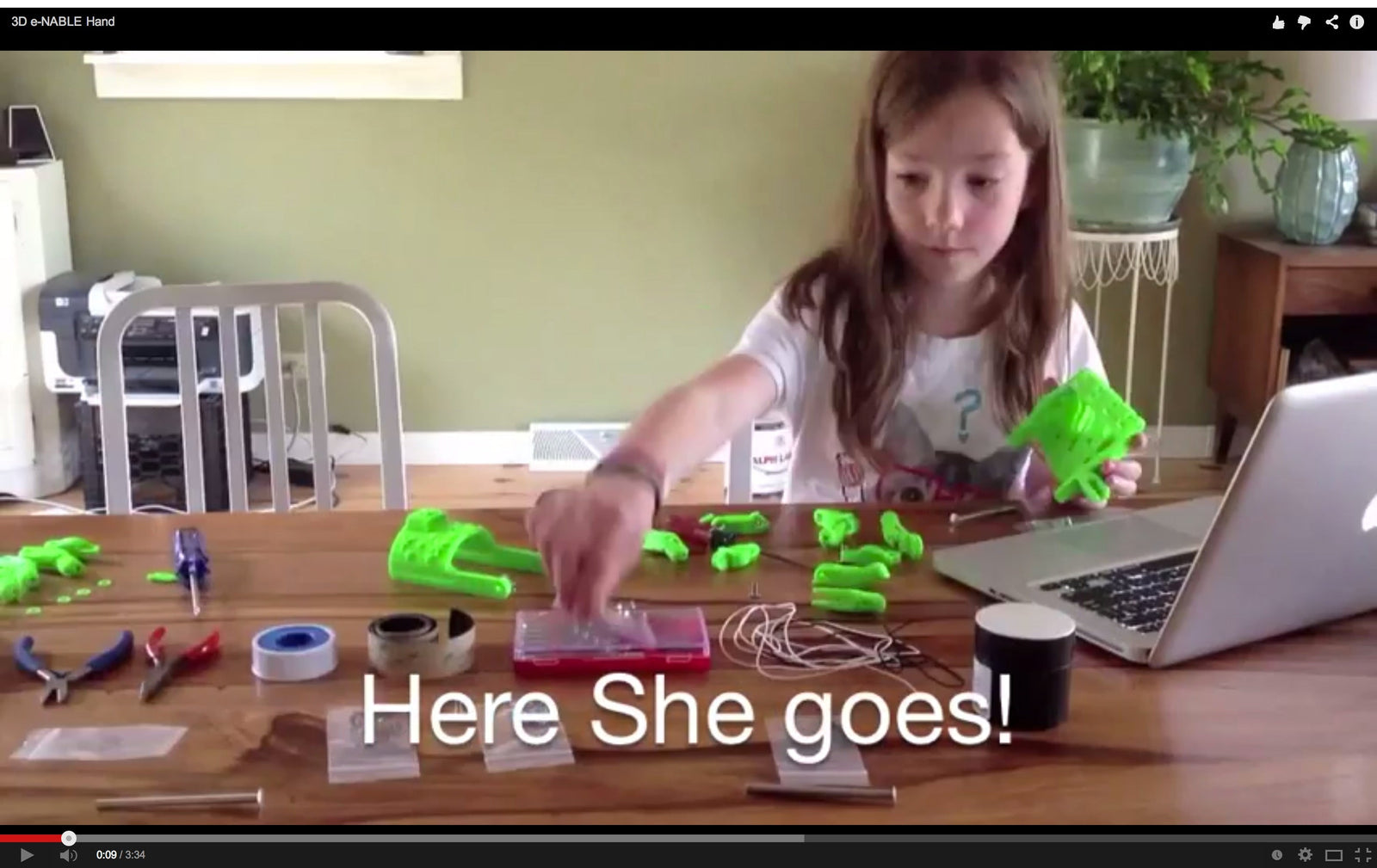 For background on this, please see:
---
Time for another update!
Sierra celebrated her 11th birthday yesterday. Happy birthday, Sierra! This is a big week for Sierra - her science fair is coming up this Thursday!
As I showed in Part 2, I sent some 3D printed parts and assembly materials to Sierra, and she was able to assemble a fully functional mechanical hand, with minimal assistance. As a nice surprise, Sierra's mom recorded the whole assembly process as a time-lapse. I am therefore very pleased to share with you this wonderful video:
Isn't it great? I especially love the ice-cream break!
Then, on Thursday, May 29th, I had the opportunity to do a Skype call with Sierra's entire classroom (14 students). These kids asked the most amazing questions. So intelligent! We got to spend more than half an hour talking together about 3D printed hands, and 3D printing in general. We talked about where 3D printing is likely to be a few years from now, and how they might be using it.
This is the second 'virtual field trip' I've had the opportunity to do so far. I previously did the same thing with a classroom in Massachusetts. It's wonderful to see how kids respond to this technology. They listen attentively, they ask intelligent questions, and they seem genuinely interested in learning more.
The e-NABLE volunteer community is now beginning to formulate plans for helping more classrooms to get started with 3D printing, and to make 3D printed hands for people who need them in their local communities. There is so much talent and good-will within e-NABLE - I'm very excited to see what we're able to come up with.
On Thursday, Sierra goes to her science fair to present her work to the school and community. But even though she hasn't finished that yet, Sierra has already volunteered to make another 3D printed hand for another child who actually needs one!
Another e-NABLE volunteer helped me to quickly identify an 8-year-old girl who doesn't have most of her fingers on one hand. She does, however, have a fully functional thumb. e-NABLE is currently testing a new design, specifically for people who have a functional thumb but need mechanical finger replacements.
I printed the parts out for this new design and have sent them to Sierra. She's going to assemble and test the new hand. She'll then provide some feedback about how the new design seems to work. When she's finished, she'll send it to me for a final check, and I'll then send it to the 8-year-old girl who is awaiting her new hand.
Having done a similar assembly already, I can guarantee Sierra will be able to put this one together without issue. So we now have an 11-year-old girl making a new hand for an 8-year-old girl who lives 2,000 miles away from her - for free! And BOTH girls are very happy about it!
Here's a photo of the new hand parts, unassembled:
---
A note to Sierra:
Sierra,

Good luck with the science fair on Thursday! You're going to do great! Of course, the outcome (if they even select 'winners' at this science fair) doesn't really matter. You've already achieved so much and inspired so many people!

I'm so proud of the work you've done, and especially the way you're volunteering to help make a new hand for our new friend. To see someone your age who already understands how rewarding it is to do things like this for others is a wonderful thing!

Your friend,
Jeremy
---
Continue reading
---
For more information about e-NABLE, please visit:
More 3D Universe blog posts:
Learn how to assemble the 'tensioner' lines on the Cyborg Beast 3D printed prosthesis HERE
My Cyborg Beast 3D Printed Prosthesis: Assembly and Testing post can be found HERE
Check out my post titled 'Man Compares His $50 3D Printed Hand to His $42K Prosthesis' HERE