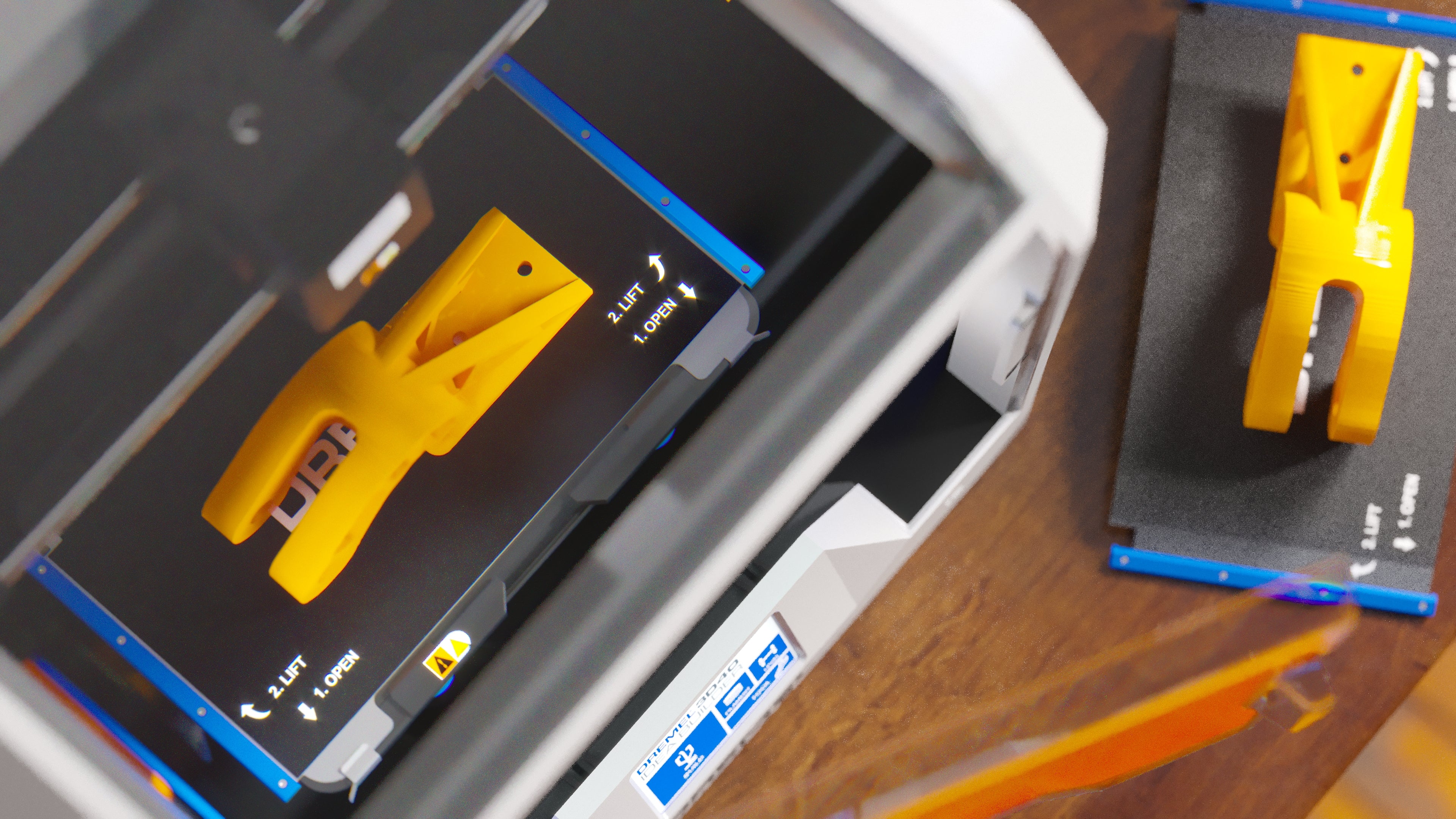 Unsurpassed Reliability, Flexible Build Plate
The new Dremel 3D40 3D printer, equipped with Dremel's clog resistant extruder and active filament monitoring, is engineered to run smoothly. Spend your time making, not repairing.
The 3D40 also comes with a new, removable flexible build plate that makes print removal quick and easy. Using magnet and latches to hold the build plate in place, no tools are required. Ergonomic handles make build plate removal and flexing comfortable and easy. This model does not have a heated bed, so it is intended for printing Dremel PLA only.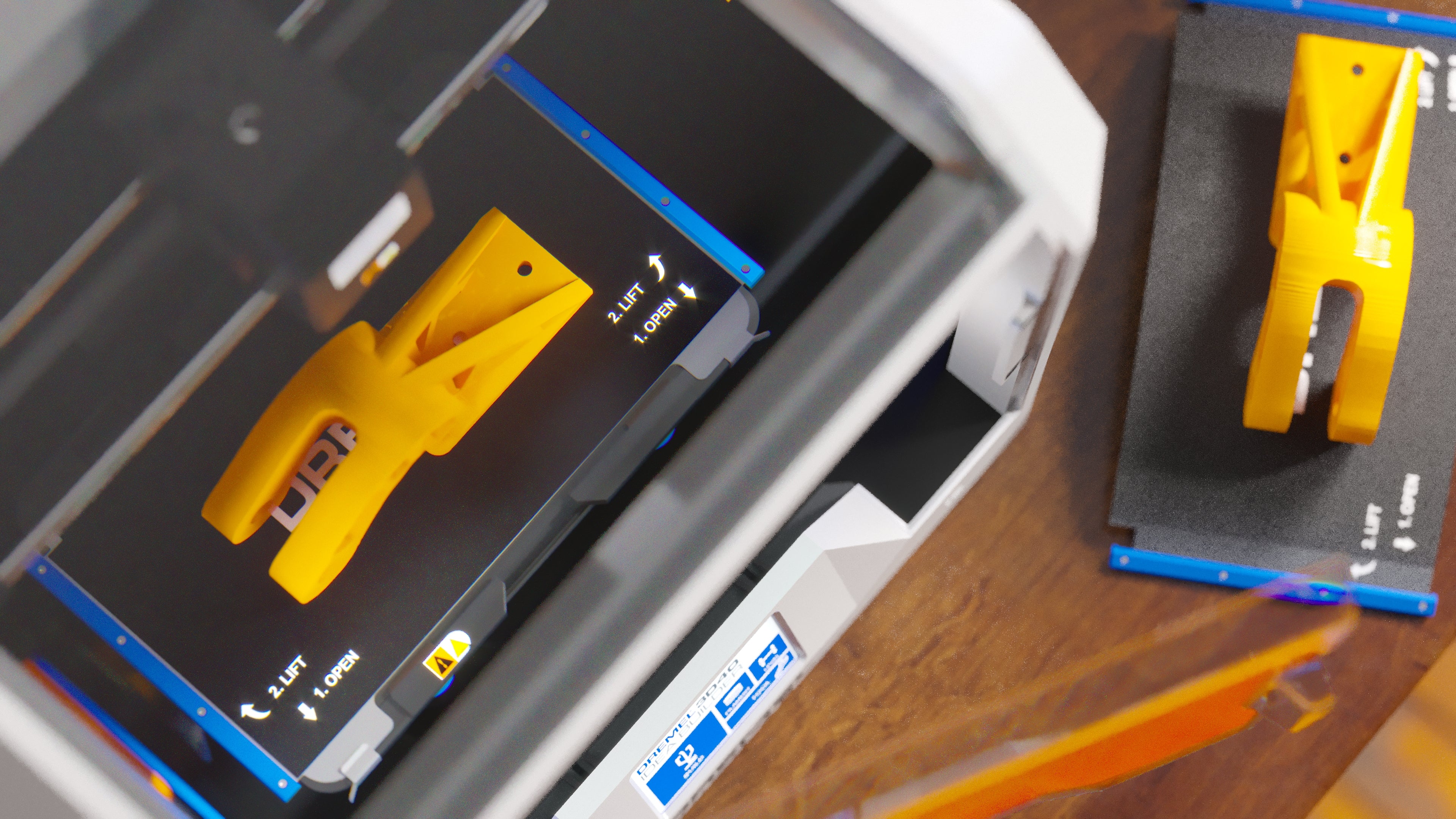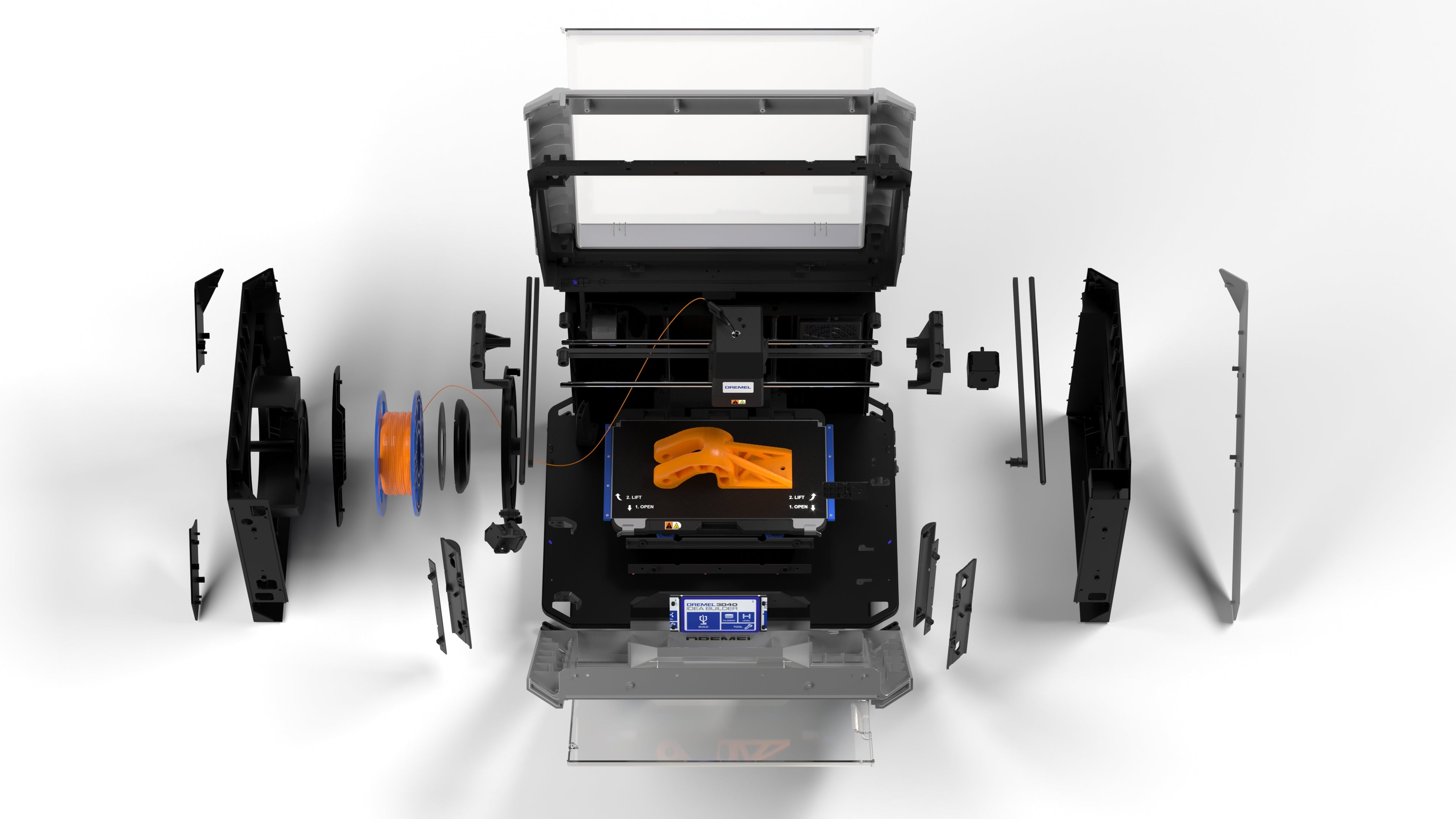 Technical Advancements
Up to 30% Faster Printing
New "draft mode" print profile in the slicing software prints parts up to 30% faster than the Dremel 3D40 at 340 micron layer height
Up to 50 micron print resolution
New "ultra high quality" print profile slicing software prints parts at 50 micron layer height, perfect for parts with intricate features and fine details.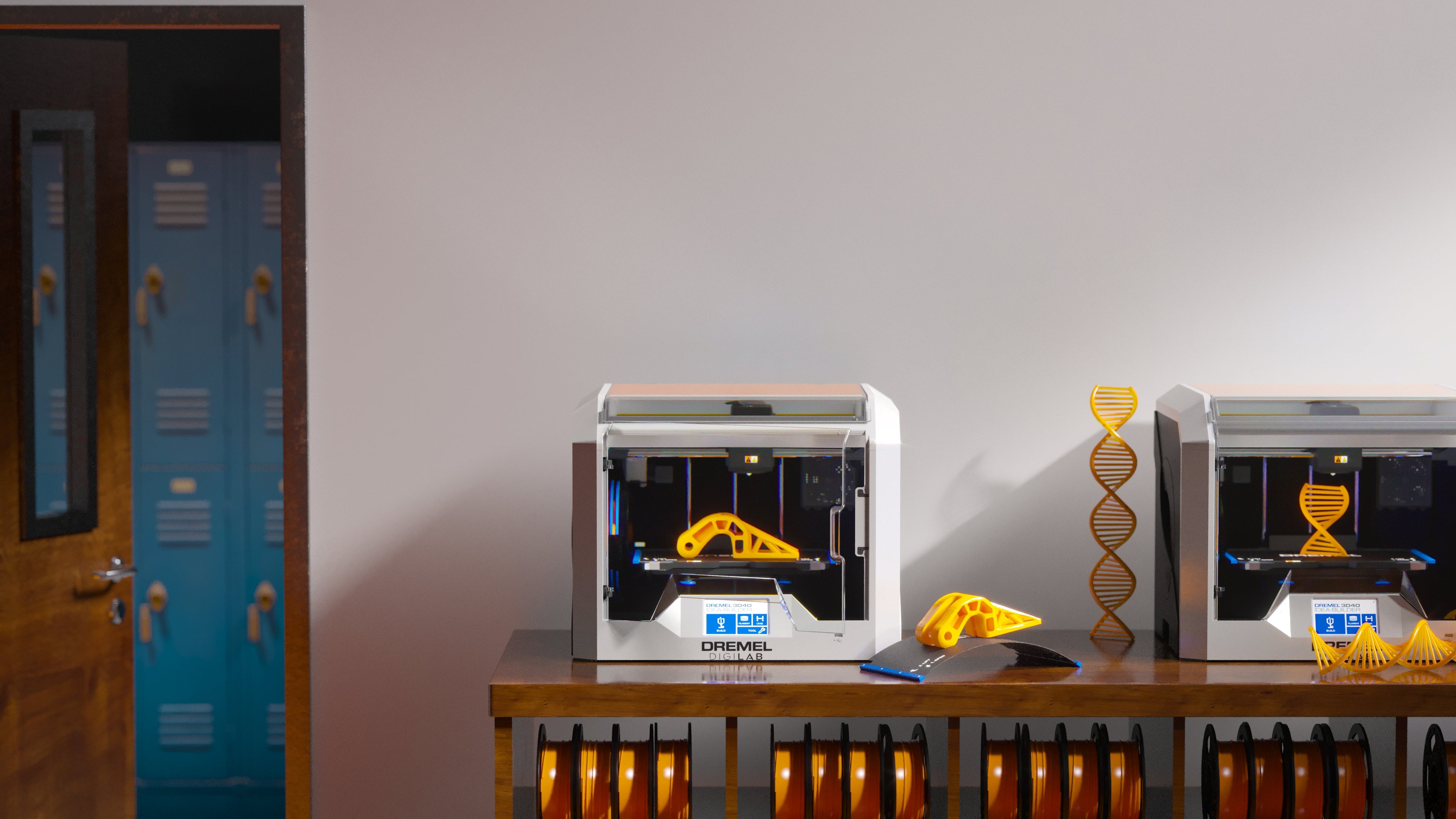 Certified Safety, Easy Connectivity
WiFi Enabled for Cloud Printing
Wifi-enabled and part of the Dremel Print Cloud for fast remote printing and monitoring.
UL-Certified
3D40 FLEX is UL-Certified, providing users peace of mind to focus on creativity - UL Standard: US-29813-M1-UL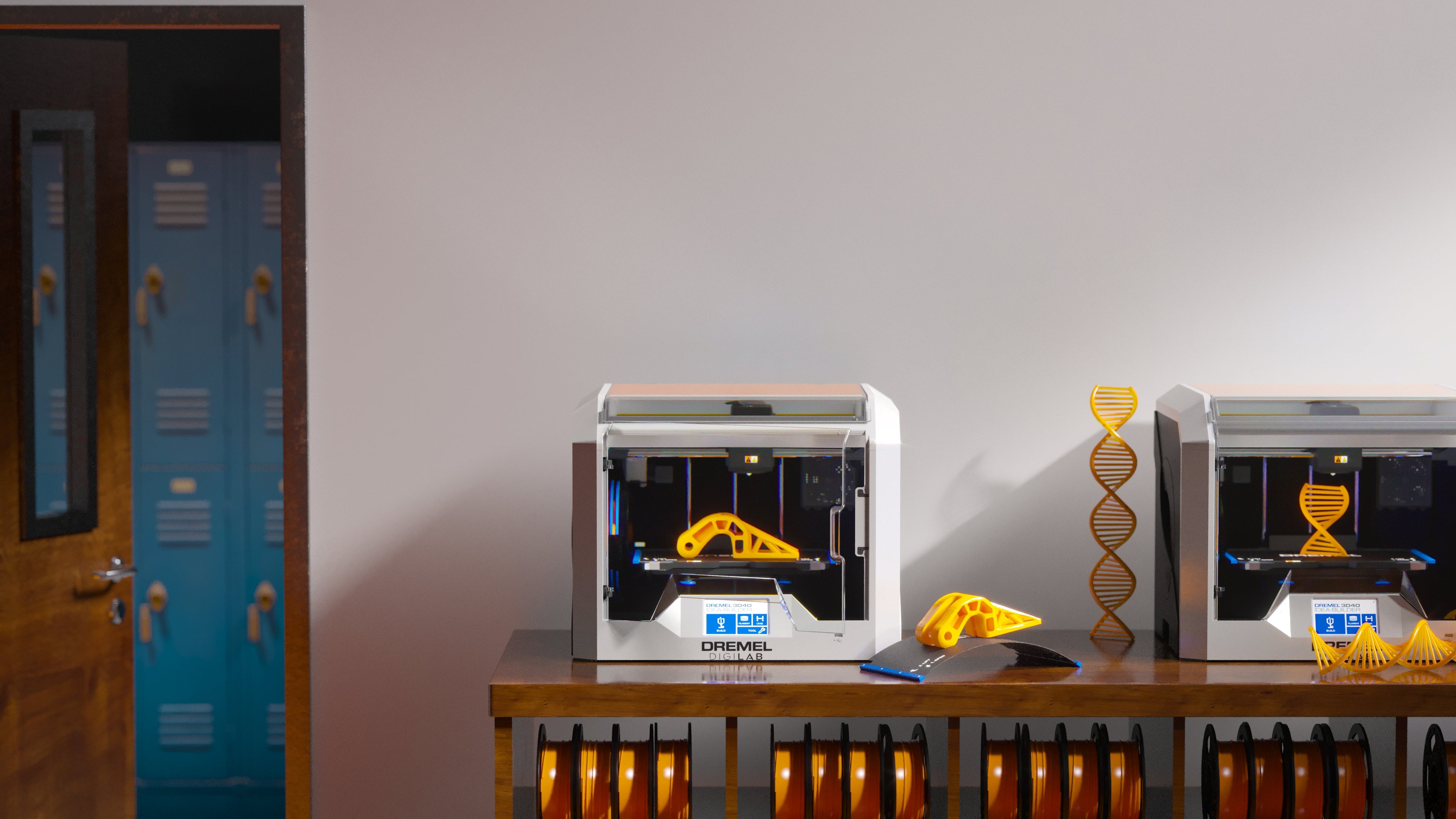 Calculated Reliability, Automatic Leveling
Automatic 9 Point Calibration
Automatic 9 point calibration before every print helps parts stick to the build plate and prevent clogs.
Semi-Automated Leveling
Guided 2-point semi automated leveling allows for effortless, accurate calibrations and easy set up. The touch screen shows you in real time how to precisely level the plate with just the turn of a knob.
Each Dremel 3D40 FLEX EDU 3D Printer Bundle Includes
3D40 FLEX 3D Printer
USB Flash Drive
4-hour professional development course
(5) Flexible Build Plates
(4) Spools of PLA Filament (500g)
(1) Extra Build Sheet
Instruction Manual
Quick Start Guide
Unclog Tool
USB Cable
Power Cable
Dremel 3D40 FLEX EDU 3D Printer Bundle Gallery
Dremel 3D40 FLEX Specifications
General Information
Extruder: Single extrusion
Extruder temperature: Up to 230°C /397°F
Operating Interface: 4.5" full color IPS touch screen
Layer Thickness: 4 mil | 0.004 inches 50 microns | 0.10 mm
Internal Storage: 8GB
Weight
44.5 lbs
Device Dimensions
23" x 18.5" x 19.5"
Max. Build Volume
10 in x 6 in x 6.7 in
254 mm x 152 mm x 170 mm
Usable Filament Types
ONLY builds Dremel PLA filaments
1.75mm PLA (Biodegradable/Renewable)
Software
Dremel DigiLab 3D Slicer - Based on Cura (Desktop); Included
Dremel Print Cloud - Based on 3DPrinterOS (Web-Based); Included
Simplify3D Software - Compatible; Sold Separately

Windows Requirements: Dremel® Software runs on 32 and 64-bit Operating Systems Windows 7 or later
MAC OS X Requirements: Dremel® Software runs on Mac OS X 10.9 or later

Electrical
100-240V, 47-60Hz, 0.85-2.3Amps
Dremel 3D40 FLEX EDU 3D Printer Bundle
Accessories